Tamron AF 24-70mm f/2.8 SP Di USD VC Review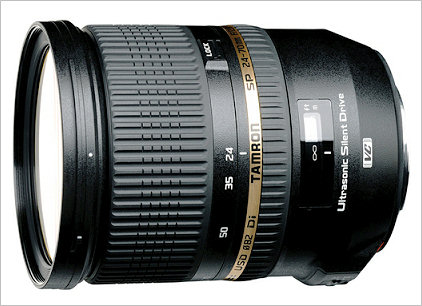 Tamron's new AF 24-70mm f/2.8 SP Di USD VC is the only 24-70/2.8 lens available with optical stabilization that will fit Canon EOS (and Nikon) DSLRs. Canon's current EF24-70/2.8 USM and their new EF24-70/2.8 II USM aren't stabilized and Nikon's 24-70mm f/2.8G ED AF-S isn't stabilized either. Sigma's 24-70mm f/2.8 IF EX DG HSM and Tamron's original 34-70/2.8 didn't have stabilization either.
So Tamron have a first and the AF 24-70mm f/2.8 SP Di USD VC will certainly attract some attention and possible steal sales away from Canon and Nikon - if it's good enough. Another reason why the Tamron AF 24-70mm f/2.8 SP Di USD VC is attracting some attention is that the price ($1300) is also well below that of the Nikon 24-70/2.8 ($1900) and Canon's new 24-70/2.8 II ($2300).
Tamron AF 24-70mm f/2.8 SP Di USD VC Specifications
Model
A007
Lens Construction (Groups/Elements)
12/17
Angle of View (diagonal)

84°04' -34°21' (for full frame 35mm format cameras)
60°20' -22°33' (for APS-C format cameras)
Diaphragm Blade Number
9 (rounded diaphragm)
Minimum Aperture
F/22
Minimum Focus Distance
0.38m (15.0 in)
Macro Magnification Ratio
1:5 (at f=70mm: MFD 0.38m)
Filter Diameter
ø82
Weight
825g (29.1 oz)
Length
108.5mm (4.3 in)
Full Length
116.9mm (4.6 in)
Diameter
88.2mm (3.5 in)
Accessory
Flower-shaped Lens hood
Mount
Canon
Nikon
Sony (no VC)
The lens construction is shown below. As you can see the Tamron AF 24-70mm f/2.8 SP Di USD VC uses three low dispersion (LD) elements, two high refractive index (XR) elements, three glass molded aspheric elements and one hybrid aspheric element. Clearly Tamron have gone to some trouble to try to maximize performance and minimize aberrations with this lens. The aperture has 9 blades and is a rounded design to be as circular as possible, even at smaller openings to give soother out of focus areas (good bokeh).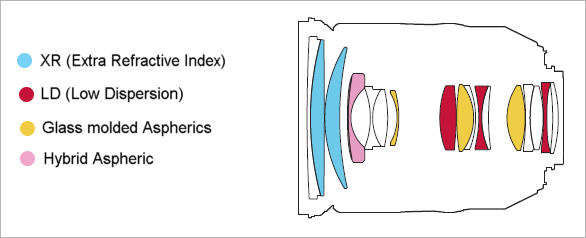 The charts below are Tamron's MTF (Modulation Transfer Function) plots. As a rough guide you can use the 10 lp/mm lines as an indication of contrast and the 30 lp/mm lines as an indication of resolution. The closer the solid (red) and dotted (blue) lines of each thickness are to each other, the lower the astigmatism.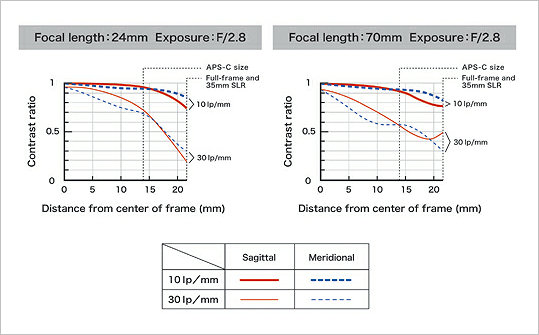 The Tamron AF 24-70mm f/2.8 SP Di USD VC has the usual semi-matte black finish of Tamron lenses with a gold stripe. The wide zoom ring is rubberized and is found towards the front of the lens while the narrower rubberized focus ring is found closer to the rear. There's a distance scale but there are no markings for DOF or IR focus.
On the side of the lens is an on/off switch for VC (vibration compensation). There's also an AF/MF switch, though the lens does have full time manual focus, so you can manually adjust focus at any time, even with the switch in the AF position.
The Tamron AF 24-70mm f/2.8 SP Di USD VC is weathersealed (Tamron refer to it as "moisture resistant") and has a rubber gasket on the mounting flange to mate with the sealing gasket found on Canon's higher end weathersealed cameras.