Tamron 60mm f2.0 Di II Macro Review
| | |
| --- | --- |
| Tamron 60mm f2.0 Di II Macro | |
The Tamron 60mm f2.0 Di II Macro is unique in being the only f2 1x macro lens available for APS-C format DSLRs. All the other macro lenses are f2.8 except for the Canon EF 50/2.5 macro (which has a maximum magnification of 0.5x). The fast aperture makes the Tamron 60mm f2 macro doubly useful as both a conventional macro lens and a fast portrait lens.
On a Canon EOS crop sensor DSLR such as one of the Digital Rebel series, the EOS 40/50D or the EOS 7D, the Tamron 60/2 macro has the same field of view as a 96mm lens would have on a full frame DSLR (the "1.6x multiplier applies). This is in the ideal range for portrait lenses as well as being a very useful macro focal length. The working distance of the Tamron 60/2 macro (the distance from the subject to the front of the lens) is around 4" at maximum magnification (nominally 1x), which is enough to allow illumination of the subject.
Despite being fast, the Tamron 60/2 macro only requires a 55mm filter.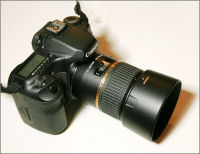 The front element does not rotate during focusing, making the use of a polarizer easier. Focusing is done internally, so the lens does not extend during focusing either. Tamron include a round bayonet mounting lens hood with the lens, and the lens comes with the standard 6-year Tamron warranty (Canon lenses only come with a 1 year warranty).
The Tamron 60/2 macro is one of the few non-Canon lenses with full time manual focusing. This means that you don't need to switch from AF to MF to adjust focus manually. You can switch to MF if you don't want any AF, but it's not required. Manual focusing action is quite stiff by design. There is a small amount of play in the system which makes rocking focus back and forth to determine exact focus a little tricky. Total focus ring rotation is around 260 degrees from infinity to closest focus and there is a distance scale on the lens (but no DOF markings). Focusing is adjusted using a wide rubberized ring at the front of the lens barrel.
Construction makes extensive use of plastics which keeps the weight of the lens low (14oz).
Tamron 60mm f2.0 Di II Macro Specifications
| | |
| --- | --- |
| Lens Construction (Groups/Elements) | 10/14 |
| Angle of View (diagonal) | 26° 35' (APS-C) |
| Diaphragm Blade Number | 7 |
| Minimum Focus Distance | 9.1in. (0.23m) |
| Macro Magnification Ratio | 1:1 |
| Filter Diameter | 55mm |
| Weight | 400g (14.1oz.) |
| Diameter x Length | 2.9 x 3.15in (73 x 80mm) |
| Lens Hood | Included. Round, Bayonet mount |
| Mount | Canon, Nikon and Sony |
Optical performance
Optical performance was good, both in the macro range and normal range. Distortion was virtually undetectable, even at maximum magnification. Vignetting was slight at f2 and pretty much gone by f2.8. Chromatic aberration was well controlled at all focus distances with only slight color fringing observable at the edges of the image.

Vignetting is slight, even wide open at both infinity and macro focus distances
Full Frame
While the Tamron 60mm f2 Macro is a Di II lens (designed for use on APS-C crop sensor cameras) it can be physically mounted on full frame bodies, even Canon EOS full frame bodies. Unlike Canon EF-S lenses there is no physical incompatibility with the EOS EF series mount. As expected you get severe vignetting, but looking at the image is nevertheless instructive.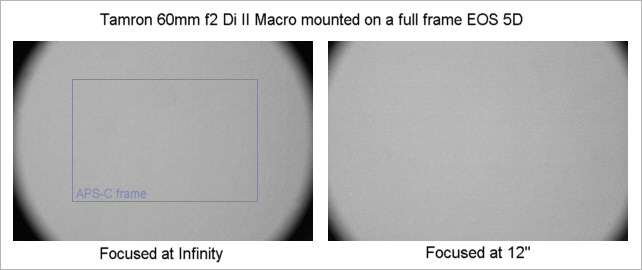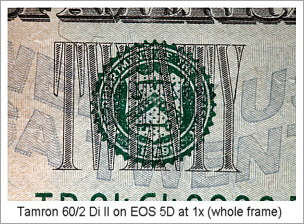 As you can see, the image circle of the Tamron 60mm f2 Macro Di II is quite a bit larger than an APS-C frame, though quite a bit smaller than that required for full frame coverage. The larger than required image circle is why the vignetting is relatively mild at f2. One interesting observation is that the image circle expends as the lens is close focused. In fact at 1:1 (closest focus) the image circle actually covers a full frame sensor as shown on the left!
Contrast and Resolution on Crop Sensor camera
The Tamron 60mm f2 Macro isn't designed for full frame use, so the rest of the testing was done using an EOS 40D body and all comments below are based on APS-C sensor use. First the lens was tested at "normal" focus distance. In this case around 2 meters, typical of the distance at which the lens might be used as a portrait lens.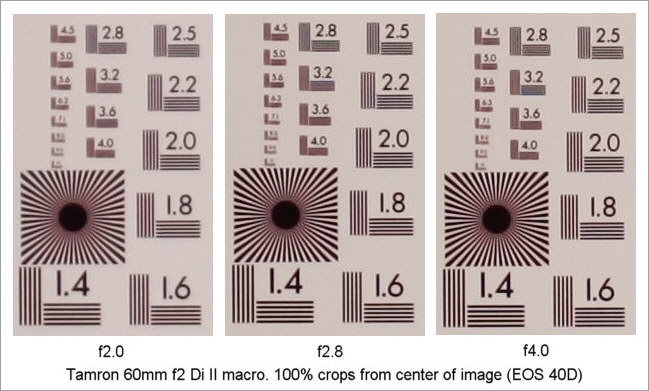 Center contrast and sharpness are good at f2, but improve slightly on stopping down to f2.8. Sharpness peaks at around f4 and holds up to around f11. At smaller apertures (f16, f22) some softening due to diffraction is observed as would be expected.

The image is a little softer in the corners than in the center at f2.0 but sharpens up as the lens is stopped down and peaks at about f5.6 at which point the corners are similar to the center. At f16 and f22 some diffraction based softening is observed.
Macro Performance
Macro performance followed a very similar pattern. For these tests the lens was set to closest possible focus and a high resolution chrome-on-glass target was used. Care was taken to make sure the plane of the target was parallel to the plane of the sensor. The following are 100% crops from the center of the frame at about 1x magnification. In fact maximum magnification was measured at about 1.04x, slightly better then the 1x specification.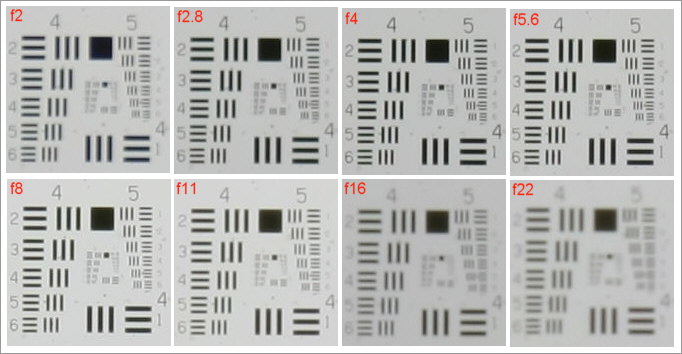 As you can see, sharpness peaks between about f4 and f8 and diffraction softening becomes quite obvious at aperture settings of f16 and f22.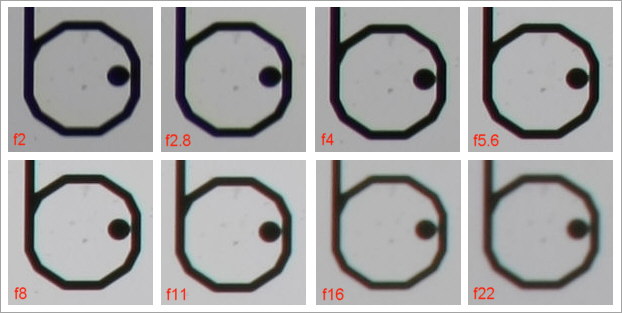 Things are similar in the corners with sharpness peaking around f5.6 to f8 and diffraction softening becoming significant at aperture settings of f16 and f22.
Below is a sample of macro performance. First the whole frame: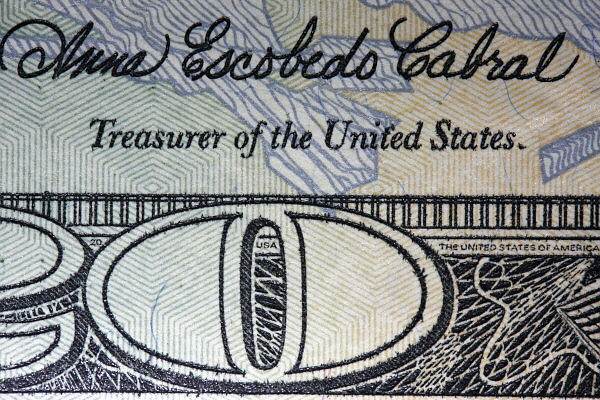 And here's a 100% crop from the original of the image above: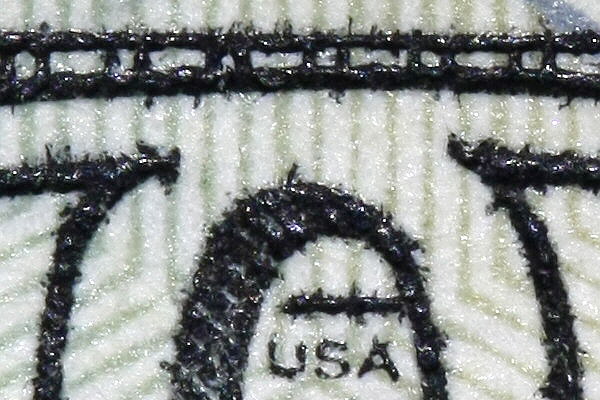 Portraits and Background Blur
The f2 aperture of the Tamron 60mm f2 macro makes it well suited for portrait work where you want to blur the background. The background blur is pretty smooth (good "bokeh") even when stopped down, as can be seen in the images below.

Conclusions
The Tamron 60mm f2 Di II macro is a good lens with high sharpness and low distortion, even wide open, at both normal and macro focusing distances. The fast f2 aperture allows creative use of DOF effects, provides a sightly brighter image for focusing and can be used to better blur backgrounds in portrait work. Peak performance is probably in the f5.6 to f8 region, but the lens can be shot wide open at f2 and excellent results still obtained.
My only complaint is a less then perfect manual focus action with stiff operation and a small amount of play. This is offset by accurate AF, even at 1:1 macro settings. As an unexpected bonus, the lens has full frame coverage at 1:1 macro settings, though possibly with slightly lower corner image quality.
Also worth mentioning is that the Tamron 60mm Di II Macro comes with a 6-year warranty (as do all Tamron lenses) and that Tamron currently have a $25 mail-in rebate on this lens though April 30th 2010.
If you found this article interesting, please tell others about it...
Alternatives
The similar Canon EF-S 60mm f2.8 macro is available at a lower cost, but it's a full f-stop slower and acnnot be mounted on a full frame EOS DSLR, even in an emergency. In fact all the alternatives offering 1x macro magnification are a full stop slower. The Canon EF 100/2.8 Macro USM might be an alternative if you want full frame coverage and a slightly longer focal length. If you want full frame coverage at all focus distances and only need 0.5x magnification, the Canon EF 50mm f2.5 macro is a lower cost alternative.