Tamron SP 70-300MM F/4-5.6 Di VC USD Review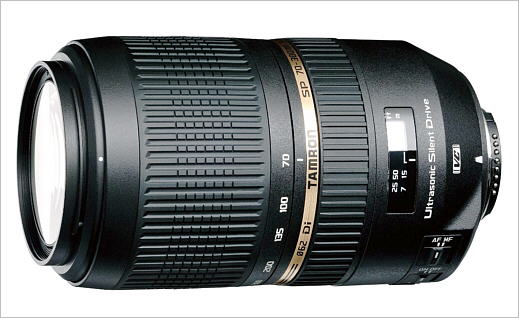 Tamron SP 70-300MM F/4-5.6 Di VC USD Review (shown in Nikon mount)
The Tamron AF 70-300mm f/4.0-5.6 SP Di V USD is Tamron's latest consumer telephoto zoom and features a combination of technology new to the Tamron lens lineup. It has built in image stabilization (VC = Vibration control), an ultrasonic motor (USD = Ultrasonic Silent Drive) with full time manual focus and it uses a new low dispersion glass called "XLD" (eXtra Low Dispersion) with properties said to be similar to those of Fluorite which is used in Canon's more expensive telephoto lenses.
With all these features, Tamron are calling the lens the best in its class (presumably 70/75-300mm consumer telephoto zooms). It is currently (01/11) available in Canon EOS and Nikon mounts. A Sony mount version will be available in the future - though the Sony lens will not have VC since the Sony line of DSLRs have stabilization built into the camera body.
As of January 2011, the average street price of the Tamron SP 70-300MM F/4-5.6 Di VC USD in a Canon mount is around $450 (actually $449), but Tamron have a $50 mail in rebate program which runs through April 30th 2011 for lenses in the Canon and Nikon mounts, making a final price of just $399. This compares very favorably with the Canon EF 70-300/4-5.6 IS USM which sells for around $523. Both lenses can be used on both full frame and APS-C crop sensor cameras.
The Tamron SP 70-300MM F/4-5.6 Di VC USD comes with a petal type lens hood (presumably optimized for full frame use) and a 6-year warranty from Tamron.
The following diagram (from Tamron) shows the optical layout of the lens and the position of the low dispersion elements:
The Tamron SP 70-300MM F/4-5.6 Di VC USD is an internal focusing lens which means that the lens barrel does not change length during focusing and the filter does not rotate. The barrel does change length on zooming. There is a focus scale showing distances in feet and meters from 1.5m (4.9 ft) to infinity. The zoom action is well damped and the zoom ring rotates to the right (clockwise from behind the lens) to go from 70 to 300mm. There is no zoom lock. With the lens at 300mm and pointing vertically upwards there was slight zoom creep on one sample I looked at, but no zoom creep at all on another. Not really a big deal, since even on the sample with zoom creep it was slight and the lens needed to be pointed pretty much vertically upwards to see it.
I measured the following maximum aperture vs. focal length settings (EOS 7D readout in 1/3 stop steps):
f4.0 from 70mm to 103mm
f4.5 from 104mm to 160mm
f5.0 from 161 to 217mm
f5.6 from 218 to 300mm
Focusing was very quiet (ultrasonic motor) and manual focus (full time manual and switched manual) was smooth and fairly well damped with approximately 170 degrees of rotation from close focus to infinity. AF speed varies with focal length. I measured the following focusing times using an EOS 60D body. Dark refers to the focus time (seconds) under very low light conditions. Light refers to focus time (seconds) under bright light conditions.
| | | |
| --- | --- | --- |
| Focal Length | Dark Focus time | Light Focus time |
| 70mm | 0.5s | 0.5s |
| 135mm | 0.6s | 0.5s |
| 200mm | 0.9s | 0.5s |
| 300mm | 1.3s | 0.65s |
This isn't super fast AF (particularly at 300mm in low light conditions), but it's not out of line for this class of lens.
Tamron SP 70-300MM F/4-5.6 Di VC USD Specifications
Model
A005
Lens Construction (Groups/Elements)
12/17
Angle of View

34°21'-8°15'

Diaphragm Blades
9
Minimum Aperture
f/32-45
Minimum Focus Distance
1.5m (59.05 in)
Macro Magnification Ratio
1:4 (0.25x) at 300mm and 1.5m focus distance
Filter Diameter
62mm
Weight
765g (26.98 oz)
Length
142.7mm (5.61 in)
Diameter
81.5mm (3.21 in)
Accessory
Flower-shaped Lens hood (supplied)
Mount
Canon
Nikon with Built-In Motor
Sony
NEXT -> Part II - Lens Performance