Tokina 12-24mm f4 DX Review
The 12-24/4 is Tokina's offering in the popular "superwide zoom" category for APS-C format digital cameras. In this category it competes with the Sigma 10-22, Tamron 11-18 and Canon 10-22. None of these lenses has full frame 35mm coverage and so all are specified for use only on cameras with APS-C sized sensors.

Tokina 12-24mm f4 Specifications
Mount availability:
Canon and Nikon APS-C Digital Only
Recommended Sensor size:
APS-C Sized (23.7 X15.6mm)
CCD or CMOS sensor
(w/1.5-1.6x magnification factor)
Zoom Range:
12-24mm
35mm full frame equivalent Zoom Range:
19.2-38.4mm [Canon EOS]
Maximum Aperture:
F/4
Minimum Aperture:
F/22
Optical Construction:
13 Elements / 11Groups
Coatings:
Multi-layer Coatings
Zooming System:
Rotary-type
Minimum Focus Distance:
11.8 in. (30cm)
Macro Ratio:
1:8
Number of Diaphragm Blades:
9
Filter Size:
77mm
Dimensions:
3.3 in. (84mm) X 3.5 in. (89.5mm)
Weight:
20.1 oz. (570g)
Included Accessories
BH-777 Dedicated Lens Hood
Optional Accessories:
Fitted Case
Suggested List Price:
$899.00
Though it's very similar in size to the Canon EF-S 10-22/3.5-4.5 (as shown below) it's quite a bit heavier at 20.1 oz (the Canon weighs only 13.7oz). The finish is rough textured ("crinkle") matte black and the lens feels very solid.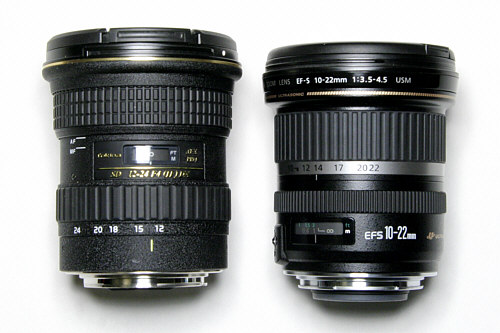 On the left, the Tokina 12-24mm f4; On the right, the Canon EF-S 10-22mm f3.5-4.5 USM
As can be seen from the picture above, the zoom operates in the "opposite" direction to that of Canon lenses, with shorter focal lengths achieved by rotation of the zoom ring to the left rather than the right. Zoom action is smooth and very well damped. Note the deeper penetration of the EF-S lens mount which restricts it's use to EF-S compatible bodies only. The Tokina 12-24 will mount on any EOS body since it has a standard EF series lens mount, but it will severely vignette at shorter focal length settings. Between 18 and 24mm the full 35mm size frame is fully illuminated, though the image quality outside the limits of the APS-C frame may be questionable. This lens is not designed for full frame 35mm use.
There is no manual/autofocus switch. Instead you push the focus ring forward to switch to AF mode and pull it back to select manual focus as shown below: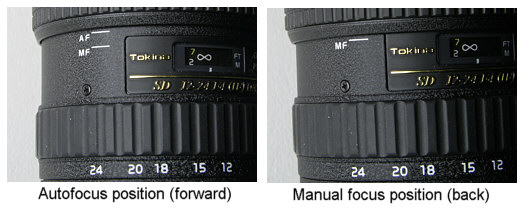 While convenient in theory, the action is a little stiff, so switching between modes with the camera up to your eye isn't as smooth as it might be. Still, it is quicker than having to find and throw an MF/AF switch and it is possible to switch from AF to manual focus without removing your hand from the focusing ring. The focusing ring does not rotate during autofocus operation. In manual mode infinity to close focus takes a 90 degree rotation of the ring. Autofocus is quiet and fast, though not quite so quiet and fast as the Canon EF-S 10-22/3.5-4.5 which has a ring USM motor.