New Zeiss Lenses for Canon EOS Mount
Zeiss have announced three new lenses for Canon EOS cameras. The Distagon T*2,8/21 Planar T*1,4/50 ZE and Planar T*1,4/85 ZE. The 50/1.4 and 85/1.4 should be available by October 2008. All three lenses have full 36mm x 24mm frame coverage and will mount directly on any Canon EOS camera, film or didital, full frame or cropped sensor.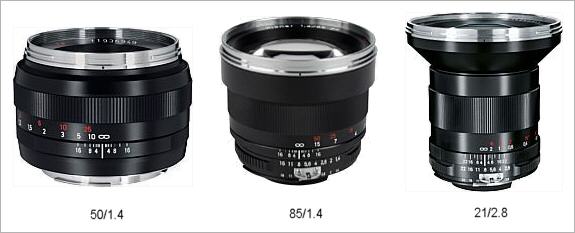 Though none of the lenses are autofocus, they all have the electrical contacts required for a fully automatic operation, so the camera can control the lens aperture and the "focus confirmation" green dot and audible "beep" will be available. The lenses will operate just like an Canon EF or EF-S series lens switched into manual focus mode.
Why would you want to use a manual focus lens? Well, some photographers think that Zeiss lenses are better than the similar Canon lenses. To find out of the truth of this, we'll have to wait for some side by side tests against similar Canon lenses.
I think they'll have a tough job, especially with the Planar T*1,4/85 ZE. The Canon 85/1.8 is a very good lens indeed and a lot cheaper than the Zeiss. It's slightly slower of course, so the Zeiss has an edge there, though the Canon 85/1.2L USM is even faster and also has a reputation of one of Canon's best primes.
With the Planar T*1,4/50, Zeiss go head to head with the Canon 50/1.4 USM (but at double the price). The Canon lens is sometimes criticized for a weak focus mechanism which seems prone to failure (it's a micro USM, but with FTM, and odd combination). Only testing will show the relative optical performance of the two lenses.
When Zeiss release the Distagon T*2,8/21 it will compete with the Canon 20/2.8, though again at a much higher price. The Canon 20mm prime isn't known as a super performer, especially in the corners when used wide open. It's a good lens, but not a great lens. Zeiss have a reputation for making very sharp wideangles, so I wouldn't be surpised if the Zeiss 21/2.8 outperformed the Canon Ef 20/2.8 (though at maybe 3 or 4x the price).
Zeiss Lens Specifications
Model
Distagon T*2,8/21
Planar T*1,4/50 ZE
Planar T*1,4/85 ZE
Mounts
(Nikon-F, Canon EF, Pentax-K)
ZF (F-Bayonet)
ZE (EF-Bayonet)
ZK (K-Bayonet)
ZE (EF-Bayonet)
ZE (EF-Bayonet)
Construction (Elements/Groups)
16/13
7/6
6/5
Focal Length (mm)
21
50
85
Angle of View
90° (diagonal)
81° (horizontal)
59° (vertical)
45,4° (diagonal)
38,4° (horizontal)
28,6° (diagonal)
24° (horizontal)
Max. Aperture
f2.8
1.4
f1.4
Min Aperture
f22
f16
f16
Close Focus (m)
0.22
0.45
1.0
Focusing
Manual
Manual
Manual
Filter
82mm
58mm
72mm
Size (Diam x Length in mm)
87 x 109 mm
66 x 69 mm
77 x 85 mm
Weight (g)
600
330
570
Availability
ZF and ZK by the end
of 2008. ZE ?
October 2008
October 2008
Price ($US)
? n.a.
$660
$1170
Price - Euro
E1,400
E580
E1,000
Right now (09/15/08) I don't see any vendors listing the new Zeiss ZE lenses, but if you are interested in buying one, I'd check out Adorama.