Sandisk Rebates - Spring 2009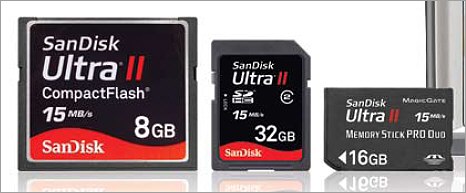 Sandisk have announce a rebate program an a number of their Ultra II series cards, including Compact Flash 9CF), Secure Digital (SD/HC) and Memory Stick Pro formats. The rebates apply to items purchased between May 1st 2009 and June 27th 2009 and must be purchased from an approved Sandisk vendor. Adorama and B&H Photo are both on the approved vendor list. Be sure to read all the terms and conditions related to this offer before purchase of course. You can view the Rebate form and instructions HERE
The Ultra II series cards aren't Sandisk's "top of the line ultra speed" cards, but they are reasonably fast and Sandisk cards have a good reputation for reliability. They are speed rated for 15MB/s data transfer, which for most applications is certainly fast enough. Sandisk Extreme III cards can transfer data at 30MB/s and the Extreme IV cards can reach 40MB/s, buy you pay for the higher speeds. Also note that the speed at which a camera can write to a card is often limited more by the camera than the card, and the speed at which data can be downloaded from a card to a PC is often limited by the speed of the card reader. Just buying a faster memory card may not give you any increase in data transfer speed unless the rest of your equipment is fully optimized for speed.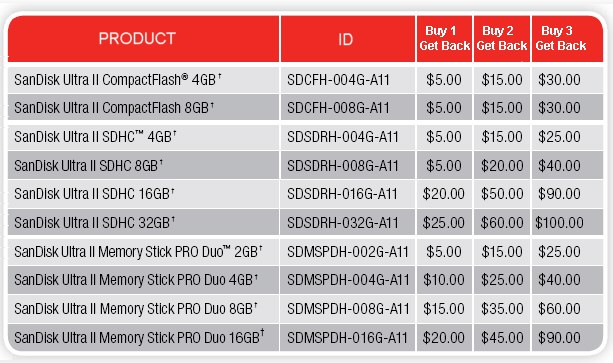 As you can see, some of the deals are better than others and the more cards you buy, the better the final price per card. The 8GB Ultra II SDHC cards are a good example. The rebate is $5 on one, $20 on two and $40 on three, so clearly buying three gives you the best deal. You can get the Sandisk Ultra II 8GB SDHC from Adorama for $32.99 before rebate. If you buy one the final cost drops to $27.99. If you buy two the final cost per card drops to $22.99. If you buy three, the final cost per card drops to $19.66 per card.
Note that these rebates are given via a pre-paid VISA card, not a check. Last year I bought some Sandisk cards covered by a similar rebate scheme and I received the prepaid VISA card without any problems and had no problems using it when shopping. Your mileage may vary of course, but everything worked fine for me.
Sandisk cards eligible for this rebate are available from the Sandisk approved vendors listed below: