Shutterfly Review - Calendars and Photo Books
Late last year I bought a Canon Powershot A720IS from Amazon (see Canon A720IS review), and at the time Amazon was giving away a free 2GB memory card and a certificate for a free 12-month calendar from Shutterfly.com.
Well, I sort of forgot about the free calendar until last week, when I noticed that the certificate expired on January 31st, so I quickly logged onto the Shutterfly website and set about making my free calendar.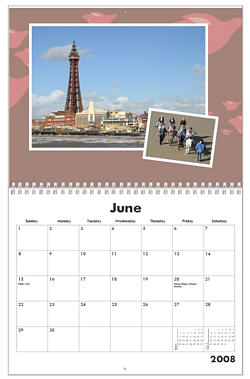 I found the site pretty easy to navigate. Uploading files went without a hitch (even 5MB full size images from an EOS 40D) and the software for calendar creation worked pretty well. You basically upload the images you want to use, chose a calendar layout, then drag the images onto the calendar wherever you want them. The calendar can start on any month (mine runs from March 2008 to February 2009) and you can pick which special dates and holidays are marked.
You can create a classic calendar, with one large picture for each month, or you can make a collage calendar which can display from one to nine images in various combinations, arrangements and sizes. On the left is a two image collage, with one large and one small image. You can select a different collage pattern and the background color or pattern for each month.
So how did the calendar work out? Well, I sent the order in on January 30th, and the calendar arrived on my doorstep on February 5th, so that's just a week from order to delivery, which is pretty fast. The quality was at least as good as I was expecting! The paper is definitely heavyweight, much thicker and stiffer than a normal photo print. The colors were good too. I don't use any sort of color calibration software, so I used images that simply looked good on my monitor after tweaking in an image editor. Despite the lack of calibration, I've no complaints at all about the colors.
The price of a Custom Photo Calendar (12 months)
is $19.99 (plus shipping), which isn't a bad price for a custom calendar. Through February 13th, if you buy more than 1 calendar, the others are $13.99. There are also discounts for larger quantities (e.g., if you buy 50, they are $10 each).
Currently Amazon aren't offering calendar coupon with the Powershot A720IS , but they have an even better deal with a coupon for an 8x8 hardback photo book from Shutterfly, worth $29.99!
While I can't comment on the 8x8 photo book, I can comment on the 5x7 photo book which I also ordered myself. The photo books have 20 pages for the base price($29.99 for 8x8 with hard cover, $12.99 for 5x7 with soft cover), but additional pages can be added if you wish. Again the Shutterfly software is easy to use. You upload the images as before, then use the photo book layout software to create the book by dragging the selected images onto a template, with various options for print size, shape, borders and background colors or patterns.

The image above shows just a few of the options. On the left is a single image with a drop shadow border on a plain white background. On the right is a two image layout using photo-corner borders and a colored background. You can use some of the pages just for text, or you can add captions to your photos with some of the layouts, so you can make a story book or just a photo album. With the text you can choose size, font and color.
The 5x7 photo book took even less time to be delivered, just 5 days. Again the quality was good. The covers are fairly stiff heavyweight paper and the inner pages are similar to a good photo paper with a semi-matte (luster) finish. Again color and print quality were good and the prints matched what I saw on my monitor, despite not using any color calibration system.
The price of a 5x7 Casual Photo Book
with one cover image and 20 pages is $12.99, but through February 13th you get 20% off, making the price $10.39. An 8x8 book with hard covers is $29.99 (or it's free if you buy an A720 from Amazon and use the Shutterfly coupon!).
An added bonus is that when you register on the shutterfly.com website, you get 15 free 4x6 prints, so you can try out their print service for free (you do pay postage), which is a good deal and which will give you some idea of how fast their delivery is and how well they reproduce your images. You can also store an unlimited number of images on the Shutterfly website and share them with others if you wish. Overall, with the two orders I've placed with Shutterfly, I'm pretty pleased with the quality and the service.