Camera Lens Testing
Part 3 - Image Symmetry check (looking for misalignment)
One lens defect that pretty easy to detect is the misalignment of the optics. This could be caused either by physical damage to the lens (e.g. dropping it) or could be the result of a problem in manufacture.
A basic property of a properly constructed lens is that the image it produces is symmetric about the optical axis. This means that whatever image aberrations you see in the top left corner of the image, you should also see in the same relative position and to the same degree in the top right corner, bottom right corner and bottom left corner. It doesn't matter if the lens isn't sharp, or if it shows a lot of chromatic aberration, distortion, field curvature or other optical aberrations. If you take a picture of a flat subject (a wall or a page from a newspaper for example), and the camera is properly squared on to the subject, the four corners should look equally good (or bad) - as should the left and right or top and bottom halves of the image.
Here's an example. This is a shot of a flier from my local supermarket taped to my garage door. Not the most scientific test target, but one that probably everyone has! I made sure that the camera was positioned square on to the door and took this shot.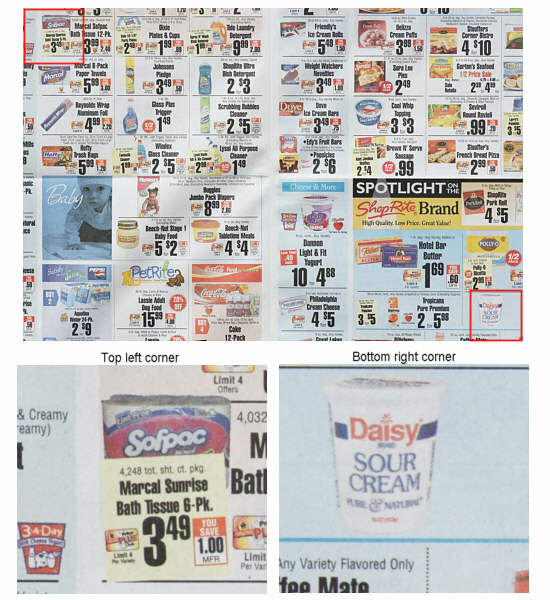 In this case the image looks very symmetrical. There's no discernible difference in sharpness between any of the four corners (though only two of them are shown enlarged above) which indicates that the lens is in good alignment. Note that the image should be shot at the maximum aperture of the lens so that defects will be more visible and DOF (depth of field) doesn't mask any focusing problems. If afraid I don't have any misaligned lenses to show test images from, but I'm sure I don't really need to. Misalignment should be obvious if it's present.
Of course as in most things, if you look closely enough with a big enough microscope, you'll see differences, but they should not be obvious without extreme pixel peeping. If one corner of the image is dark, or the left side is always a little out of focus, there's a problem. If things look good on normal viewing, the lens is probably well aligned.