Transit of Venus, June 5th 2012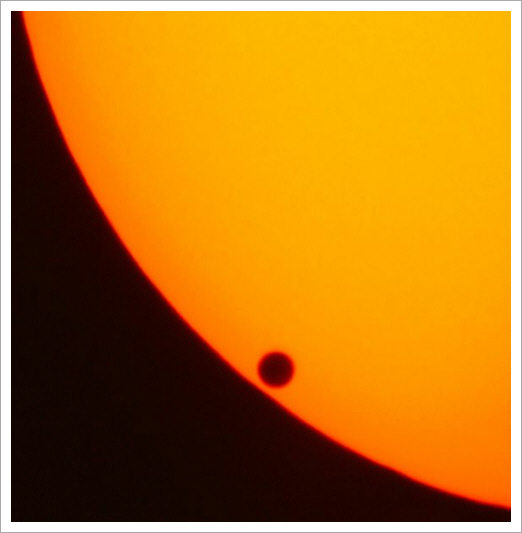 2004 Transit of Venus. From Wikipedia, credit http://de.wikipedia.org/wiki/Benutzer:Klingon
On June 5th 2012 (in US time zones), the planet Venus will pass between the earth and the sun. This is a very rare event. Sequences of transits occur in a pattern that repeats every 243 years, with transits occurring eight years apart followed by a gap of 121.5 years, then a gap of eight years and then another long gap of 105.5 years. It's extremely unlikely that anyone reading this will ever have another chance to see of photograph such and event as the next one will be on December 10th 2117, so unless you expect to live for another 105 years from today, this is your only opportunity!
Venus should actually be visible to the naked eye if the sun is viewed though an appropriate solar filter. Viewing through an inappropriate solar filter can blind you, so use caution!
I've covered solar photography and appropriate filters in two earlier articles:
Since Venus will be reasonably large (see the image above), you should be able to record it with modest equipment. A 300mm lens (with the right solar filter) will certainly show it, though a longer lens (maybe 500mm, maybe 500mm with a 2x TC) will produce a larger image.
The transit starts around 22:09 UTC on June 5th and ends around 4:49 UTC on June 6th (depending on exactly where the observer is located). That means it starts around 6:03 pm on the east coast of the USA (3:06 pm on the West coast). On both the east and west coasts of the US the sun will set on both coasts with Venus still in transit.
For observers in Europe and the Middle East, the transit will be in progress at sunrise on June 6th. This animation shows the expected view from Western Europe (time shown is Central European Time)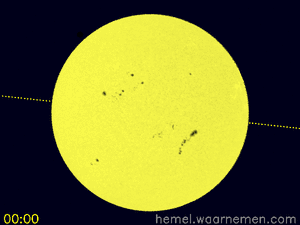 Image courtesy via Wikipedia under Wikipedia Commons licence - credit Marc van der Sluys - hemel.waarnemen.com
If you don't have a solar filter, but you do have a clear horizon to the west, you may still be able to photograph the event as the sun dims as it nears the horizon.
The weather forecast for New Jersey (where I'm located) is bad. Mostly cloudy with some showers. In fact there's nowhere within 200 miles of me that has clear skies forecast. Hopefully where you are things will be better. You can check cloud cover via NASA's GOES satellite images http://www.goes.noaa.gov/
If you are clouded in, the event will be broadcast via a realtime webcast from NASA TV - see http://sunearthday.nasa.gov/webcasts/nasatv/
UPDATE 06/05/12 - Well, as expected, 99.9% cloud cover here in NJ. However, during the 0.1% "clear" I did manage to grab this shot using an EF 500/4.5L lens, a solar filter and an EOS 7D.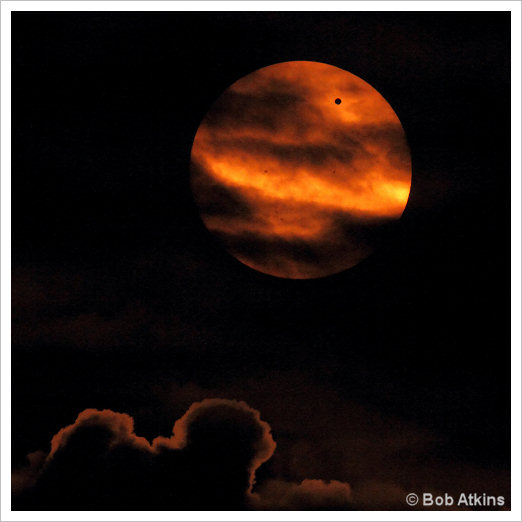 Transit of Venus. Shot from New Jersey at 7:44:25pm on June 5th 2012