Canon Financial Report 1Q 2012
At the end of April Canon gave a presentation on their results for the 1st quarter of 2012. This is normal practice for most corporations and the information is mostly financial and is intended for investors. However they did say a few things of interest to those of us using the Canon camera system. Below is a transcript of the relevant part of the presentation. I've reproduced "slide 13" which is referred to in the text, though it really doesn't say much about cameras. You can listen to the whole presentation via the Canon website at http://www.canon.com/ir/finance/earnings/index.html, but I warn you it's not very exciting...
The bold text is where I think the interesting information is.
So are Canon telling us anything of interest? Well, they say that "we will also work to increase sales of interchangeable lenses" and "we will further differentiate and enhance our lineup by launching new cameras offering the image qualities that approaches SLR cameras". Reading between those lines they could easily be talking about a compact interchangeable lens mirrorless camera (MILC). This should really be no surprise since everyone else (Sony, Nikon, Pentax, Olympus etc.) already have such cameras on the market and they are selling well. See my review of MILCs here Mirrorless Interchangeable Lens Cameras (MILCs)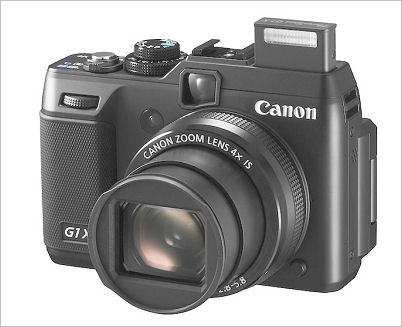 Canon has the Powershot G1X, which has all the right properties - except that it has a fixed lens. There's nothing wrong with a fixed lens - except that you can't sell more lenses to someone who has bought the camera! The G1 X sensor measures 18.7mm x 14mm. That makes it slightly smaller than the APS-C sensors found in Canon DSLRs (which is 22.3mm x 14.9 mm), but larger than the 4/3 sensors used by Olympus in their DSLRs and MILCs (13mm x 17mm). That means it should meet Canon's stated goal of "...new cameras offering the image qualities that approaches SLR cameras...". If Canon want to sell more lenses (as they say they do), then producing something along the lines of the G1X, but with an interchangeable lens system would seem to be a logical step. While I'm sure existing EF and EF-S series lenses would be usable on such a camera via an adapter, purpose built lenses could be smaller and lighter and give Canon another product line of interchangeable lenses.
I'm not sure there are many other clues about what Canon is planning. Something like an EOS 7D MkII would seem to fit in with their statement "...we are updating our lineup with a particular focus on higher-end segment. We have already announced new advanced amateur and professional level cameras...". There they are presumably referencing the EOS 1D X and the EOS 5D MkIII. The EOS 7D will have been in the Canon lineup for 3 years in September of this year, which is pretty long by DSLR standards. It would surprise nobody to see a 7D MkII announced later this year. The fact that the EOS 7D is still an outstanding camera which lacks very little won't stop Canon from updating it.
So that's it. No huge suprises (not that any would be expected), but statements consistent with a possible mirrorless interchangeable lens camera (MILC) sometime this year and possibly a 7D update. There will be (and have been) plenty of rumors about such cameras circulating on the internet, but at this point I hear nothing that I'm very inclined to put any faith in. It's mostly idle speculation at this point. In the past, Canon have often made announcements of new products in late August or early September, so that may be the timeframe in which we may hear something.