A first look at Canon's new version of DPP - v3.11.10.0
Along with the new
Canon EOS 5D MkIII
Canon are releasing an update of their Digital Photo Professional software (DPP). DPP serves a number of functions from organizing images to the conversion of RAW files to JPEGs (of TIFFs) as well as performing a number of image editing functions including modifications of while balance, brightness, contrast, saturation and sharpness. It also allows control of highlights/shadows as well as cropping and rotating images. It has the ability (when certain Canon lenses are used) to also correct vignetting, distortion and chromatic aberration.
A manual for the software (but not yet the software itself) can be found via Canon's website. DPP 3.11.10 PDF manual
In version 3.11.10 several major new features have been added. It's now possible to combine images via various blending methods for example. An HDR feature has been added which will take 3 images of any type taken at different exposures and combine them into one High Dynamic Range image with various display options from "natural" to "vivid". There's an auto align function to combine images shot handheld.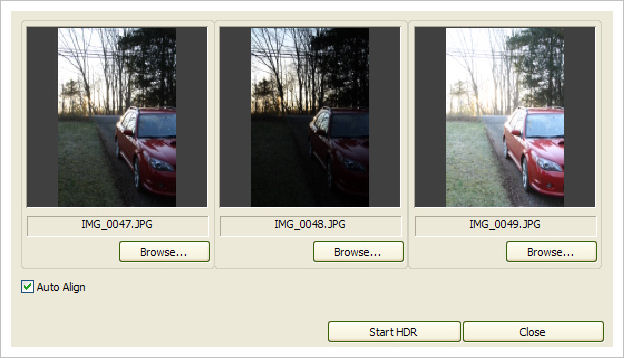 Above are the three images to be combined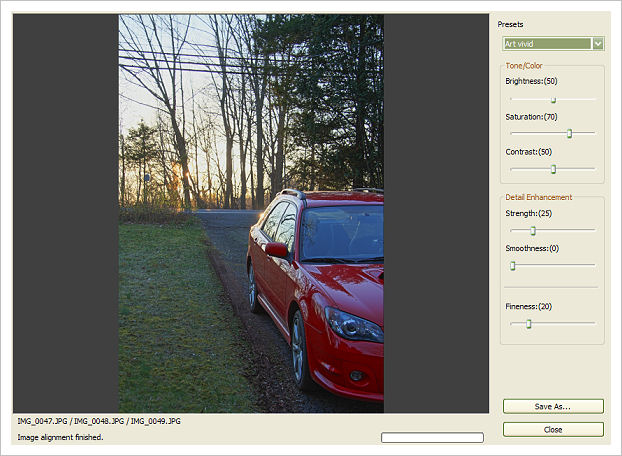 Here is the HDR result with "art vivid" style selected. Image alignment is automatic with no manual checks or options, but the final HDR image can be adjusted with the control on the right as shown
Perhaps the most interesting new feature is Digital Lens Optimization. For a limited number of Canon lenses, DLO applies a number of aberration corrections to improve image quality. Canon don't say in any detail exactly what can be corrected for and how the corrections are applied, but the end result is images that are sharper and in which chromatic aberration has been corrected. What Canon have said is that DLO is...
"a revolutionary new tool designed to drastically improve image resolution. Digital Lens Optimizer (DLO) precisely imitates lens performance, with a series of complex mathematical functions replicating each stage of the journey of light through the optical path. Using this information DLO can correct a range of typical optical aberrations and loss of resolution caused by a camera's low pass filter, by applying an inverse function to each shot to take the image nearer to how the scene appears to the naked eye."
and
"A new feature called Digital Lens Optimizer processes RAW images to achieve ideal optical characteristics for all types of optical aberration or diffraction, effects of a low-pass filter in front of a CMOS sensor, etc. This function improves image quality particularly in the image periphery in addition to the image center. This function is made possible because the entire design-through-manufacture process, for camera, CMOS sensor, EF lens, and DPP, is carried out entirely at Canon. Images are processed optimally using lens information in the image files (focal length, subject distance, and aperture) and lens data specially for the Digital Lens Optimizer. (However, the size of a .CR2 file will be two to three times larger after applying the Digital Lens Optimizer.) Adjustments are made for such aspects as spherical aberration, chromatic aberration, astigmatism, curvature of field, sagittal halo, chromatic aberration of magnification, axial chromatic aberration, diffraction, and the effects of a low-pass filter in front of the CMOS sensor. DPP's Digital Lens Optimizer will be usable with any of 29 compatible lenses initially. It works with .CR2 files from EOS models released since 2006 (EOS 30D and forward)."
Whether they are really working magic or whether this is just a fancy way of saying that they optimally sharpen the image according to certain parameters of the lens (and camera?) I don't know. DLO certainly corrects chromatic aberration and the images do appear sharper (especially in the corners of the image).
Once DLO has been applied, the chromatic aberration correction in the lens aberration correction menu is removed, but distortion and vignetting corrections can still be applied.
The following cameras are supported: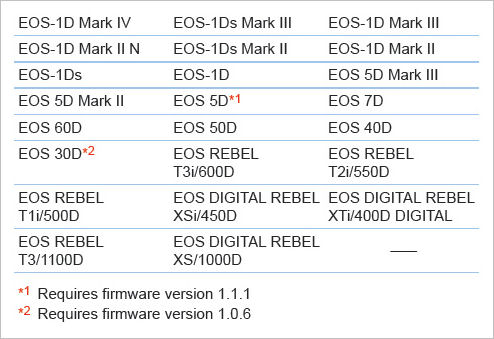 along with the following lenses: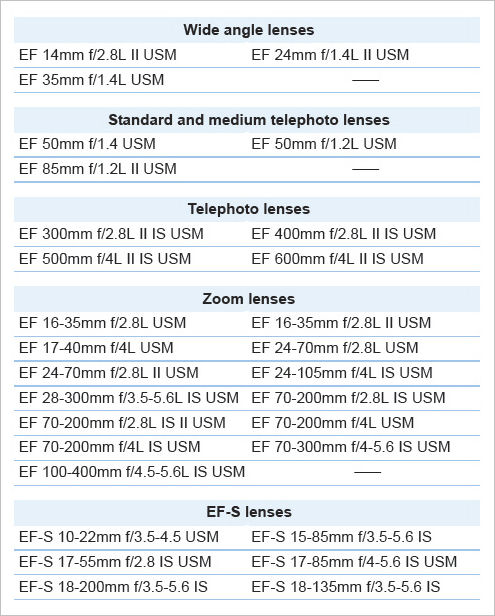 Hopefully Canon will add more lenses with time. Right now it's mainly L series full frame lenses and EF-S lenses. No support for the 50/1.8, 85/1.8, 35/2, 24/2.8 and several other popular non-L lenses.
While you can't yet download DPP v3.11.10 from Canon's official website, a few copies are circulating via Chinese and Russian websites. There's no guarantee these versions don't contain malware or that they aren't beta test versions. However I did run a couple of images though them.
Here's a comparison of the extreme corner of an image shot with an EOS 7D using an EF-S 17-85/4-5.6 IS USM lens wide open at 17mm.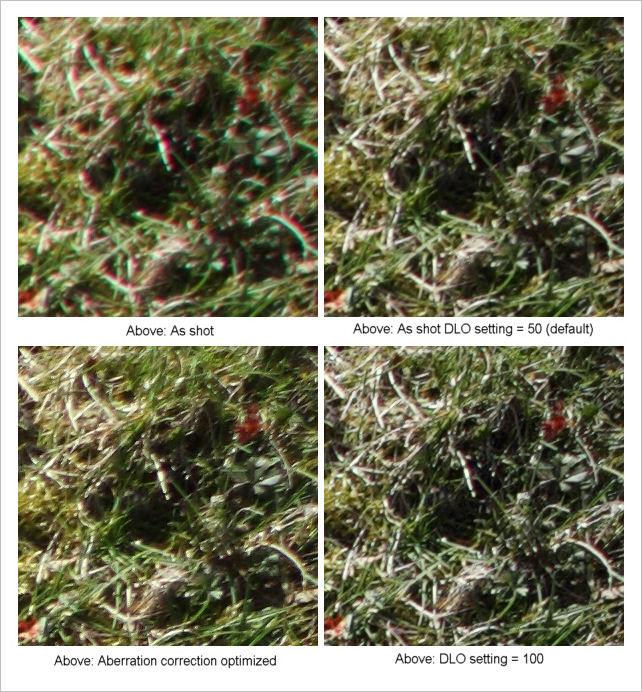 As you can see, DLO makes a big improvement to the image as shot. However so does the "old" Lens aberration correction when optimized. With the DLO setting moved from 50 (default) to 100 (max) the DLO image shows a further increase in sharpness. I think it is better than the old lens aberration correction, though both do a pretty good job.
As I said, this wasn't an official Canon download and it's just one sample of one camera and one lens. It may well be the case that the degree of image improvement will depend on the lens and the camera used. One thing to be aware of is that DLO tags the RAW (.CR2) file with quite a bit of extra data. On the example I looked at the RAW file increased in size from 31.5MB to a whopping 58MB when DLO was applied. Earlier comments by Canon suggest that the increase in size could be even larger. The original RAW file data isn't changed by DLO, so the additional data may perhaps be something like a second RAW file incorporated with the .CR2 file which represents the image as corrected by DLO.
As soon as Canon post the DPP v3.11.10 update on their website, I'll post a download link.