Canon EOS 5D MkIII - Hands-on Preview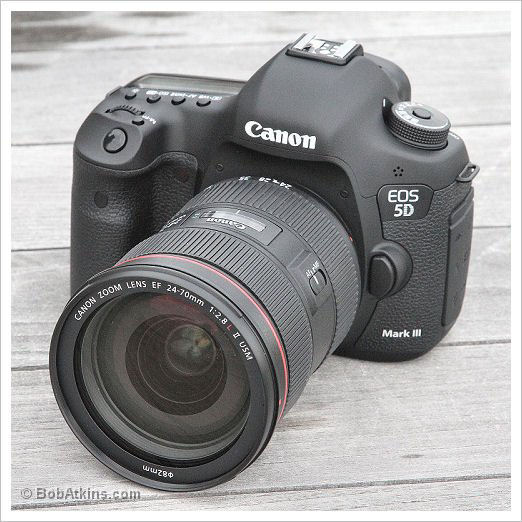 Canon EOS 5D MkIII with EF24-70/2.8L II USM lens
Earlier this week I was invited to a meeting with Canon to take a look at the new Canon EOS 5D MkIII ($3499, $4299 with EF24-105/4L IS USM) and some of the new EOS 5D MkIII accessories which will be available for it. These include a GPS unit (GP-E2, $390), a new 600EX-RT speedlite ($629.99), a grip and battery pack (BG-E11, $490), a wireless speedlite transmitter (ST-E3)and a wireless file transmitter (WFT-E7A, $849.99). While it's not possible at this point to provide a complete technical review of the new EOS 5D MkIII, I'll try to give you the highlights of the new camera along with my take on them. While I did get to handle and shoot with the 5D MkIII, since it was a pre-production model Canon did not want any images that were shot with the camera to be displayed, so no sample images I'm afraid. Just pictures of the camera rather than pictures taken with the camera.
However if you trust Canon, they have full size image samples and a few video clips on their website at http://cweb.canon.jp/camera/eosd/5dmk3/samples/
Highlights
22.3MP CMOS sensor with a gapless microlens, 8 channel readout and low noise
61 point AF system with 41 cross sensors (same as EOS 1D X) with AF to -2EV
63 Zone iFCL metering (same as EOS 7D)
Native ISO settings of 100-25600 with expansion to 50-102400
Digic 5+ processor (30% faster thah Digic 5, 17x faster than Digic 4)
6fps continuous shooting
In-camera HDR. 3 images taken at +/- 3 stop intervals. In-camera image alignment
AEB for 2,3,5 or 7 frames at up to +/- 3 stops
Exposure compensation of up to +/- 5 stops
Dual memory cards, CF and SD/SDHC/SDXC, with selectable or simultaneous file storage
Weatherproofed more than the EOS 7D, but less than the 1D-X
1080HD video with manual audio control (audio level visible on screen) and an audio monitoring outlet
Selectable ALL-1 or IPB compression for video files, H.264 standard.
Embedded time codes in video files
Full readout of every pixel for video (no line skipping), with lower Moire patterning in final images
"Quiet" control (capacitive touch dial) for silent adjustment of camera while shooting video
Estimated retail price of $3499 for the EOS 5D MkIII body, $4299 for the body + EF24-105/4L IS USM lens, shipping in late April
Comments
So first, in a nutshell what is the Canon EOS 5D MkIII? I'd say that it's pretty much the traditional EOS 5D body, but with much of the internal hardware of the EOS 1D-X and the EOS 7D. For example the 63 zone color metering system is the same as that also found in the EOS 7D and the AF hardware sensors are the same as those found in the EOS 1D-X. Where the EOS 5D MkIII differs from the EOS 1D-X is in the fact that it uses a single Digic 5+ processor while the 1D-X uses dual Digic 5+ processors. The EOS 5D MkIII also has a different sensor, a brand new 22.3MP CMOS sensor designed specifically for the 5D MkIII which uses gapless microlenses on on chip noise reduction. The 1D X is also more heavily weatherproofed and has an integrated grip among other extra features. The degree of weatherproofing of the EOS 5D MkIII lies somewhere between that of the EOS 7D and that of the EOS 1D-X.
Note that the new EOS 5D MkIII is an addition to the Canon EOS lineup. For now at least, the EOS 5D MkII will not be discontinued, but the "official" price listed by Canon (their "estimated retail price") will be reduced from the current $2499.
Autofocus

New 61 point Autofocus System Display used in EOS 5D MkIII and EOS 1D-X
Perhaps the most obvious difference between the 5D MkII and the 5D MkIII when you pick it up and look through the viewfinder is that the old 9 point AF system (inherited from the original EOS 5D) has been replaced by the brand new 61 point AF system which was developed for the flagship EOS 1D X body. The illustration above shows some details of the new system. There are multiple cross sensors, with high precision sensors for faster lenses. The physical details of the sensor show that while discrete AF points are displayed, the sensors themselves are continuous linear sensors arranged in such a way as to give better "out of focus" indication. That means lenses know where they are even when well out of focus and the camera can drive them rapidly to the correct focus point without having to first test which way to move. That eliminates focus "hunting". The AF system of the EOS 5D MkIII is rated down to -2EV.
Just as with the EOS 7D and EOS 1D-X the points can be used in a variety of ways and configurations from a small AF spot in the center, to the camera choosing from all 61 points automatically. They can also be grouped such that there is a particular AF zone which is primary, but if focus cannot to found in that zone the 8 surrounding zones activate and are used for focusing.
One difference between the EOS 5D MkIII and the EOS 1D-X is that the 5D MkIII does not have the EOS iTR (Intelligent Tracking and Recognition) AF mode of the EOS 1D-X which recognizes the subject based on face and color detection from the AE system, and tracks it using AF points.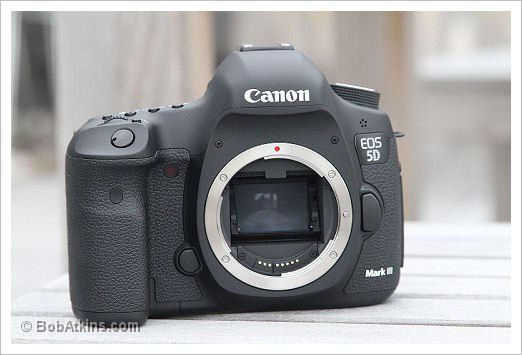 Canon EOS 5D mkIII body
New 22.3MP CMOS sensor
The EOS 5D MkIII has an entirely new sensor, not found in any other EOS model. It's a gapless design sensor with improved efficiency over the old EOS 5D MkII sensor (and that leads to lower noise for a given ISO setting). There is also on chip noise reduction circuitry. The pixel pitch is slightly smaller than that of the 5D MkII because the pixel count has been increased from 21MP to 22.3MP. Despite that, Canon claim that JPEGs from the EOS 5D MkIII at ISO 3200 show similar noise levels to JPEGs from the old EOS 5D MkII at ISO 800, a 2 stop advantage. While no numbers were provided for RAW files, it was said that although they don't show a 2 stop advantage, RAW files from the 5D MkIII do show lower intrinsic noise than those from the 5D MkII. It was noted that the larger pixels of the EOS 1D X along with whatever other "magic" Canon have come up with give the EOS 1D X an even lower noise level, around 1 stop better the the 5D MkIII for JPEG files.
The EOS 5D MkIII has a native ISO range from 100-25600, with an expansion to a range of IS 50-102400 for still photography. Video is limited to the use of the 100-25600 range. In auto ISO mode the highest ISO setting is under user control.
Readout of data from the new sensor is faster that that from the 5D MkII due to both the use of the new DIGIC 5+ processor (17x faster than the DIGIC 4 and 30% faster than the DIGIC 5) and the use of an 8 channel readout system in the 5D MkIII vs. a 4 channel readout for the 5D MkII (and a 16 channel readout in the 1D-X). This means that although the file sizes are larger, the EOS 5D MkIII is capable of continuous shooting at 6 frames/sec (the 5D MkII shoots a maximum of around 3.9 frames/sec). The buffer capacity of the EOS 5D MkIII is unlimited when shooting JPEGs using a fast memory card. The RAW buffer size was said to be around 35 frames but I didn't get a chance to test it.
Shutter
TheEOS 5D MkIII has a 59ms lag time (the EOS 1D-X has a 53ms lag time, the EOS 7D is also 59ms) and is rated for 150,000 cycles (same as the EOS 7D, the EOS 1-D X is 200,000 cycles). Flash sync speed is 1/200s and it has the usual range of 1/8000s to 30s plus bulb. The mirror mechanism on the EOS 5D MkIII is new.
Viewfinder
The EOS 5D MkIII has a 100% coverage viewfinder. Viewfinder magnification is 0.71x with a 22mm eyepoint and a 34.1 degree angle of view. The usual parameters are displayed (see EOS 7D and EOS 1D-X) though I believe a few new warning symbols have been added.
New iFCL Metering System
The metering system of the EOS 5D mkIII is the same iFCL 63-zone Dual-layer Metering that is used on the EOS 7D. The 'FCL' stands for 'Focus, Color and Luminance'. There are two layers, one responsive to red/green light on one responsive to green/blue light. By having color sensitive metering more accurate exposures can be calculated. Information form the focus zones is also used in calculating exposure. The EOS 1D-X goes one better and uses a 100,000 pixel RGB sensor for metering.
Operation and Controls
In general the control layout will be very familiar to anyone who is used to an EOS body, especially and EOS 7D or EOS 5D MkII. The control buttons and shutter release are grouped in the usual EOS style around the top LCD as shown in the picture below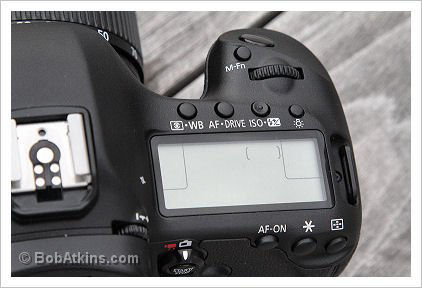 Canon EOS 5D MkIII Top LCD and control buttons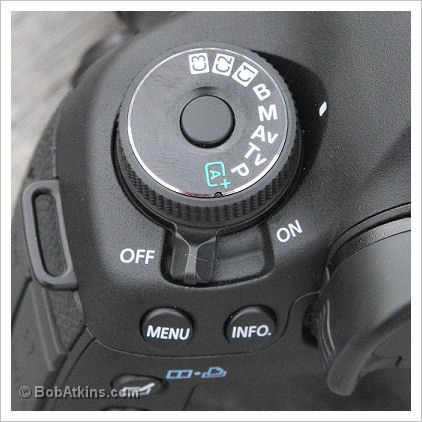 Canon EOS 5D MkIII mode control dial and power switch
Mode selection is done with a dial on the right side of the camera, and as with the EOS 7D the main on/off power switch is located just behind the mode selection dial.
Canon EOS 5D MkIII with grip
The rear LCD is the same 3.2" 1040000 dot screen that is also used in the EOS 1D-X. All the other control buttons and dials should be pretty familiar. There's a dedicated button for live view or video shooting as on the EOS 7D. One new control is the "RATE" button, which I gather can be used to rate images you have shot. This may help in grouping together the best images after a shoot, perhaps something that event photographers would find useful. The rear control dial features a built in "silent" mode which uses a capacitive touch sensor. As with the EOS 1D-X this can be enables to allow silent changes of various setting during video recording.
The camera menu system is modeled after that used in the EOS 1D-X.
Multifunction Grip and Battery Pack BG-E11
A multifunction grip and battery holder for the EOS 5D MkIII, the BG-E-11, is available. It can take 2 Li-Ion batteries or 6 AA cells and provides and extra 4 way controller as well as a second shutter release and the top right 3 control buttons (AF-ON, AE Lock/reduce, AF point selection/magnify). The price will be $490.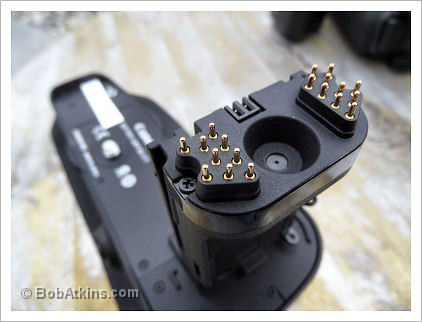 Closeup of grip contacts
Memory Cards
The EOS 5D MkIII has provision for both CF and SD/SDHC/SDXC memory cards. Storage options are very flexible. Images can be written to either card individually, or images can be written to both cards simultaneously for "instant backup". Different types of images can be assigned to different cards, so for example, JPEG files could be written to the CF card while RAW files could be written to the SD/SDHC/SDXC card. UDMA 7 is supported. File system is normally FAT 32, but exFAT is also supported for SDXC cards and CF cards over 128MB.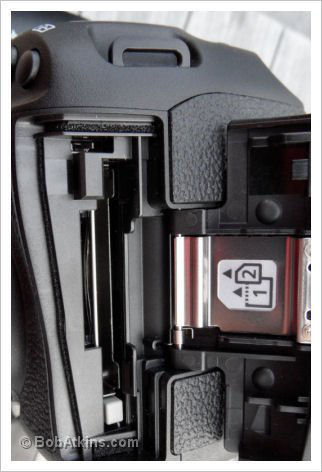 Closeup of EOS 5 D MkIII dual memory card slots
With the EOS 5D MkIII, the first 4 characters of the file name can now be customized by the user.
Connections
The 5D mkIII has HDMI and USB 2.0 connectors for A/V and data communication. There's also a standard jack output for headphones for monitoring audio and a standard input jack for a stereo microphone. An N3 type connection for a remote release and a standard PC terminal for flash connection are also provided. The new Nikon D800 offers USB 3.0 compatibility which in theory (assuming optimized communications at both ends of the link) can provide 5Gbps, 10x the data transmission speed of USB 2.0.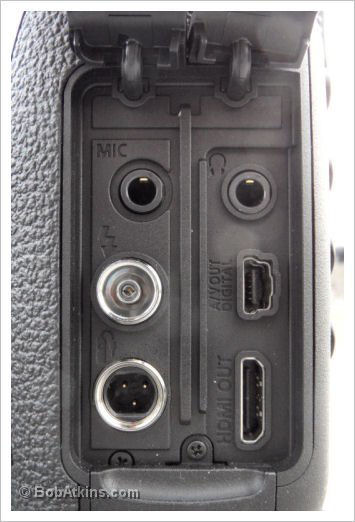 Canon EOS 5D MkIII external connections
HDR and Multiple Exposure
The EOS 5D MkIII has both in-camera HDR and multiple exposure capability. The HDR function combines 3 images shot at different exposures (up to +/- 3 stops) and aligns the images (as long as the camera doesn't move too much between exposures). Various HDR "effects" can be selected. Multiple exposures can be combined in several ways, but they do not form an HDR image. The multiple exposure mode is the same as that found in the EOS 1D-X.
Video
When it comes to shooting video, the EOS 5D mkIII has a number of feature that make it better than the 5D MkII. 1080HD is 1920x1080 pixels which is smaller than the native resolution of the sensor and so the image must be downsampled. This obviously also applies to 720HD. With the 5D MkII in order to read out data from the sensor fast enough, a line skipping technique was used. The 5D mklII is fast enough to read out all the data from the sensor at video rates and downsize the image to the selected video format. This, in combination with appropriate firmware, results in significantly less Moire fringing of high frequency detail in the resulting video image. While I don't have samples I can show here, Canon did show comparisons between moire patterns for the 5D mkII and 5D MkIII and the MKIII images did indeed show significantly lower levels of Moire patterning.
HD video uses the standard H.264 codec, but as with the 1D-X there is a choice between ALL-1 and IPB compression schemes. IPB is Bi-directional compression and basically records differences between frames. It produces the smallest files. ALL-1 is Intra-coded Frame where each frame is individually compressed. While files are 3x larger than IPB compressed files, image quality is higher and less processor power is required for playback. The EOS 5D MkIII also supports the recording of timecodes in video files.
The 5D MkIII has provision for monitoring of the audio signal (you can plug headphones into the camera) which is lacking on the EOS 5D MkII. Audio record evel is manually adjustable and can be diaplayed on the LCD screen. For those wondering if the EOS 5D MkIII can stream uncompressed HDMI video, the answer is no, it can't.
The EOS 5D MkIII has no video crop mode analogous to that on the EOS 60D where only the center 640x480 pixels are used to record VGA video. In the case of the 60D this gives an effective 7x video digital multiplier. The EOS 7D and EOS 1D-X also lack this feature.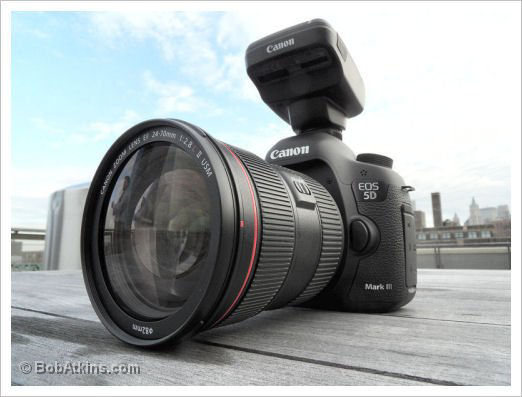 Canon EOS 5D MkIII with ST-E3 Speedlite Controller
The Elephant in the Room?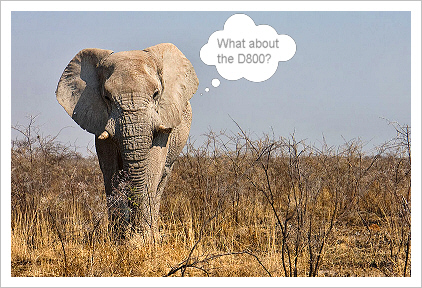 Elephant..used under GNU license see http://en.wikipedia.org/wiki/File:Etosha_elefant.jpg
The elephant in the room (i.e. the big question that nobody wanted to try to answer) is how does the new Canon EOS 5D MkIII stand up to the new Nikon D800 for still and video shooting? Of course the answer at the moment is that nobody really knows since nobody has had a chance to compare them side by side.
On paper the Nikon D800 would seem to have some advantages which include a 36.3MP sensor vs. a 22.3MP sensor. This should result in higher resolution images with a good lens. The D800 has a built in flash. While a built in flash isn't exactly a professional tool, it can sometimes be better than no flash, plus - and this is the best use for a built in flash - it can act as a controller for a wireless flash system (as indeed it can in the EOS 7D). Without a built in flash the 5D MkIII (and all the previous 5D modes) need a wireless flash controller (or a speedlite capable of acting as a master controller) attached before it can utilize an off camera wireless flash system. For video users the D800 can stream uncompressed video via an HDMI port, while the EOS 5 MkIII cannot. I don't know how useful this feature is since I'm not a videographer, but I'm sure it would be useful to some. The D800 also supports USB 3.0, while the 5D MkIII supports USB 2.0.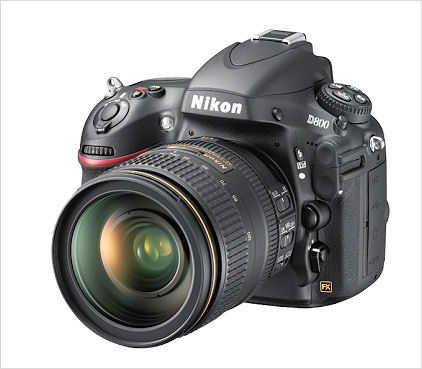 Nikon D800
The Nikon D800 has several "cropping modes" where only a subset of sensor pixels is used. That would allow a Nikon DX (APS-C) lens to be mounted and an image captured with a minimum of wasted pixels. The EOS 5D MkIII has no such crop modes, but then Canon EF-S (APS-C) lenses cannot be mounted on it (though 3rd party APS-C coverage lenses can).
On the other hand, the 5D MkIII can shoot full frame stills at 6 frame/second until the memory card(s) fill up while the D800 is limited to 4 frames/second. The 5D MkII has a native ISO range of 100-25600 and can be expanded to 50-102400, while the D800 has a native ISO range of only 100-6400 with expansion to 50-25600. This suggests that the EOS 5D mkIII, with its lower pixel count and larger pixels, should have a significant noise advantage over the D800, perhaps by as much as 2 stops? That should also translate into greater dynamic range.
So which is "best" will depend on the user and the application and side by side testing will be needed to sort things out. That will probably happen fairly soon after both cameras hit the marketplace in a couple of months. I suspect that the Nikon D800 will probably show higher resolution, but that the EOS 5D MkIII will probably show lower noise and higher dynamic range. However that's just a guess based on the expected characteristics of the relative pixel sizes. Only actual testing will reveal what's going on.
Oh, and another advantage of the Nikon D800 is the price. At $2999 it's $500 cheaper than the EOS 5D MkIII at $3499. Not an insignificant amount especially since it has flash built in.
I doubt many dedicated Nikon shooters will switch to Canon or Canon shooters to Nikon, but for those buying into a higher end system with no previous gear (and I suspect that's probably mainly those with high end video needs), there will certainly be a question of which way to go.
Here's a quick comparison table for the EOS 5D MkII, EOS 5D Mk III and Nikon D800:
Canon EOS 5D Mk II
Canon EOS 5D Mk III
Nikon D800
Sensor
21.1-megapixel CMOS
4-channel readout
14 bit
22.3-megapixel CMOS
8-channel readout
14-bit
36.3-megapixel CMOS
12-channel readout
14 bit
Sensitivity range
100-6400 native
50-25600 exp
100-25600 native
50-102,400 exp
100-6400 native
50-25600 exp
Continuous shooting
3.9 fps
6 fps
4 fps
AF exposure range
-0.5 - 18EV
-2 - 20 EV
-2 - 19 EV
Autofocus
9-pt AF
1 cross type
61-pt
5 cross to f2.8
20 cross to f4
21 cross to f5.6
51-pt
15 cross type; 11 cross type to f8
Shutter speed
1/8,000 to 30 secs; bulb; 1/200 sync
1/8,000 to 30 secs; bulb; 1/200 sync
1/8,000 to 30 secs; bulb; 1/250 sync
Shutter life
150,000 cycles
150,000 cycles
200,000 cycles
Metering
35-zone TTL
63-area iFCL
91,000-pixel RGB 3D Color Matrix Metering III
Metering exposure range
1 - 20 EV
0 - 20 EV (est)
0 - 20 EV
Video
H.264 QuickTime MOV 1080/30p/ 25p/24p; 720/25p/24p
H.264 QuickTime MOV
1080/30p/25p/24p; 720/60p/50p
H.264 QuickTime MOV
1080/30p/ 25p/24p; 720/60p/50p/ 25p/24p
HD video clip length
4GB(~12 minutes)
29 minutes 59 seconds
20 minutes
Audio
mono; Stereo mic input
mono; Stereo mic input; headphone jack
mono; Stereo mic input; headphone jack
Viewfinder
100%
100%
100%
LCD size
3 inches fixed
920,000 dots
3.2 inches fixed
1,040,000 dots
3.2 inches
921,000 dots
Memory card(s)
1 x CF (UDMA mode 6)
1 x CF (UDMA mode 7), 1 x SD/HC/XC
1 x CF (UDMA mode 7), 1 x SD/HC/XC
Built-in flash
No
No
Yes
Battery life (CIPA rating)
850 shots
(1,800mAh)
950
(1,800mAh)
850 shots
(1,800mAh)
Dimensions (inches, WHD)
6.0 x 4.5 x 3.0

6.0 x 4.6 x 3.0

5.7 x 4.8 x 3.2
Body weight (oz)
32.9
33.5
31.7
Est. Retail price
$2,499 (body only)
$3,499 (body only)
$2,999.95 (body only)
Ship date
November 2008
~March 2012
~March / April 2012
What's my take on it all?
First let me say that I don't anticipate immediately buying an EOS 5D MkIII. Not because it's not a good camera, but because I really don't need advanced full frame capability at the moment. I didn't buy a 5D MkII either! I do have a 5D (MkI) which I use for full frame lens evaluation and when I need full frame coverage for fisheye or when I want minimum DOF for portraiture. So it doesn't matter much to me personally what features the 5D MkIII has or lacks. In that regard my opinions are unbiased.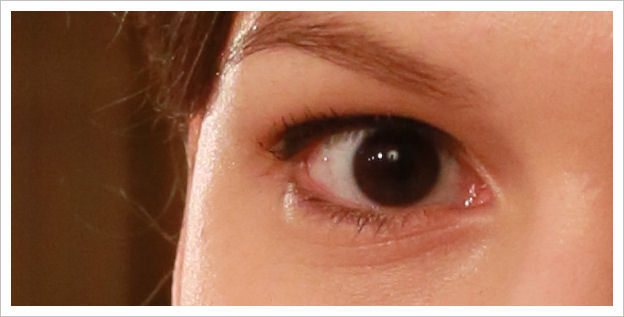 100% crop from an image posted by Canon. ISO 3200, Canon EOS 5D MkIII, EF50mm F1.2L USM @ f7.1
However that doesn't stop me from having an opinion! First the pixel count issue. Essentially unchanged from the 5D MkII, but significantly lower than the Nikon D800 (22.3MP vs 36.3MP). Does it matter? In reality, probably not. I've never heard anyone criticize the 5D MkII because it didn't have enough pixels. All else being equal, more pixels is better, but all else is unlikely to be equal. My guess is that the 5D MkIII will probably show lower noise and higher dynamic range than the Nikon D800, which translates to higher image quality, especially at higher ISO settings. If the above image (shot by Canon) is typical of performance at ISO 3200, there certainly won't be many complaints! However it's hard to get over the psychological effects of pixel envy. I have no doubt that some Canon shooters will develop a severe case of PIC (Pixel Inferiority Complex). Maybe Canon could have helped a little with a bit more of a boost, say to 28MP while still keeping high quality. Then again, maybe not. They're the ones who know what goes into clean images and they are in a better position than any armchair critic to determine the best compromise. They thought it was 22.3MP. Who am I to argue. Canon are clearly in the camp of "better quality" rather than "more pixels", since they actually reduced the pixel count going from the old EOS 1Ds MkIV to the new flagship 1D-X.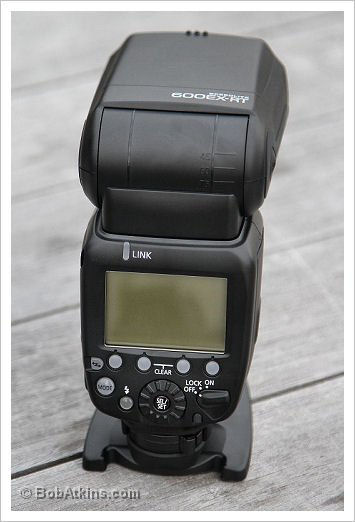 New Speedlite 600EX-RT, price around $630
20-200mm Zoom Head, GN 60(m at 200mm), 20% faster recycle than 580EXII
I'd have liked to see a built in flash, if only for use as a wireless flash controller for an external speedlite. The 7D has one, the T3i has one so why not the 5D MkIII. I presume Canon's answer would run along the lines that a pop-up flash isn't a professional feature (though there's one in the 7D) and/or that it would compromise weathersealing. Possibly a valid viewpoint, but it wouldn't stop me wanting it. It would save having to spend several hundred dollars on either a hot-shoe mounted wireless speedlite controller or a hot-shoe mounted flash with wireless master capability.
I'd have liked to see a crop mode in both still and video. I know you can't put EF-S lenses on the 5D (and that's not something I like much either), but you can put 3rd party APS-C coverage lenses on it. Shooting in an APS-C crop mode would save storage space and enable faster operation. The 5D MkIII can do 6fps full frame. The 7D can do 8fps APS-C. I'd think that a 5D MkIII crop mode might have been able do 9 or 10 fps. Of course that might start treading on the toes of the EOS 1D-X, so Canon may well have made a marketing rather than a purely technical decision on that score. A video crop mode such as the 640x480 crop mode found on the T2i would have been nice. It's basically a digital magnifier, but with no quality loss since you aren't interpolating pixels. Just take the center 640x480 pixels for VGA or the center 1920x 1080 pixels for 1080HD and you effectively get a magnified image compared to capturing the whole frame and then downsizing to a smaller video frame. You might also avoid moire patterns that way and enable higher frame rates. But we didn't get it. Maybe another day...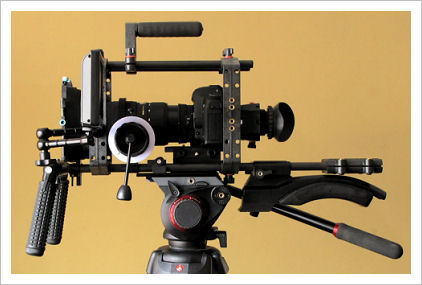 Canon in professional video setup (see http://en.wikipedia.org/wiki/File:Canon_5d_MkII_Cinema_Rig.png)
Finally for the professional videographers (of which I am not one) I know that an uncompressed full HD resolution video feed from the HDMI port would have been desirable. People have tried all sorts of ways to try to get such a feed from the 5D MkII (including proposals to rewrite the camera firmware), but I don't think anyone has done it (videographers - correct me if I'm wrong since I'm a little out of my depth on this one). The 5D MkII will output live video via the HDMI port, but at a quality level lower than that of the recorded video. If the 5D MkIII is aimed at the professional video crowd (which I'm sure it is), an uncompresssed video feed at full resolution would have been nice. As yet we don't know if the 5D MkIII live HDMI video will be an improvement over that of the 5D MkII. But we do know that whatever it is, it's not uncompresssed.
Overall the new EOS 5D MkIII looks like a significant advance over the 5D MkII. Much better autofocus, improved metering, improved speed, improved video capability and probably improved image quality, at least based on the comparisons of "out of camera" JPEGs that I've seen. No it's not perfect and it's not the camera some might have wished for, but then no camera ever will be. That's the nature of incremental progress. The EOS 5D MkII Canon estimated retail price was $2499 (with a true street price closer to $2399). The new 5D MkIII will start out a $3499 and the Canon estimated retail price on the 5D MkII will drop, probably making the MkIII at least $1000 more expensive. It would have been nice if it had been cheaper, but again that applies to every camera ever released by any manufacturer! At least Canon are keeping the 5D mkII around for a while, so if you can't afford a MkIII you may be able to pick up a MkII at a pretty reasonable price.
Ordering
It's going to be a while before the 5D MkIII becomes available, and when it does I suspect it will be in short supply for a while. If you want one, I'd advise getting your name on the list of a vendor who is taking "pre-orders"
http://www.bobatkins.com/smf/index.php/topic,964.0.html
Links to more infromation: