Canon Powershot A80 Review
Canon PowerShot A80
Introduction
Canon have a wide range of "Powershot" digital cameras. In Canonspeak, "Powershot" refers to everything except their digital SLRs. This review is of the new Powershot A80 model. The A70 was widely regarded as one of the best "point and shoot" models on the market, and the A80 is a significant upgrade of the A70 with many new features, such as a larger area sensor, 4MP rather than 3MP, a swing out, tilt and swivel LCD screen and custom shooting modes.
Canon A80 Specifications
4MP sensor giving a 2272 x 1704 pixel images (3.87MP effective pixels)
1/1.8" sensor (7.2 x 5.3 mm) - larger than sensors on A60 and A70 - same size as the "G" and "S45/50" series cameras
35-114/2.8-4.9 zoom lens (35mm equivalent)
Shutter speeds 15s - 1/2000s (noise reduction at 1.3s and longer)
Exposure compensation +/- 2 stops in 1/3 stop increments
Auto, preset or custom white balance
ISO 50/100/200/400
Evaluative/Center-weighted/Spot metering
Manual, Shutter Priority, Aperture Priority and Program AE and PIC modes with two custom settings
Swing out, twist and swivel LCD screen
Video 320x240, 15fps, 180s maximum length
2.4 frames/s for 5 frames (2272x1704 pixels, best quality JPEG)
Uses Compact Flash (CF) type I cards (microdrives are type II and not supported)
4 x AA cell power - 1000 shots per charge for NiMH cells (with LCD off)
Digic Processor
PictBridge Compatible*
*PictBridge is a standard which allows digital cameras to connect directly to printers, regardless of the manufacturer of the camera or printer. The printer acts as a USB "host" and the camera acts as a USB "device". For more information on how PictBridge works visit this link: http://www.cipa.jp/english/pictbridge/
The Lens
The lens on the Canon A80 is a 7.8mm - 23.4mm zoom, which gives approximately the same field of view as a 38-114mm lens would on a full frame 35mm camera. At the wide end the maximum aperture is f2.8, dropping to f4.9 at the long end of the range. Though not as fast as some high end digital cameras, it's nevertheless much faster than you'd typically see on a 35mm film P&S, and fast enough that the camera performs pretty well in available light situations. Image quality was good and chromatic aberration was well controlled throughout the zoom range.
Exposure Modes
There are 14 exposure modes on the Canon A80:
Full auto - sets everything for you. Full "point and shoot" mode.
Program - selects shutter speed and aperture, but you can chose ISO, focus mode, flash mode etc.
Shutter Priority - you set shutter speed, camera picks aperture
Aperture Priority - you set aperture, camera sets shutter speed
Manual - you set both shutter speed and aperture
C1, C2 - Two custom modes. You can select a preferred shooting mode, ISO speed, flash mode, white balance etc. and these setting will be stored.
Movie - 320x240 or 160x120
Panoramic - Stitch assist mode - shows overlap with previous frame shot
Slow Shutter - Favors slower shutter speed
Fast Shutter - (Sports) Favors faster shutter speeds, higher ISO
Night Scene - Exposes night scenes for available light (even when flash is used)
Landscape - Favors smaller apertures
Portrait - Favors wider apertures
Shutter speeds range from 15s to 1/2000, though shutter speed is limited to 1/1000 or 1/1250 under some circumstances. For example at full aperture, the maximum shutter speed is 1/1000. With the lens at the widest setting at apertures from f3.2-f4 and at the telephoto setting at apertures from f5.6-f7.1, maximum shutter speed is 1/1250. At smaller apertures at both wide and tele settings, maximum shutter speed is 1/2000s
ISO settings
The A80 has the following options:
Auto ISO
ISO 50
ISO 100
ISO 200
ISO 400
For some reason, most Canon Powershot digital cameras are very conservative in their ISO ratings. Many reviews have commented on the fact that the ratings seem about 1 stop low. So, for example, when set to ISO 50, many Powershot cameras use the same exposure settings as other cameras do when set to ISO 100. The A80 seems to be no exception. I typically got the same exposure readings with an EOS 10D set to ISO 200 that I got with the A80 set to ISO 100.
This isn't really a problem, except perhaps if you were trying to use the A80 as an exposure meter for another camera - probably not something too many people would do. So the "true" ISO range of the A80 is closer to ISO 100-800 than ISO 50-400
White balance
There are 6 white balance options:
Auto
Sunny
Cloudy
Tungsten
Fluorescent (warm/cool white)
Fluorescent (daylight type)
Custom
Generally the auto setting does a pretty good job, especially outdoors. However indoors under tungsten light color balance tends significantly towards the red, so using custom white balance can be a good idea indoors if you want accurate colors.
Focus
There are 4 focus modes
Wide area (9 zone) autofocus
Center zone autofocus
Macro focus (2" to 18" at 38mm; 10" to 18" at 114mm)
Manual Focus
In the AiAF (wide area AF) mode, the camera selects the AF zone(s) from 9 zones which cover most of the frame. The selected zone(s) are indicated on the LCD screen, so you do have some idea what the camera picked to focus on. It's also an option to use only the center AF zone for autofocus, so you always know what the camera is trying to focus on. Once you have focus lock, if you keep the shutter 1/2 depressed the focus will remain unchanged while you recompose the shot.
In macro mode the camera only focuses over a small, close range as indicated above. At the wide end of the lens the minimum field of view is 2.2" x 1.6" at a distance of 2" from the subject.. Fully zoomed out the minimum area of coverage is 3.4" x 2.6" at a distance of 10" from the subject.
In manual focus mode a distance scale is displayed on the LCD and there is an option to magnify the center of the display to aid focusing adjustment.
Optical Viewfinder
The A80 has an optical viewfinder which zooms with the lens. It's nice to have an optical viewfinder as well as the LCD screen since I prefer the camera up to my eye rather than holding it at arm's length, plus the LCD screen draws quite a lot of power, so if you want to increase battery life you can turn it off. The optical viewfinder image quality isn't great. It has more distortion than you'll see in the image and the coverage is less (you see things on the image that are slightly outside the optical viewfinder frame). Also, on the camera I tested, the image wasn't really sharp (particularly when zoomed all the way to the telephoto) and there's no focus/diopter adjustment. However it works fine as a pointing device, though it was a little annoying not to have a sharp image.
LCD screen
The A80 LCD screen opens out and swivels as shown in the image below. It can be folded into the body with either the screen side facing out (for active use), or with the screen side facing inwards for protection during storage. When flipped out and turned over so the LCD screen is visible from in front of the camera, the image is still "right side up", so you can use it for self portraits!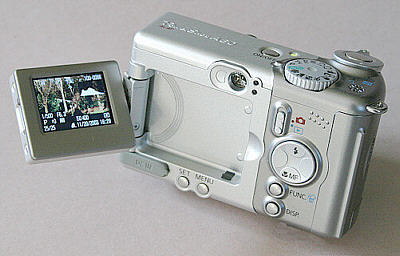 Flash
The built in flash has a range up to 16ft at "wide" (38mm) and up to 8.2ft at "tele" (114mm) when the ISO is set to "auto". It's not clear from the manual just how far this is extended when the camera is set to ISO 400, since it's not clear what ISO settings are used in "auto" ISO mode when flash is used. I suspect that "auto" doesn't use ISO 400 (because of the extra noise), so you may get at least a factor of 1.4x greater flash distance then the numbers Canon gives for the "auto" setting. This is just a guess on my part though.
There are five flash modes:
Auto with red-eye reduction
Auto without red-eye reduction
On with red-eye reduction
On without red-eye reduction
Off
In the "auto" modes, the flash fires when necessary, in the "on" modes the flash always fires. The red eye reduction light is a bright red lamp (also used for autofocus assistance in the dark). There is a pre-flash in all flash settings, so if you use optically triggered strobes in conjunction with the built in flash you will need the type that trigger on a second flash, or the pre-flash will fire the strobes before the internal flash fires. There is no connection for an external flash, as is typical of consumer digicams.
Note that if the optional filter/auxiliary lens holder is attached to the camera, it will partially block the built in flash especially for wide angle lens settings.
Zoom and Digital Zoom
The A80 has a 3x optical zoom which goes from 7.8mm f2.8 at the wide end to 23.4mm f4.9 at the telephoto end. This approximates to the same field of view as would be given by a 38-114/2.8-4.9 lens on a full frame 35mm camera.
As well as the optical zoom there is a further 3.6x digital zoom (giving a total of 11x). Digital zoom doesn't really do much if you are saving full size (2272x1704) images. It basically takes a cropped section of the image and enlarges it to full size. Image quality suffers and you could do the same thing in an external image editor. However if you are saving small images (say 640x480), digital zoom can be useful, since in that case it takes a crop from the full size (2272x1704) captured by the camera and resizes it to 640x480. This means that the "digital zoom" image is much better quality then you would otherwise get enlarging a section of the 640x480 image.
Shutter delay
The camera "wakeup" time, i.e. the time taken from turning the camera on until it's ready to shoot, is about 2.5 seconds, which is pretty typical for this class of camera. Not the fastest, not the slowest. Shutter lag, from first touch of the shutter release button to the image being taken is about 0.65 seconds in manual focus mode. It is usually longer in AF mode, maybe a second or more depending on the light level and the difficulty of obtaining an AF lock. If focus and exposure are locked by holding the shutter 1/2 depressed, the lag is much less. I'd estimate it at less than 200ms, but that is a very rough estimate based on images of a running stopwatch - and that includes my reaction time!. Canon says less than 100ms and I can believe that.
Canon numbers for Shooting Interval and Release Time Lag*
Shooting Interval (one shot mode)

Release Time Lag

LCD monitor On

Approx. 1.9 sec.

Less than 0.1 sec.

LCD monitor Off

Approx. 2.2 sec.
* Wide angle, Normal focus range (not macro), Large/Fine. Measured by Canon's testing standard. It will vary depending on the subject.
In normal continuous shooting mode with the LCD on, the A80 will shoot at approximately 1.6 frames/s. With the LCD off this increases to 2.5 frames/s. The number of frames you can shoot at this speed depends on the image size. For example in large/fine (2272x1704) you can shoot 5 frames, while in medium(2)/fine mode (1024x768) you can shoot about 23 frames. After this, when the buffer fills, shooting rate slows down. For example in large/fine mode the rate drops to 1 image every 3 seconds.
Batteries
The A80 takes 4 AA cells rather than a Li-ion battery pack. Though AA cells are a little more bulky than a custom Li-ion pack could be, they have the advantage of being easily obtainable and they are inexpensive to replace. You may also get longer battery life. For example the li-ion cell used with the S45 is a 7.2v 570mAh, while 4 good NiMH cells will give you 4.8v 2000mAh, so they store about 2.3x as much energy. Battery life does seem excellent, though I didn't have the chance to do any detailed tests. Canon specs are as follows:
| | | | |
| --- | --- | --- | --- |
| | Shots with LCD on | Shots with LCD off | Playback time |
| AA Alkaline | 250 | 800 | 280 min |
| AA NiMH (1600mAh) | 350 | 1000 | 280 min |
The test conditions are: Temperature = 23C, alternating wide and tele shots at 20s intervals, flash fired every 4 shots, camera turned off and on every 8 shots.
This is pretty impressive. As I said, I can't confirm these numbers, but I can confirm that battery life is good. I filled up a 32MB card maybe 8 times with the LCD on, lots of image reviewing and setting changes and there was no sign of the NiMH batteries I was using running down. I'd guess that's well over 200 images. However it's worth noting that there is no battery "fuel gauge" on the A80 to tell you the state of the batteries. An icon does appear when the battery is running low, but there is no icon to say the batteries are ok (except the absence of the low battery icon!).
Sample Images
Canon have a few full size sample images on their website. You can access them at http://www.powershot.com/powershot2/a80/sample.html
Software
The A80 comes with a a suite of software applications
For Macintosh:

ImageBrowser 3.5.1
Photostich 3.1
ArcSoft PhotoImpression 4
Arcsoft Videoimpression 1.6

For Windows:

ZoomBrowser EX 4.5.1
PhotoRecord 2.0
Photostich 3.1
Camera TWAIN Driver 6.2
Camera WIA Driver 6.2
Apple Quick Time
ArcSoft PhotoImpression 4
Arcsoft Videoimpression 1.7
These programs should provide most consumers with the basic software they need to view, sort, select and manipulate images. ZoomBrowser now even has basic database features where you can assign keywords to images and do sorts on those keywords. Photostich enables users to make multi-frame panoramic images. The Arcsoft programs provide fairly basic image and video editing. Don't expect Photoshop type capabilities though. They are fairly simple and a OK start for users with no other software, but if you intend to do any sort of serious editing you're probably going to want to buy something with more power. There are a number of pretty good image editing programs for under $100, for example Paint Shop Pro. Not everyone needs to spend $700 on Photoshop!
What does the camera lack?
Given the price and intended audience, this is a pretty full featured camera. However, if you asked to to find some faults with the A80 - or some features to be added on the next model, I'd suggest these as features which might be found on some cameras sold for a similar price and aimed at a similar market segment.
Support for CF type II cards. The A80 only takes type I, which means you can't use any microdrive or some larger capacity type II solid state CF cards. This may not be very important to the average user, but if the A80 is used as a pocketable backup camera for a DSLR shooter it may mean some cards will be incompatible.
Ability to save RAW images. The A80 only saves JPEGs. Now the JPEG quality is excellent and for well exposed images shooting RAW wouldn't get you much, but the 12 bit RAW data can sometimes be used to save images which are underexposed (or even slightly over exposed), plus you can adjust color balance and several other parameters "after the fact" if you have images saved in a RAW format.
Note that the Canon PowerShot S45 has both of these features, so if the A80 had them there would be even less differences between these already pretty similar models!
Conclusion
The A80 provides a pretty complete package for the beginner and advanced amateur who wants a pocket sized digital camera. The 4MP sensor is large enough to allow good 8x10 prints and the camera allows "auto everything" for the complete beginner, yet gives a full range of semi-automatic and fully manual modes for those who want complete control over their image. The lens is a typical 3x optical zoom covering 38-114mm, which is pretty much standard for small cameras of this type. Accessories are available which extend this range to 27mm on the wide end to 200mm on the telephoto end, though at additional cost. Autofocus and autoexposure are generally accurate and auto white balance takes care of most situations - though under indoor tungsten lighting the "tungsten" setting does give better results.
The build quality is good. The camera feels "solid" with a (mostly) metal shell and the built in "grip" (bulge the 4th AA battery!) makes holding the camera in one hand quite easy - as long as you are right handed and you don't have large hands! In fact while holding the camera in my right hand it was possible to zoom, fire the shutter, select the shooting mode (e.g. program, aperture priority, shutter priority etc.) and set the flash mode (on/off/auto) - all just using my thumb and forefinger. Other functions such as setting ISO, white balance and exposure compensation require two hands.
Overall I'd certainly recommend this camera and give it a "A" rating. I'd say it's suitable for anyone from beginners to more experienced shooters. It won't replace a DSLR, but it's a fraction of the cost and weight and offers all the features many casual photographers need.
If the cost of the A80 is too high, the A70 is a very similar camera, but with a 3MP sensor and a fixed LCD screen and it usually sells for around $100 less. It's another excellent choice and a very popular camera.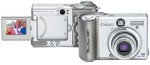 Checkout A80 prices at Amazon.com
© Copyright Bob Atkins All Rights Reserved
www.bobatkins.com