Canon EOS 30D - Hands-on Review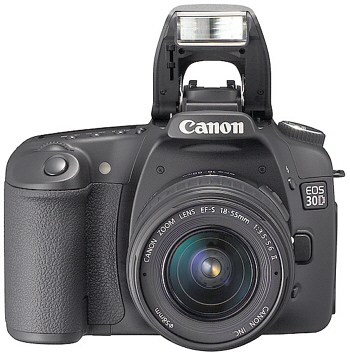 The EOS 30D is Canon's upgrade of the very popular EOS 20D. Though both cameras share the same sensor (1.6x APS-C format, 8.2 MP) the EOS 30D adds a number of new features making the EOS 30D an even more capable camera then it's predecessor. Notable are the addition of a 2.5" LCD screen, spot metering, RGB histograms and an increased buffer size.
Here are the main highlights of the new Canon EOS 30D:


designates a new feature on the EOS 30D
APS-C format (1.6x multiplier, 22.5 x 15mm)
8.2MP (same as EOS 20D)
2.5", 230,000 pixel LCD display
Selectable 3 or 5 frames/sec continuous shooting
Buffer for 30 JPEGs or 11 RAW images
Flash Sync at 1/250s
Shutter lag time 65ms
Camera "wake up" time 0.15s
3.5% spot meter
Luminance and RGB Histograms
ISO settings in 1/3 stops from 100-1600 and visible in viewfinder when changing
ISO 3200 selectable via CF
Picture Style modes like the EOS 5D
Option to disable image sharpening in JPEG mode
Tweaked AF algorithms, but does not have the extra 6 "invisible" AF zones of the EOS 5D
WiFi connectivity when coupled with the Wireless File Transmitter WFT-E1A
Direct Print button
9999 images per folder (vs. 100 on the 20D)
Compatible with BG-E2 vertical grip (also used on EOS 20D)
Street price $1399.99
Physically the EOS 30D is esentially a twin of the EOS 20D, the only obvious exterior difference being a larger LCD and a dedicated "print" button.
I'm not going to describe every single nut and bolt, menu item and operating mode of the EOS 30D. You can find those on other websites or you can download the EOS 30D manual and study it in detail yourself. Instead I'm going to concentrate mainly on what I think are the important features and what I think are the main operational differences (or similarities) between the EOS 30D and EOS 20D.
Rear LCD Display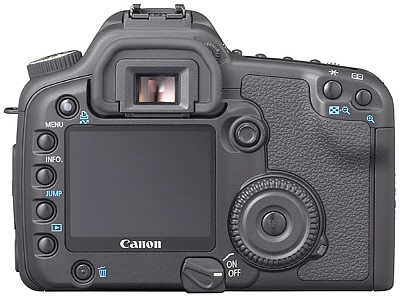 The LCD has been increased to 2.5", which is the same size as the LCD on the EOS 5D. I found the larger LCD much more useful than I'd really anticipated it would be. It was easier to read text on (my eyes aren't as good as they once were!), plus it was easier to review images since finer detail could be seen. The LCD is also readable over a vertical and horizontal angle of about 170 degrees, a significantly wider viewing angle than the LCD on the EOS 20D.
Timing
Canon have reduced the startup time by 50ms from 0.2 seconds on the EOS 20D to 0.15 seconds on the EOS 30D. It pretty hard to tell the difference though. Both cameras are essentially "instant on" as far as a user is concerned. All other display times are as fast as or faster than those of the EOS 20D. The EOS 30D is a very responsive camera and in normal shooting operation you don't need to wait for functions to be executed. Even when viewing menu items, the camera instantly returns to shooting mode when the shutter release is depressed. Basically shooting has priority over all other functions (such as reviewing images) and there's no perceptible lag in returning to the shooting mode.
NEXT -> Buffer Size and Continuous shooting Performance
© Copyright Bob Atkins All Rights Reserved
www.bobatkins.com