Canon EOS 30D - Hands-on Review

ISO Settings
The EOS 30D allows ISO setting to be changed in 1/3 ev, 1/2 ev or 1 ev steps, just like the EOS 5D. There is also an ISO 3200 setting which can be enabled via a custom function. Note that ISO settings of 2000 and 2500 are not available. There is no "low" ISO setting of 50 as there is in the EOS 5D. The ISO setting is displayed in the viewfinder while it's being changed, so it's possible to adjust ISO without taking your eye from the viewfinder. In normal operation however, ISO isn't visible in the viewfinder since the characters used for ISO display are used for other purposes (shutter speed display).
Image Noise
Since the EOS 20D and EOS 30D share the same sensor and same Digic II digital image processing chip, you'd probably expect that they would both show very similar noise levels - and you'd be right. . Apart from very slight differences in exposure and color balance, the noise levels are virtually identical. The Canon DSLRs are known for their low noise levels along with minimal loss of sharpness due to any noise reduction algorithms. Almost any camera can show low noise with aggressive enough noise reduction, but that leads to a significant sharpness loss.
The images below are 100% samples from the EOS 30D and EOS 20D at ISO 3200, ISO 800 and ISO 100. I shot a variety of subjects under a variety of conditions and overall I really couldn't tell any difference between the EOS 30D and EOS 20D images. Sometimes one might look slightly noisier at ISO 3200, sometimes the other, but on average I'd say they were the same, or at least similar enough for the difference not to matter.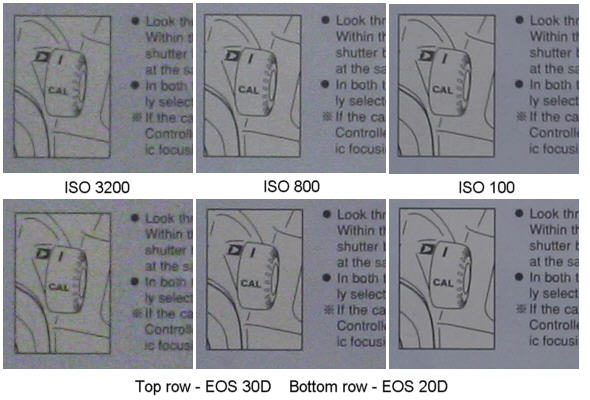 Shutter and Flash Durability
The EOS 30D shutter is rated for 100,000 cycles. If I'm not mistaken this is also the rating on the EOS 20D shutter, though it's hard to find that number actually written anywhere by Canon. Canon also comment that they have taken steps to match the durability of the built in flash to the life of the shutter, which suggests that the flash lifetime may have been increased over that of the EOS 20D. Shutter lag time is specified at a fast 65ms which is the same as the EOS 20D.
White Balance
The EOS 30D has the usual EOS WB modes: Auto, Daylight, Shade, Cloudy, Tungsten, Fluorescent, Flash, Color Temperature and Custom. It shows the typical white balance characteristics of all EOS DSLRs. It's pretty accurate in Auto mode under outdoor lighting, with flash and under fluorescent lighting, but in Auto White Balance mode it's quite noticeably warm under tungsten lights, and even in Tungsten White Balance mode it's still a little warm. As I've said many times before I think this must be deliberate, possibly because people expect indoor shots to look warm. If you want neutral white balance when shooting under tungsten lights, you either need to set the color temperature (usually to its minimum value of 2800K) or better, take a reading from a white or gray card and use the custom white balance setting. The two samples below are crops from an image of a gray card shot under illumination by a 100W household tungsten bulb.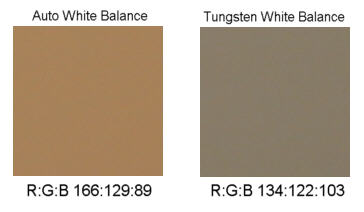 Canon state in the 30D manual that they use a 3200K color temperature for the "tungsten" white balance preset. This probably explains why images shot under regular household tungsten lighting using this setting are still a little warm since such lighting usually has a color temperature of 2800K or less. Special studio tungsten lighting ("Photofloods") can have a 3200K color temperature and using such lighting the "tungsten" preset might well give more neutral results.

NEXT -> Picture Styles

© Copyright Bob Atkins All Rights Reserved
www.bobatkins.com