Canon EOS 30D - Hands-on Review

Viewfinder
The EOS 30D has the same viewfinder size and coverage as the EOS 20D. However the display of ISO (while being changed) has been added (as it was to the EOS 5D), so you can now change ISO settings (in 1/3 EV steps if you wish), without taking your eye away from the viewfinder. There's also a change in the viewfinder screen markings to show the area of the spot meter (as shown below), but the 9 AF zones are the same size, shape and pattern in both the EOS 30D and EOS 20D.
Aslo shown in the viewfinder are:
Maximum image burst frames left (counts down from 9)
Whether white balance correction has been applied
Focus confirmation
Exposure compensation or FEC amount. Exposure level in manual mode.
Aperture
Shutter speed (also reads out ISO when ISO is being changed)
Whether FEC (flash exposure compensation) is in effect.
High speed sync
Flash ready
AE/FE lock and AEB (auto exposure bracketing) in progress
Metering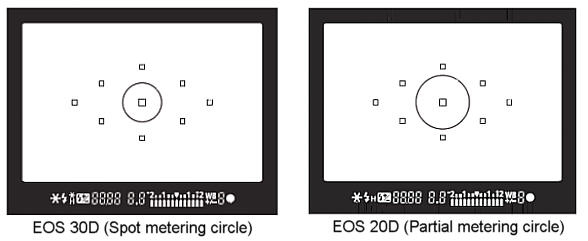 The EOS 30D has the same metering options as the EOS 20D (evaluative, center weighted and partial), plus it adds a spotmetering function. Spot metering can be used in situations where you want accurate exposure of a small area which differs greatly in brightness from the background, for example a strongly backlit subject. The area covered by the spotmeter is shown as a circle on the viewfinder screen. In the EOS 20D the (larger) partial metering area is shown as a circle on the viewfinder screen. An example of a situation where the spotmeter might be used is shown below: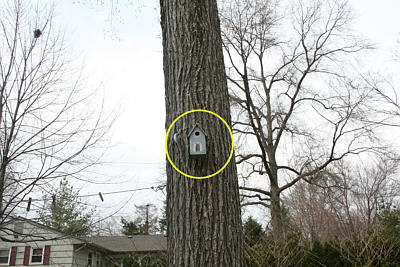 Spotmetering circle size shown in yellow
The image above is of a birdhouse on a tree with bright sky in most of the background. The results of using the various metering pattern options are shown below: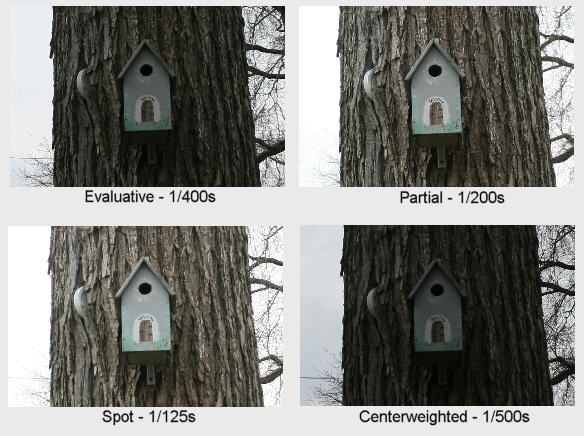 Clearly the best option for optimum exposure for the birdhouse in this backlit situation is Spot Metering. Evaluative metering is 1 2/3 stops under, Centerweighted metering is 2 stops under and partial metering is 2/3 of a stop under. Partial metering isn't bad, but the smaller metering circle of the spot meter gives a better result.
NEXT -> Other features, Histograms and Conclusions
© Copyright Bob Atkins All Rights Reserved
www.bobatkins.com