Canon EOS 5D MkII
The Canon EOS 5D MkII is the successor to the EOS 5D, the first "reasonably" priced full frame 35mm digital SLR.
---
FINAL UPDATE - SEPTEMBER 16th 2008
-It's here! Read the full details at
http://bobatkins.com/photography/digital/canon_eos_5D_MkII_preview.html
Update: September 5th 2008
- Canon are now teasing us with all sorts secret messages on their websites. Here's one from their USA site: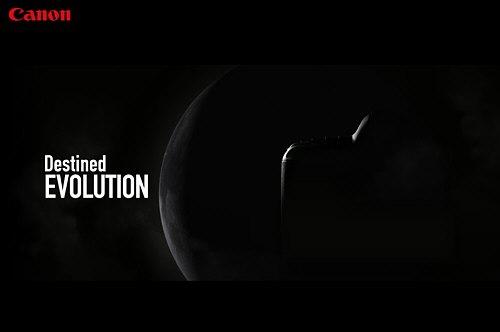 Obviously it's referencing the release of an EOS 5D upgrade, and obviously the real announcement will be made in the next week or two. Photokina starts on September 23rd, and I'm sure that's what the release will be aimed at (Photokina is the world's largest trade show for the photography industry). My guess at what it will be pretty much boils down to this. It will have all the bells and whistles that were first revealed on the new Canon EOS 50D, but it will have a new 21MP sensor, it won't have a built in flash and the continuous shooting rate will be slower (maybe 4fps). Otherwise you can probably read the 50D specs and get a good idea of what it will be like. When Canon finally stop teasing us, or when they accidentally publish the specs, I'll report the full details here.
Update: August 13th 2008 - Not much more news of the EOS 5D MkII (though EOs 7D now seems to be a popular guess at the name!). It's known that Canon have a press conferences scheduled for August 26th (at least in Europe) where presumably some new products will be discussed, though of course there's no word on what these new products will be. It is now "new products season" - a few days ago Canon announced two new "all in one" printers and three new flatbed scanners. For the last few years Canon have announced major new (DSLR) products at the end of August (in 2007 they announced the EOS 40D and EOS 1Ds MkIII on August 20th), so August 26th 2008 would be date consistent with previous years.
Update: July 20th 2008 - Well the spring rebates have officially ended now, so it's time for another round of (mostly unfounded and inaccurate) rumors about the Canon EOS 5D MkII (aka EOS 7D, 6D or 4D). Every time a rebate ends, the rumors bloom. I've seen that the EOS 5D MkII (EOS 7D eic.) will be available next week in China, I've seen that the EOS 5D MKII will be available in August for $2100 with a spec list that looks better then the old 1Ds MKII, in fact I've seen so many different EOS 5D MkII rumors that one of them is bound to be true! However I suspect that this time, at least the rumor that an EOS 5D MkII is close will probably prove to be correct.
My guess is the same as it has been for the last 12-18 months. The EOS 5D MkII will appear in late summer/early fall 2008. It will be 15/16MP with a frame rate faster than 3fps, It will have Live View, a 3" LCD, Highlight tone priority, a Digic III processor, a bigger image buffer than the 5D, 14-bit A/D conversion and a "self-cleaning" sensor. I wouldn't be surprised at an expended ISO range (up to ISO 6400?). Essentially the OES 5D MkII will likely be an EOS 40D with a larger sensor containing more pixels, just as the EOS 5D was an EOS 20D/30D with a larger sensor and more pixels. My guess at the price is around $3000.
Update: May 2008 - Those looking for a low cost full frame DSLR now have a decision to make. Whether to pick up a Canon EOS 5D at a bargain price or to hold out in the hope of a Canon 5D MkII in the fall at around $3000. Right now (May 2008) you can find an EOS 5D for under $1900 and there's an additional rebate if you also buy a Canon Pixma Pro9000/9500 printer at the same time, bringing the price down to under $1600. Not bad for a very good full frame DSLR. You can save even more by buying the kit with the excellent EF 24-105/4L IS USM which takes another $300 or more off the price of the lens.
---
[Original Article]
The Canon EOS 5D was introduced in August of 2005, so by now - in DSLR years - it's definitely in late middle age and looking forward to retirement! So is it due for an upgrade soon? I think the answer is yes - depending on your definition of soon! Canon EOS 30D, Canon EOS 1D MkII N and Canon EOS 1Ds MkII owners have had upgrades announced this year (2007), so when do the Canon EOS 5D owners get their turn?
I should note here that what follows is speculation based on an analysis of the current DSLR market and Canon's history of model upgrades. It's not based on any rumors or leaks of information from Canon or any other source. It's speculation and nothing more, but, I hope, informed speculation! I've been asked about what might follow the 5D quite often in email and it's getting to be a more common topic on the photography forums I participate in, so I thought I'd put my thoughts into an article.
2007 saw the introduction of might be called a new generation of Canon EOS DSLRs, the 1D MkIII in March and the 1Ds MKIII and EOS 40D in August. They clearly share a common technology base, all using Canon's Digic III processor (with the 1D(s) models using two of them), all using a redesigned Canon CMOS sensor with higher photon capture efficiency due to improved micro lenses and better utilization of the silicon real estate, all offering a "live view mode", all with an improved 3" LCD and sharing some common features such as a dedicated AF button, a 14-bit A/D system and a highlight preservation mode.
What will the Canon EOS 5D MkII be?
It is only logical that the Canon 5D MkII - which could just as well be called the Canon EOS 4D or EOS 6D or even EOS 3D I guess - will follow this technology lead and offer many of the features common to the new 2007 models. Canon won't position it too close to either the 1D MkIII or 1Ds MkIII, so I'd expect something that resembles a full frame version of the Canon EOS 40D rather than a scaled down version of the 1Ds MkIII. Now the 1Ds has gone to 21MP, there's room for a 16MP EOS 5D MkII in the lineup. That would be a logical jump from 12MP, but it could be 14MP or 15MP. Not enough to affect Canon EOS 1Ds MkIII sales, but more than Nikon's 12MP D3. I wouldn't expect full weathersealing, a built in vertical grip or high speed operation. I'd guess at no more than 5fps. No eye controlled focus either! I'd expect the price to be around the original price of the Canon EOS 5D, which was $3000. That would make it $1500 cheaper than the Nikon D3. The price could be affected if Sony come out with a full frame model in this price range too, we'll have to wait and see on that score.
When will the Canon EOS 5D MkII appear?
But when will the Canon EOS 5D MkII appear? There are two major photo shows in 2008. The annual PMA show, which this year takes place at the end of January in Las Vegas (a month earlier than usual) and the biggest show of them all, Photokina, which takes place in Cologne, Germany at the end of September. I would bet that a successor to the 5D will be announce at (or just before) one of these events. It's hard to say which one though. January is a bit early. The new Canon EOS 1Ds MkIII will only have just become available by then and PMA will be the first major show where it will be available for inspection. Photokina would be a good place to make a major new product debut since it's an international show, but it gives someone else another 6 months or so to beat Canon to the punch with a mid-priced full frame DSLR.
Who would that be? Probably not Nikon. They've just announced the D300 and the D3, their first full frame camera. It's not likely they will be announcing another full frame model anytime soon (update - Nikon D700 full frame, 12MP announced July 2008). That pretty much leaves Sony who, like Canon, make their own CMOS chips. They recently announced a 12.5 MP APS-C CMOS sensor capable of 10 fps and the chip used in the Nikon D3 is made by Sony, so obviously if they wanted to they could bring out a full frame DSLR (as well as a high speed, 12MP competitor for the EOS 40D and Nikon D300) If they did go full frame, they'd likely aim it at the EOS 5D market segment rather than try to go head to head in the pro market against the Nikon D3 (which uses a Sony sensor) and Canon EOS 1Ds MkIII.
There's also the Rebel factor to consider. The Canon Digital Rebel XTi was announced in August of 2006. The typical product lifetime of the Canon prosumer (10D/20D/30D/40D) and consumer (Rebel/XT/XTi) is 18 months, so that makes a Spring 2008 date for an upgraded EOS XTi look possible, leaving the 5D for the fall. I'm not sure what they'd do with the Rebel though. Going to a 12MP sensor doesn't seem likely, but is possible. It wouldn't please 40D owners much though! They could do a 20D-30D type facelift keeping the sensor at 10MP and adding a bigger LCD and a few features like LiveView. If Canon did announce a new digital Rebel at PMA, and they also announced a 5D replacement, short of something completely new, that would leave them with no DSLRs for the big Photokina show later in the year, since neither the 40D, 1D MkIII or 1Ds MkIII are likely to be updated before 2009.
So I'd say it looks like September 2008 may be slightly more likely than January 2008 for a Canon EOS 5D replacement announcement, but either is certainly possible and timing could be influenced somewhat by what other manufacturers do. I suspect that the EOS 5D might be included in Canon's usual fall rebate program in 2007 (assuming there is one), which will, as always, give rise to speculation that the EOS 5D is about to be replaced. That happened in 2006 when the double rebate on a EOS 5D was $600. Many people saw this as a sign that a new model would come out at PMA in Spring 2007. It didn't. Canon announced the 1D MkIII instead. Those waiting for a Canon EOS 5D MkII were disappointed and ended up paying $600 more for a EOS 5D than if they'd taken advantage of the rebate!
• Further reading: