Canon EOS 5D Review
UPDATE: May 25th 2008: - You can now get the EOS 5D for under $1900 after the current Canon "Instant Rebate". That's about as cheap as it's ever been. When it was introduced, the 5D was over $3000. The question which many people are asking is "Should I get a 5D now, or wait for the 5D MkII which I hear is coming?".
Well the 5D MkII rumor has been around for at least two years. Sure there's a 5D MkII coming at some point, but nobody yet knows when. I suspect we will see a mkII announced this fall and if so, then the 5D MkII might be expected to hit the stores around October. My guess is basically a camera built like the EOS 40D, with all the features of the 40D and XSi combined, a 3" LCD and a 16MP sensor. I doubt the release price will be much below $3000.
So 5D now (you can get one tomorrow for $1900) or 5D MkII in October for $3000 (if my guess is right)? Well, if you also want a 24-105/4L IS, which is probably the lens of choice for the 5D, you can get the current 5D + 24-105/4L IS for under $2600. I suspect you'll pay about $4000 for a 5D MkII and a 24-105/4L IS in October. Also, the 5D is "fully sorted", meaning that after 3 years of production, all the little problems have been ironed out and any firmware issues have been resolved.
If you need (or just want) a full frame DSLR, I suspect that deal on the current 5D (maybe with the 24-105/4L IS) is about as good as you'll get anytime soon. The upgrades on the MkII (again if my guesses are right) will improve the potential image quality a bit (12.7 to 16MP) but not a huge amount. Though it might be an extra 3-4MP, it's the same relative difference as going from a 6MP camera to an 8MP camera (in fact a bit less).
So the likelihood of a 5D MkII really shouldn't stop you buying a 5D now if you want a full frame camera. I'm not just saying this to try to get you to buy one - I have ordered a 5D myself, so I do believe what I'm saying!
You might also want to take a look at the EOS 5D, 40D and PIXMA printer rebates page which details the extra $300-$350 rebate if you also buy a printer. You can read more of my thoughts on a 5D upgrade on my EOS 5D MkII thoughts page.
[Note: The following is the original review of the EOS 5D and so contains references to a $3000 price]
At around $3000, the Canon EOS 5D is currently the lowest cost full 35mm frame DSLR available. In fact it's the lowest price full frame DSLR that ever has been available. The EOS 1Ds Mk II sells for in the region of $7200 and right now that's the only other option for a full frame 35mm DSLR. The Kodak 14c had a pretty short life which perhaps say ssomething about it's practicality and problems with noise and speed of operation. The EOS 5D is not only cheaper, but a far more practical camera with better usability. much faster operation and an ISO range from 50 to 3200 with good image quality.
The EOS 5D will likely be regarded as something of a landmark camera and shows how much digital technology has advanced in only a few years. The first "affordable" DSLR was the Canon EOS D30, a 3MP APS-C sensor camera which sold for $3000+ in October 2000 (Original price 380,000 yen). In only 5 years (October 2005) we now have a 12.7 MP full frame camera selling for about the same price ($3000). In another 5 years I would not be surprised to see a 15MP full frame camera selling for under $1500. However the 5D will be seen as the "full frame" breakthrough camera, just as the D30 is seen as the first really practical and affordable DSLR. 5 years prior to that all you could get was a 1.3MP DCS 3, and it would have cost you almost 2,000,000 yen (almost $20,000) or a 6MP DCS 1 selling for 3,600,000 yen (upwards of $30,000). I'm sure the rate of progress is slowing down now as the technology matures, but it certainly hasn't stopped!
What's in the box?
Canon EOS 5D
BP-511A Lithium-Ion battery
CG-580 / CB-5L Battery charger
Neck Strap with Eyepiece cover
USB cable
A/V cable
Camera Manual
Software Manual
Software (Windows)

ZoomBrowser EX 5.5
RAW Image Task 2.2 (RAW conversion for ZoomBrowser)
CameraWindow 5.4 (transfer / camera settings application)
EOS Capture 1.5 (tethered capture)
Photo Record 2.2
WIA/TWAIN driver 5.5/5.7/5.8
PhotoStitch 3.1
Digital Photo Professional 2.0

Software (Macintosh)

ImageBrowser 5.5
Digital Photo Professional 2.0
EOS Capture 1.5
PhotoStitch 3.1
Note that no memory card is supplied with the EOS 5D.
External views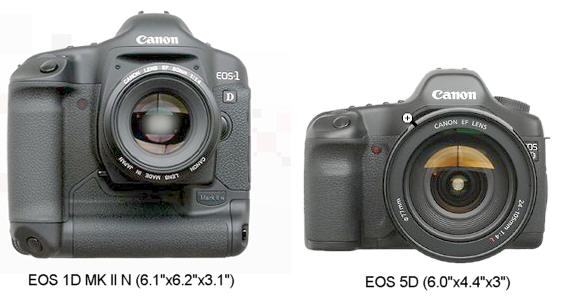 Comparing the Canon DSLRs, it's evident that the EOS 5D is much more like an upgraded EOS 20D than it is like a 1D Mk II N or 1Ds Mk II. It looks very similar, has an almost identical control layout and is very similar in size and weight as well as using the same BP-511/512 battery (the 1D series bodies use the Ni-MH pack NP-E3). Like the EOS 20D it does not have Canon's pro level all weather sealing. The major external difference between the 5D and 20D is that it doesn't have a built in flash. One reason the 1D series (and 1 Series) cameras don't have a built in flash is supposed to be that it is difficult to provide all weather sealing around a pop-up flash - as well as the fact that no self respecting professional wants to be seen using one! I suppose the latter could apply to the EOS 5D, but since it's not weather sealed anyway, a built in flash wouldn't make it much worse in that respect. There's also the issue of available space, since the prism required for full frame cameras is larger than that required by smaller frame cameras - though that never seems to have been much of a problem in film cameras like the EOS Elan series. Anyway, whatever the reason, Canon didn't put a pop-up flash in the EOS 5D.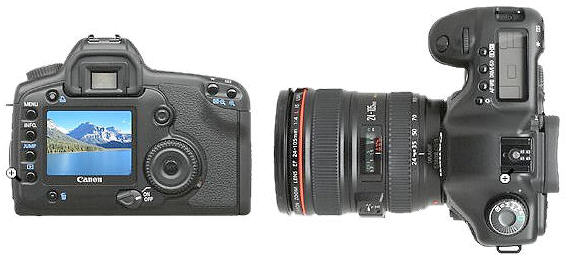 The other obvious external difference between the 20D and 5D is that the EOS 5D has a significantly larger LCD (2.5" with 230,000 pixels on the EOS 5D, 1.8" with 118,000 pixels on the EOS 20D). This is nice, especially for aging photographers whose close-up vision isn't all that it used to be. With the EOS 20D I sometimes have to remember what the menus say (or hold the camera at arm's length), whereas with the EOS 5D I can actually read what's on the screen. It also makes reviewing images and checking focus somewhat easier. The EOS 5D LCD also has a wider viewing angle than the EOS 20D LCD, in fact Canon specify it to be viewable over a 170 degree angle.
In Canon's own words, the EOS 5D is built on "a highly rigid magnesium alloy exterior (including the Battery Grip BG-E4), a solid stainless steel internal chassis, and a mirror box of high-strength engineering plastic".
• The full specifications are listed on the Canon EOS 5D Specs Page
• A side by side comparion with the EOS 20D is given on the 5D vs. 20D Page
Viewfinder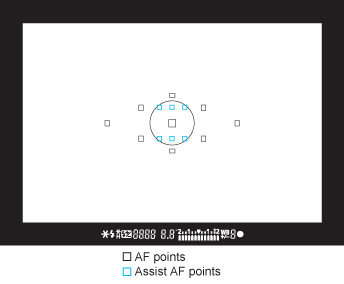 If you look through the viewfinder you will see another difference between the 5D and 20D. The viewfinder image is bigger. In fact it's very similar to the size of the viewfinder image that you get with EOS film bodies. The 9 AF points are arranged in a diamond pattern and seems to cover the same area as it does in the 20D. In the 20D it covers a reasonable amount of the frame, while with the larger frame of the 5D the AF zones seem somewhat clustered about the center of the frame. In addition to the 9 marked AF zones, the 5D AF system also has 6 invisible (to the user) AF "assist" points clustered around the center (see above) which can't be selected but which improve the accuracy of focus tracking when working with moving subjects. The EOS 5D has 96% coverage, another contrast with the EOS 1D series bodies which have 100% coverage. The EOS 20D has 95%.
Three interchangable viewfinder screens are available for the EOS 5D, The standard Ee-A screen, the Ee-S Super Precision Matte for easier manual focus and the Ee-D Precision Matte with grid. These different screen result in slightly different metering characteristics, which can be compensated for via Custom Function CFn-00 which should be set to "0" for the Ee-A, "1" for the Ed-D and "2" for the Ee-S. Canon recommend using lenses f2.8 or faster with the alternate screens.
Controls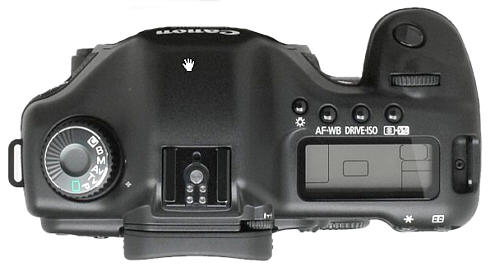 The control layout will be very familiar to EOS 20D users, since it's virtually identical. The mode control dial is slightly different since the EOS 5D doesn't have positions for the program modes (sports, landscape etc). There is also a "C" (custom) mode which is user programmable. Via a menu option you can "register" all current camera settings for the "C" mode. This includes things like ISO, metering pattern, white balance, shooting mode and pretty much everything else including custom function settings.On the back there's also a "print" button for printing directly from the camera (you can also do this from the 20D, but it doesn't have a dedicated button). Otherwise I think all the external controls on the EOS 5D are identical to those on the EOS 20D
Menu controlled Functions
Most of the menu controlled functions will again be very familiar to EOS 20D users since they are mostly the same. Below are the various menu options. Most of them are self explanatory.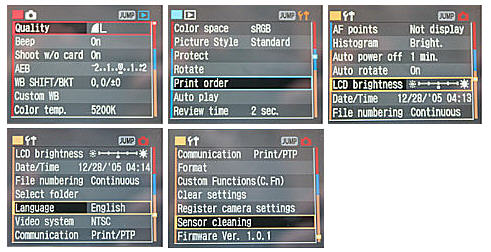 One new item on the menu of the 5D is the picture style modes which allow the user to adjust sharpness, contrast, saturation and color tone on the various preset and 3 additional custom "picture styles". These make it easier to control "straight out of the camera" images shot in JPEG mode, though of course they make no difference to RAW files which are designed for post-exposure processing and so contain all the original shooting data unmodified. There are 8 levels of sharpness (0 to 7) and 9 levels of contrast, saturation and color tone (0, +/-4)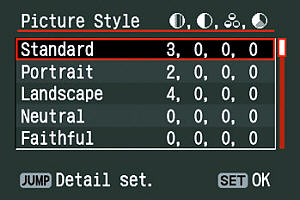 The available styles are Standard, Portrait, Landscape, Neutral, Faithful, Monochrome, User 1, User 2 and User 3.
Custom Functions
Most of the custom functions are the same as found on the EOS 20D, though there are a few changes, for example the 5D has CFn-00 which adjusts the metering calibration to compensate for the use of alternative viewfinder screens and CFn-08 enables both an ISO 50 and ISO 3200 setting, while on the 20D it enables only ISO 3200.

CFn-01: SET button function
0: Default (no function)
1: Change quality
2: Change Picture Style
3: Menu display
4: Image replay
CFn-02: Long exposure noise reduction
0: Off
1: Auto noise reduction
2: On
CFn-03: Flash sync speed in Av mode
0: Auto
1: 1/200s Fixed
CFn-04: Shutter button / AE lock button
0: AF/AE lock
1: AE lock/AF
2: AF/AD lock, no AE lock
3: AE/AF, no AE lock.
CFn-05: AF-assist beam / Flash firing
0: Emits
1: Does not emit
CFn-06: Exposure level increments
0: 1/2 stop
1: 1/3 stop
CFn-07: Flash firing
0: Fires
1: Does not fire
CFn-08: ISO expansion
0: Off
1: On (enables"L", ISO 50 and "H", ISO 3200)
CFn-09: Bracket sequence / auto cancel
0: 0, -, + / Enable
1: 0, -, + / Disable
2: -, 0, + / Enable
3: -, 0, + / Disable
CFn-10: Superimposed display
0: On ( AF point flashes red)
1: Off
CFn-11: Menu button return CFn- position
0: Previous (top if camera is powered off)
1: Previous
2: Top
CFn-12: Mirror lockup
0: Disable
1: Enable
CFn-13: AF point selection method
0: Normal
1: Multi-controller direct
2: Quick control dial direct
CFn-14: E-TTL II
0: Evaluative
1: Average
CFn-15: Shutter curtain sync
0: 1st curtain sync
1: 2nd curtain sync
CFn-16: Safety shift in Av or Tv
0: Disabled
1: Enabled
CFn-17: AF point activation area
0: Standard
1: Expanded
CFn-18: LCD display->Return to shooting mode
from image review mode
0: With Shutter Button only
1: Also with * etc.
CFn-19: Lens AF stop button function
0: AF stop
1: AF start
2: AE lock while metering
3: AF point:M -> Auto/Auto -> ctr.
4: One Shot <-> AI Servo
5: IS start
CFn-20: Add original decision data (used for image
verification with DVK-E2)
0: Off
1: On
CFn-00: Focusing Screen
0: Ee-A
1: Ee-D
2: Ee-S
• [Continue to Canon EOS 5D Review - Part II]