A closer look at the new Canon EOS Digital Rebel T4i (EOS 650D)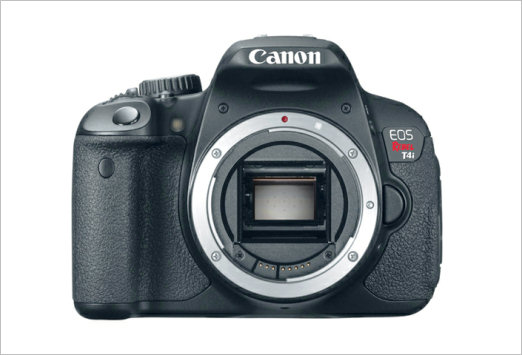 Canon EOS Digital Rebel T4i (EOS 650D) DSLR. 18MP, APS-C, 5fps
The Canon EOS Rebel T4i, also known as the EOS 650D, was announced by Canon on July 8th 2012 as reported here a few days ago (see Canon T4i Preview). I've now had a chance to take a closer look at the camera and make some additional comments in more depth on the changes from the T3i and what those changes might indicate Canon is up to.
What is a "Rebel"
First, why is it still in the "Rebel" family. What makes a Rebel a Rebel? Well, All Rebels to date use a pentamirror reflex viewing system rather than a pentaprism. A pentamirror is lighter and cheaper, but generally results in a slightly smaller and/or darker viewfinder. In the grand scheme of things, it's not a big deal, but it's a cost and weight serving measure used in all Rebels.
Second, Rebels don't have a rear mounted Quick Control Dial (QCD). This is a matter more of convenience than utility. You can do everything you can do with a QCD without one, though it may mean pressing more buttons and so it's not as fast or as easy.
Third, all Rebels to date have a 1/4000s maximum shutter speed and a max sync speed of 1/200s. The xxD (currently 60D) and xD (currently 7D) have a 1/8000s shutter with a 1/250s sync. Many people will never need 1/8000s or a sync speed that's 1/3 stop faster so again, it's not a huge difference for most users.
Fourth, Rebels are built on a lightweight mostly plastic (polycarbonate) chassis (though there is some stainless steel in there too) which keeps down both the cost and the weight. The body also tends to be less weathersealed than the xxD and xD APS-C cameras.
I'll get into what the 60D and 7D have that the T4i doesn't later, but first let's look at what the T4i has, and in particular what's different (improved) from the T3i.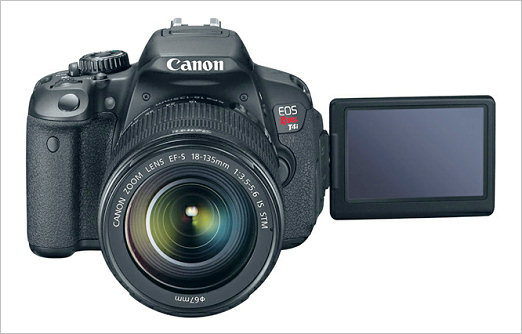 Canon EOS Digital Rebel T4i (EOS 650D) DSLR. 18MP, APS-C, 5fps
New Features of the Canon Rebel T4i/650D
Autofocus
The T4i now has the same autofocus system as is found in the EOS 60D for still images, which is a 9-point all cross-type AF system (including a high-precision dual-cross f/2.8 center point). This is a significant improvement over the T3i.
There is also a new new Hybrid CMOS AF system for video use. The hybrid AF system uses phase detection sensors embedded in the sensor to assist focus. Phase sensitive AF can sense not only if the focus is in front of or behind the subject, but they can estimate how far out the focus is and calculate the amount of focus shift the lens needs. As I understand it, in video (or live view) mode the phase sensitive detectors make the initial focus determination and drive the focus motor in the correct direction to achieve focus and by the right amount of focus shift. However the final focusing is done by contrast detection using the signal from the sensor itself.
Though Canon have not commented on the details, it appears that the phase sensitive detectors built into the sensor may not be capable of the precision that the normal phase sensitive AF sensors are, so the final focus is done by contrast detection (which slows things down a little). Contrast detection may also overshoot slightly when optimizing focus before backing off to the right point.
Autoexposure
The Canon Rebel T4i/650D now uses the same 63 zone iFCL metering system found on the EOS 60D and EOS 7D. The 'FCL' stands for 'Focus, Color and Luminance' and indicates that the metering system not only measures color and luminance data, but also analyses the data provided by each point of the AF system. This is significantly more advanced then the metering system on the Rebel T3i
Sensor
Though the pixel count is essentially unchanged, the 18MP CMOS sensor of the T4i is a new design. As mentioned above, not only does it contain the imaging pixels, but it also has phase sensitive AF detectors built into it which assist autofocus while recoding video. At this point the noise and dynamic ratio performance of the sensor hasn't been tested, but it's noteworthy that the base ISO range has been expanded from 100-6400 on the Rebel T3i (and the EOS 60D and 7D) to 100-12800 on the T4i, which suggests perhaps that it has improved noise performance, though that may also be related to the use of the more advanced Digic 5 processor (see below) ISO can be further extended to 25600 via a custom function.
Shutter
Though the shutter of the Canon Rebel T4i retains the 1/4000s maximum speed and 1/200s sync speed found in the Rebel T3i, it's a new shutter unit. In contrast to the 3.7fps of the Rebel T3i, the Rebel T4i can now shoot continuously at 5fps
Processor
The new Rebel T4i uses the Canon Digic 5 processor and 14-bit A/D conversion. The Digic 5 is more powerful than the Digic 4 used in the Rebel T3i. Chromatic aberration can now be corrected automatically for images shot with compatible Canon lenses and saved as JPEGs.
Touch Sensitive LCD screen
Just about all the functions that were previously controlled by buttons and scroll wheels can now be accessed via the touch sensitive LCD screen. This may make operation faster for those used to using touch screens, though for more traditionalists, the touch function can be turned off and all functions can be accessed and controlled using the buttons and control dials as with previous EOS bodies.
Flash
The built in speedlite is capable as acting as an optical wireless controller for external speedlites which can be configures as slaves. This was also the case with the T3i, so it's not a new feature. However the T4i is compatible with Canon's new radio controlled speedlite system. It can't do the radio control directly, so it needs an ST-E3-RT transmitter as well as a Speedlite 600EX-RT for radio wireless operation.
Audio
The Rebel T4i has a built in stereo microphone, as well as the capacity to accept a signal from an external stereo microphone. Manual control of the audio recording level during video shooting is now possible (it wasn't with the Rebel T3i). There is no headphone jack for audio monitoring.
Video
Due to the new CMOS sensor with hybrid AF, continuous focus while shooting video is now available, and the new STM (stepper motor drive) lenses are supported to enable silent and smooth focusing. Canon have made no mention of any video digital zoom (cropping) modes such as those that are found in the T2i and T3i. I'm not sure yet whether they just haven't mentioned them or if they are no longer available.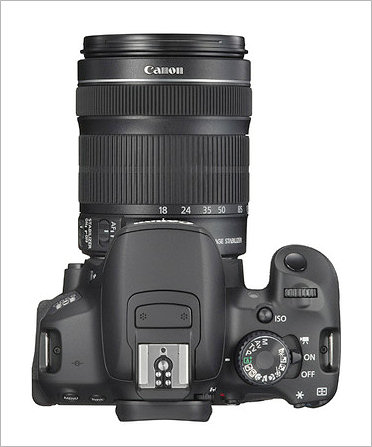 Canon Rebel T4i/650D with 18-135/3.5-5.6 IS STM lens
New Firmware Functions
The Rebel T4i adds a significant number of new functions including:
HDR BACKLIGHTING - If the camera detects a significantly backlit scene, it can take three image at different exposures and blend them into a single HDR image.
HANDHELD NIGHT SCENE - In low light the camera can take a series of images with a fairly fast shutter speed to prevent camera shake, then blend them together to give a low noise image.
CREATIVE FILTERS - There are now in-camera effects including a Fish-eye Effect, Grainy B/W, Soft Focus, a Toy Camera Effect and a Miniature Effect. There are also Art Bold and Water Painting filters.
RESIZING AND RATING IMAGES -The EOS 650D allows for in-camera resizing of JPEG images and image recording capabilities are the same as the EOS 600D – Large JPEG, Medium JPEG, S1 JPEG, S2 JPEG, S3 JPEG, RAW, M-RAW and S-RAW. In addition users can add a rating of 1 to 5 to their images. Rating tags can be viewed in software like DPP.
GPS - The T4i is compatible with Canon's GP-E2 GPS Receiver
EYE-FI CARDS - though the EOS 650D doesn't have a dedicated WFT WiFi Transmitter it has added extra compatibility with Eye-Fi cards (SD cards with built-in wireless transmitters) that allow users to send images wirelessly over a local WiFi network.
Canon EOS Digital Rebel T4i (EOS 650D) DSLR. 18MP, APS-C, 5fps
What does the 60D have that the T4i doesn't?
With similar street prices, many potential buyers might wonder if the 60D still has any advantages over the Rebel T4i. Well, yes it does.
The 60D has a pentaprism viewfinder with a slightly brighter/larger image.
The 60D as a rear Quick Control Dial (QCD) which can make changing camera settings faster.
The 60D body is more rigidly constructed and should be somewhat more weather resistant.
The 60D also has a built in electronic level (single axis).
Neither camera has focus microadjustment.
The 60D also has a higher shutter speed (1/8000s), faster sync (1/250s), a slightly faster frame rate (5.7fps) and a larger image buffer (16 RAW vs. 6 RAW)
So the 60D does still have some advantages, mainly for still photographers. The T4i is certainly has more video capability, with continuous AF, STM lens compatibility and a built in stereo microphone.
Conclusions
Right now I'd say that the T4i is a significant improvement over the T3i, especially for anyone interested in shooting video. In fact it's improved to the point where it's a pretty serious contender against the EOS 60D, even for still photography (which perhaps might indicate that the 60D is due for an upgrade too!). At the moment the 60D body at $899 is only $50 more than the T4i body will initially sell for, so price really isn't a factor.
I'll reserved judgment of the continuous AF in video mode until I've tried it. Based on Canon's info so far their hybrid system is unlikely to be as fast as that found in the Nikon 1 series mirrorless cameras, which also incorporate phase sensitive AF zones into the image sensor. That system is blazingly fast, though the sensor and lenses are small and DOF is greater, which makes it an easier job to do fast AF. The new Sony DSLRs with fixed translucent mirrors also focus fast, but they sacrifice real optical reflex viewing to do it. However the hybrid system in conjunction with the new STM lenses optimized for video focusing might well perform at a level that compares with the other systems.
The Rebel T4i can be preordered from