Canon M80 80GB Digital Storage and Display Device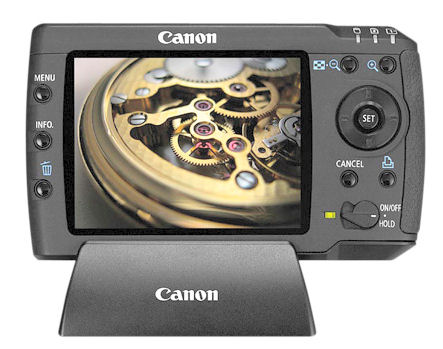 The M80 was announced at Photokina in the fall of 2006, but has not yet actually shown up for sale anywhere in the world. However I have news that it is now available in Australia at a price around $1050 (Australian Dollars). As a price comparison, the Digital Rebel XTi body sells there for sround $1200 (Australian). It it was ever available in the US, that would suggest a price in the $550 (US) region. According to Canon, "The M80 is an 80GB portable storage device for the demanding EOS photographer. Featuring a high resolution 3.7" LCD screen, it provides top-quality image review and secure storage in a durable body". A 30Gb version (M30) was also announce by Canon last fall. It's not clear if either the M80 or M30 will be made available in the US and Canada, however the M80 is listed on the Canon Europe website and the Canon Australia website. I could find no mention of it on the Canon USA website.
For US photographers, the Epson P3000 and P5000provide similar functionality, as does the lower cost Wolverine ESP80. If you just want an inexpensive storage device which can transfer contents of a memory card to a hard drive while away from your computer, you might want to take a look at my review of the Wolverine FlashPac
Here is Canon's description of the M80:
Features
80GB HDD
High quality 3.7" LCD
Durable magnesium alloy body
CF and SD card slots with one-button back-up
Automatic data checking during transfer
Slideshow function
Compatible with popular multimedia formats
Exif data visible
Carry case and stand
80GB storage and outstanding image review for demanding EOS users.


High capacity 80GB HDD
With a capacious 80GB internal hard drive, the M80 provides storage space for thousands of high quality images in one easy-to-carry device.

High quality 3.7" LCD with wide viewing angle
The 3.7" LCD screen provides superior colour reproduction, VGA resolution and an ultra-wide 1600 viewing angle to display your photos in detail.

Magnesium alloy body
The M80 is crafted from strong, lightweight magnesium alloy, creating a device durable enough to accompany you anywhere. A carry case provides additional protection, whilst the inclusion of a stand allows you to maximise the M80's potential for multimedia viewing.

CF and SD card slots with easy back-up operation
Whether you choose to photograph to SD or CompactFlash, integrated slots are provided for convenient data transfer. Simply insert a memory card and, at the touch of a button, information is transferred to the M80's HDD at speeds of over 4 MB/s - while Data Verification checks that your images are duplicated without corruption.

Password protection of images for security
Keep your private images private. Password protection ensures that only your intended audience sees your pictures.

Slideshow function with background music
Effortlessly review large numbers of files with the M80's built-in Slideshow function. The option of adding background music allows you to create powerful presentations of your images, anywhere.

Support for many formats
Much more than a picture viewer, the M80 offers support for almost every popular audio-visual file format, including JPEG, TIFF, MPEG 1, 2 and 4, MP3 and WAV. The M80 also allows you to store images in Canon's own D-SLR RAW format, making it an ideal solution for photographers who need to store and preview images on location.

Detailed EXIF data visible
Get comprehensive EXIF details - including shooting date and time, and camera settings - for any shot at the touch of a button.

Audio/Video out and PictBridge connection
Audio/Video out sockets make presenting your work easy; one simple connection and you're ready to take your images or sounds to a wider audience. Or you can choose to print directly to a PictBridge compatible printer via a single cable connection. No computers, no fuss - just instant copies of your images, whenever you need them.