Canon Powershot S3 IS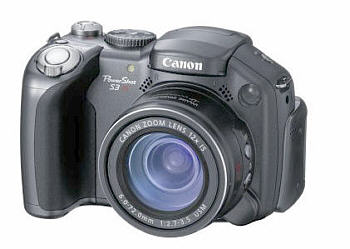 The Canon Powershot S3 IS is Canon's latest "megazoom" digicam. It has a 36-432mm zoom (in 35mm equivalent terms) as well as a 6MP sensor and Image Stabilization. Coupled with an ISO range of 80-800 this camera should cover all the photography needs of a large number of users.
Of course you do sacrifice the tiny size of the SD series cameras but the Canon Powershot S3 IS still isn't huge. It measures 4.46 x 3.07 x 2.97 in. / 113.4 x 78.0 x 75.5mm compared to the Digital Rebel XT's 4.98 x 3.71 x 2.63 in./126.5 x 94.2 x 64mm. So it's smaller (and lighter) than a Digital Rebel XT body - and it has the 36-432mm zoom built in!
As with most small sensor cameras, noise levels of the Canon Powershot S3 IS will be higher than those seen with DSLRs of the same pixel count, but even so, if it follows the trend of similar cameras, ISO 400 will be pretty good and ISO 800 should be usable.
Given that the street price should be under $500, the Canon Powershot S3 IS certainly represents a very capable alternative to a DSLR for those users who don't want to mess with changing lenses and who don't need low noise images at high ISO settings (ISO 1600-3200). It should certainly be capable of producing very good 8x10 prints and even at 11x14 the print quality should please many users.
In addition to normal still imaging, the Canon Powershot S3 IS can shoot 640x480 resolution video at 30 frames/sec, plus record stereo sound - and can take 6MP still images while simultaneously recording in video mode!


Here's Canon's press release on the Powershot S3 IS
LAKE SUCCESS, N.Y., February 21, 2006—The family-oriented Canon PowerShot S3 IS is a feature-packed six-megapixel hybrid digital camera that is equally at home with photo enthusiasts and digital diehards as it is in the hands of the point-and-shoot "where do I press?" set. Remarkably, whether engaged in VGA quality videography at 30 frames per second (fps) with stereo sound recording, high-resolution still photography, or capturing both at the same time, this affordable and adaptable camera remains the ultimate example of "easy to use."

The successor to the five megapixel PowerShot S2 IS digital camera, the PowerShot S3 IS enhancements begin with Canon's newly designed six-megapixel image sensor that together with Canon's proprietary DIGIC II image processor dramatically reduces "noise" for better image quality and achieves ISO equivalent speed ratings ranging from 80 to 800. This increased sensitivity allows the use of faster shutter speeds, thereby reducing the effects of camera shake and subject blur during hand-held photography in low light.

Adding to that unshakeable quality is the PowerShot S3 IS digital camera's shift-type optical image stabilization system. Unlike electronic image stabilizer systems that typically cause degradation of image quality, Canon based its Lens Shift type of Image Stabilizer system on the advancements in the development and refinement of Canon's EF and video lenses.

This Image Stabilizer provides up to three stops of camera shake correction in shutter speed equivalent. It is essential when engaging the camera's retractable 12x optical zoom lens because the extension of a long lens magnifies camera shake in direct proportion with the amount of lens magnification employed. (For those seeking still greater optical capabilities, Canon offers an optional 1.5x Tele Converter, a 0.75x Wide Converter and a high-quality dual element Close-Up Lens).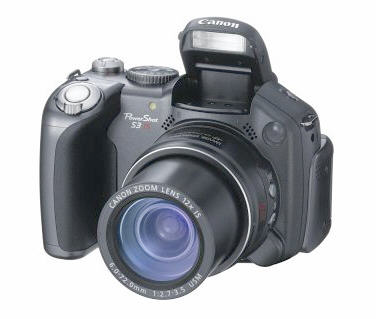 The PowerShot S3 IS digital camera's 12x zoom lens has an equivalent film focal length of 36-432 mm (f/2.7 at wide angle and f/3.5 at telephoto). Despite the extraordinary range of the zoom lens, it retracts securely into the camera when it is powered down. The optical zoom can be augmented by the camera's 4x digital zoom raising the maximum (35mm equivalent) focal length to that of a 1728mm lens. What's more, this UD lens features a high-speed silent zoom function powered by a micro motor USM drive, increasing ease of quiet, non-intrusive image capture. For extreme close-ups, the camera's macro and super macro mode permit shooting a subject as close as zero inches from the end of the lens barrel.

Movie Mode
In addition to recording in high-quality VGA (640 x 480 pixels) movie mode at 30 fps, the user can increase the frame speed to 60 fps in QVGA (320 x 240) movie mode. Similarly, the camera also features a QVGA 320 x 240-pixel setting with a choice of 30 or 15 fps. Continuous movie recording is possible up to a maximum file size of 1GB or 60 minutes, whichever comes first, (depending on the capacity of the user's memory card and its data write speed). What's more, regardless of the mode dial position or even whether the camera is in capture or playback mode, the PowerShot S3 IS camera automatically starts and stops recording movies with the simple press of a button on the camera back.

MovieSnap
Newly enhanced for the PowerShot S3 IS digital camera thanks to the model's new six megapixel image sensor, MovieSnap enables the user to capture high-resolution six megapixel still images while recording movies, ensuring that memories of milestones are preserved for video view as well as for picture frames, photo albums and e-mail sharing.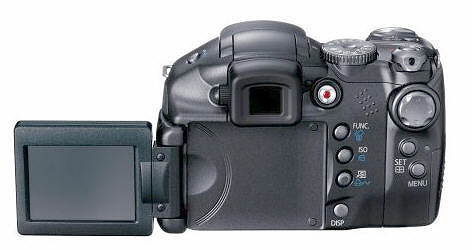 True to its hybrid nature, the PowerShot S3 IS camera's larger 2.0 inch Vari-Angle LCD screen swings out (as is common on video cameras) permitting the user to compose shots including self-portraits without having to twist and maneuver into uncomfortable positions.

New Features and Special Effects
Canon's PowerShot S3 IS camera features a Sports Mode that allows users to select high shutter speeds and the camera automatically selects the appropriate aperture for capturing beautiful action shots. The camera also includes a new widescreen 16:9 ratio resolution setting that facilitates creating panoramic-style prints.

Canon Powershot S3 IS Specifications
| | |
| --- | --- |
| Sensor size | 1/2.5" 6MP CCD |
| Resolutions | 2816 x 2112, 2272 x 1704, 1600 x 1200, 640 x 480 |
| ISO ratings | Auto, 80 ,100, 200, 400, 800 |
| Zoom | 36 mm - 432mm/2.7-3.5 (35mm Equiv) + 4x digital zoom |
| Image stabilization | Yes |
| Manual Focus option | Yes |
| Normal focus range | Infinity - 50 cm |
| Macro focus range | 10/0 cm |
| White balance | 6 positions & manual preset |
| Shutter | 15 sec - 1/3200s |
| Flash modes | Auto, Fill-in, Red-Eye reduction, Slow Sync, Off |
| Exposure compensation | -2 EV to +2 EV in 1/3 EV steps |
| Metering | Evaluative, Center Weighted, Spot |
| Aperture priority | Yes |
| Shutter priority | Yes |
| Continuous Drive | Yes, 1.5 fps / 2.3 fps |
| Movie Clips | Yes, 640 x 480, 15/30 fps with stereo audio |
| Self-timer | 2 or 10 sec or custom |
| Time-lapse recording | Yes |
| Orientation sensor | Yes |
| Storage types | SD/MMC card |
| Compressed format | JPEG (EXIF 2.2) |
| Quality Levels | Super-Fine, Fine, Normal |
| Viewfinder | EVF |
| LCD | 2.0 " (flip-out & twist) 115,000 pixels |
| Video out | Yes |
| USB | Yes, 2.0 |
| Batteries | AA (4) batteries (NiMH recommended) |
| Weight (inc. batteries) | 510 g (18 oz) |
| Dimensions | 113 x 78 x 76 mm (4.5 x 3.1 x 3 in) |
Pricing and Availability
Canon's new PowerShot S3 IS digital camera will be available in May for an estimated selling price of $499.99.

Where to Buy Well, as usual I'm going to suggest Amazon.com. They've always been very reliable for me.
© Copyright Bob Atkins All Rights Reserved
www.bobatkins.com