Canon Powershot G12 Full Review

The Canon Powershot G12 is currently Canon's premium small sensor compact camera. With a 10MP sensor and a 28-140mm (equivalent zoom) it may not have a high pixel count or a huge zoom range, but it makes up for that in a number of ways. The pixel count is relatively modest but this isn't a bad thing since it allows larger pixels and hence better high ISO performance than might otherwise be possible. In fact the earlier G10 has a 14.7 MP sensor, which was reduced to 10MP in the G11 (and G12) with an overall improvement in image quality. The G12 1/1.7" type sensor is also relatively large for a compact camera. 1/1.7" type however isn't an exact measurement. It's a hold over from the days of videcon tubes and it doesn't precisely define just how big the sensor actually is. It's bigger than a 1/1.8" type sensor, but neither is precisely defined. I've seen 1/1.7" type sensors said to be anything from 7.1 x 5.32mm to 7.6 x 5.7mm. I believe the G12 is 7.6 x 5.7mm, but Canon aren't saying. The lens range is modest (5x) but it's reasonably fast (f2.8 to f4.5) and the quality is high with good sharpness, low vignetting and low levels of chromatic aberration.
Useful features which are increasingly rare on digicams are manual setting dials for ISO and Exposure compensation. Multiple control wheels for parameter setting, an optical viewfinder, a hotshoe compatible with all Canon Speedlites and a socket for remote shutter control.
Here are some of the Canon Powershot G12 Features
High-sensitivity 10 Megapixel CCD
28mm wide, 5x zoom lens, Hybrid IS
HS (High Sensitivity) System
7.0 cm (2.8") Vari-Angle LCD, Electronic Level
Optical Viewfinder
ISO capabilities from 100-12,800, with expansion
Front Dial, Full Manual control & Multi-Control Dial
RAW shooting
720p HD movies, HDMI output
High Dynamic Range mode
Built in 3x ND filter
Smart Auto mode
Multi-Aspect Ratio Shooting
Extensive accessory system, including FA-DC58B lens filter adapter
The PowerShot G12's optical Image Stabilizer allows you to shoot at shutter speeds approximately four stops slower than would normally necessary to achieve a sharp shot. The camera's Hybrid IS comes into play for macro shots as the PowerShot G12 can focus as close as 1cm from a subject. Hybrid IS counteracts both unintentional shift and angular movement – two kinds of camera shake that become particularly pronounced as image magnification increases.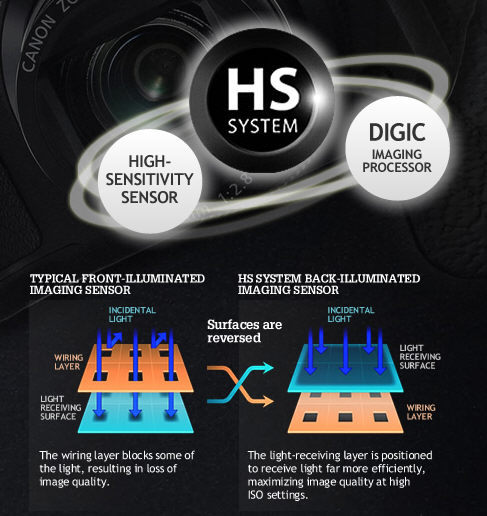 Canon rarely go into details about their "HS System" other than to say that it provides superior images in low light. From what I can gather it seems to be a combination of a back illuminated CCD sensor and various image processing functions performed by the Digic 4 processor including expanded dynamic range (similar to the Highlight Tone Priority function found on EOS DSLRs) in "low light" mode.
NEXT => Operation and Controls