Canon Rebates - Spring 2009
Canon announced their Spring Rebate program today, which may come as some relief to those holding their breath for lower prices! In a world where digital camera and lens prices seem to be steadily rising, at least we have a break for a short while.
Here's the rebate lineup. Note that again it's an "Instant Rebate", which means that the vendor lowers the price by the rebate amount. Online vendors may take a day or two to show the discounted prices on their web page, but the rebates should apply to these items if purchased between May 3rd 2009 and July 11th 2009.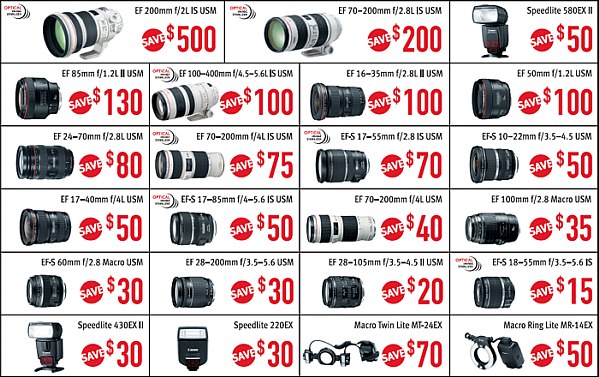 For a more complete description of the lenses and speedlites include in the rebate program please see the main Canon Rebates Page
The items must be purchased from an authorized Canon dealer in the 50 US states, the District of Columbia or Puerto Rico. Check the authorized Canon dealers below for price and availability on the above items.
Camera/Lens Kit Rebates
Various camera/lens kits are also included in the rebate program.