Canon SELPHY CP-510/710 Compact Photo Printer Review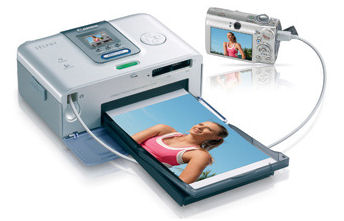 Canon SELPHY CP-710 Dye-SUB Printer
Earlier this fall Canon released two new printers, the SELPHY CP-510 and SEPLHY CP-710. Both are small format portable dye-sub printers. The major difference between them is that the CP-710 has a built in memory card reader. Both can be operated from an option Li-ion battery pack (NB-CP2L) which sells for about $65, making them suitable for field use.
Earlier SELPHY CP series printers could also be powered by a 12v car battery via a 12v-24v converter adapter (CBA-CP100) which sells for around $90, but Canon don't list the CBA-CP100 as a CP-510/710 accessory, even though they also take 24v. I'm not sure if this an oversight, but I'll try to get some info on that directly from Canon.
An optional Bluetooth adapter unit (BU-20) enables wireless printing from devices that support the Bluetooth standard, such as some camera phones.
I don't know where the name SELPHY comes from and I don't think it stands for anything, however it seems obviously to be associated with the "ELPH" camera series, and so perhaps signifies something small?
Both the CP-510 and CP-710 small format printers, capable of printing 4x6 prints, credit card sized prints (2.1" x 3.4"), mini-stickers (0.9" x 0.7", 8 to a sheet) and long format 4" x 8" prints. A neat touch is that the special 4" x 6" paper that this printer requires has standard postcard markings on the back (see below), so you can actually send your postcard sized prints as postcards! Each paper size requires it's own cassette and these are sold as accessories. The cassette for 4x6 prints is supplied as standard. The time to print a 4x6 print is 58 seconds, a significant improvement over the 90 seconds of earlier similar dye-sub printers (CP-220 and CP-330)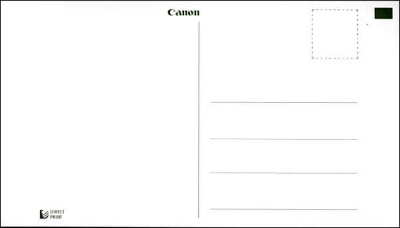 back of 4"x6" printing paper
Unlike ink jet printers, where paper and inks are available from many suppliers the CP-510 and CP-710 require paper/ink packs sold by Canon. Each pack contains both the paper and the dye-sub ink cassette to print on them. The standard 4x6 packs are the KP-36IP (36 prints) which sells for $10-$15 and KP-108IP (108 prints) which sells for $25-$30. Prints can cost as low as $0.23 if you shop around and get the best deal on the 108 print pack.
The prints produced from the CP-510 and CP-710 have a sealing layer over them which makes them waterproof and impervious to fingerprints. This is obviously a great advantage if you actually want to mail them as postcards! Canon claim that accelerated tesing of print stability indicates a life of up to 100 years, similar to that of conventional photographs.
The printers are quite small (7" x 5.2" x 2.5" ), so they'll actually fit into a camera bag, and they're no heavier than a pro SLR (33.2oz for the CP-510, 34.6oz for the CP-710). Full printer specifications can be found on the CP-510/CP-710 specifications page
Dye-Sub vs. Ink jet
The CP-510 and CP-710 are dye-sub (dye sublimation) printers. This means that they operate by subliming (vaporizing) dye from a sheet onto the printing paper. This is done in 4 passes. On the first pass the print is in contact with the yellow ink sheet, and areas requiring yellow are transferred from the dye sheet to the paper. The print then makes a second pass through the printer and this time the dye-sub cassette moves a magenta sheet over the print and transfers dye in the area requiring magenta. On the third pass this is repeated, using a cyan sheet to transfer cyan to the print and the color printing is complete. A final, fourth, pass applies a clear protective coating. This is shown schematically in the following figure:

All colors can be made up from yellow, cyan and magenta. Black is all three colors, white is none at all, just as in an ink-jet printer. Below are crops from a sample image and the magenta frame from the dye sub print used to make it. As you can see in the areas of the print that are black, all the magenta has been transferred from the dye sheet. In other areas only some of the magenta is transferred (see the setting sun in the lower right to see an area with partial transfer).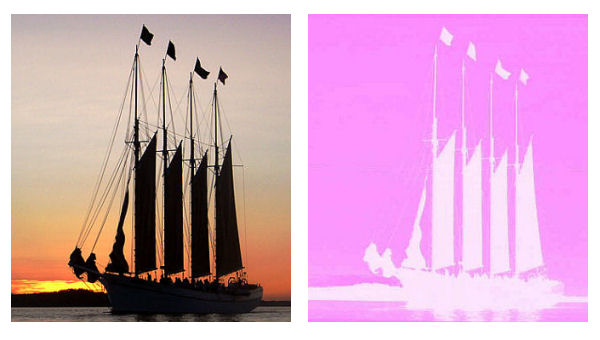 Software
The CP-220 comes with the CP printer solutions disk ver.5.0 (CD), which contains:
For Macintosh:
ImageBrowser 5.1
PhotoStitch 3.1
CP printer driver 3.2
For Windows:
Easy-PhotoPrint 3.3
PhotoRecord 2.2
PhotoStitch 3.1
CP Printer Driver 3.2
Printing
Printing can be done directly from a PC just like with any photo printer. A driver for the printer is installed on the computer and you select the printer as your output device when printing from a program. A standard USB connection between the printer and PC is used. However the printer can also be connected directly to any Canon camera which supports direct printing, or it can be connected to any PictBridge compliant camera from any manufacturer. Printing from PhotoShop (or other Image Editor) is obviously much more flexible since you can make complex color and density adjustments before printing. Printing directly from a camera requires a well exposed original since image adjustments aren't usually possible. With well exposed images the prints look very good. Note that you can print full frame from a DSLR image which has a 1:1.5 aspect ratio just like 4x6 paper, but if you're printing from a digicam with a 4:3 aspect ratio there has to be some cropping to print 4x6.
With current Canon Powershot digicams, direct printing from the camera could not be easier. Both printers have a short built-in retractable USB cable. You pull the cable out of the printer, plug it into the camera, turn the camera on in image review mode, select the image you want to print in the usual way and press a single button on the camera. 58 seconds later, you have the print in your hand!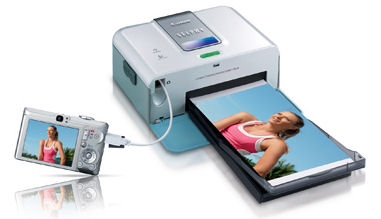 SELPHY CP-510
Even fairly simple cameras like the Powershot SD200 allow you to crop the image or print multiple small images ("passport" images) or an index print on one sheet of paper. You can also print a series of stills from a movie.
The CP-710 has all the functions of the CP-510, but in addition also allows printing directly from a memory card and has a 1.5" color LCD screen on which the images are displayed. Microdrives, CF cards, SD cards, Memory Sticks, Memory Stick Pros, Multimedia cards and Magic Gate Memory Stick Duos are directly supported. Other cards can be used via adapters. The usual array of functions is available. You can print one image, all images, images as defined in the camera via DPOF (digital print order format), plus you can select bordered or borderless printing and you can crop using the controls on the printer and the printer LCD screen.
Each print requires 4 passes of the paper through the printer and the total time for a 4" x 6" print is around 58 seconds. The actual paper is about 4" x 7", with a 1/2" tear off strip at each end. The extra length is required to enable edge to edge (borderless) 4" x 6" printing. The strip is microperforated so it tears off leaving a very clean edge. Bordered prints can also be selected via in camera software when printing directly from a camera, or via the usual software driver options when printing from a computer.
Both the CP-510 and CP-710 come supplied with only a sample 5 print pack of paper and dye sub ink, so you'll probably want to order at least one 36 or 108 print kit with the printer.
Conclusions
If you want really easy printing and a very portable printer, the CP-510 ($95) and CP-710 ($145) are good choices. They are small enough and light enough to carry in your camera bag if you're going to an event and want to proof images on the spot. The prints are waterproof and fingerprint resistant which is something that may be very useful if you're printing pictures at an a party, plus they can be sent through the mail as postcards. You do need AC power unless you buy the optional Li-ion battery pack. Prints are reasonably priced at around $0.35-$0.40 each if you buy the 36 print kit ($18) or $0.23-$0.28 each if you buy the 108 print kit. This is a little more than online prints would cost, but comparable to the cost of prints from most 1hr photo stores and you don't have to get in your car and drive to the store to get them!
© Copyright Bob Atkins All Rights Reserved
www.bobatkins.com