Canon EOS 40D and XSi kit rebates - Fall 2008
Canon have just announced a couple of "instant rebate" deals. One on the Canon EOS 40D plus EF70/4-5.6IS and one on the EOS Rebel XSi plus EF 75-300/4-5.6 III (not the USM version). There's $150 off the EOS 40D package and $100 off the Rebel XSi package. The rebates run from August 31st 2008 through October 13th 2008
The .pdf download file (shown below) gives the details. The body and lens must be purchased together, but it also says "Any body/kit combinations are eligible", so it looks like you'd get the $150 instant discount if you buy the EF 70-300/4-5.6IS with either just the EOS 40D body or with the EOS 40D + 28-135IS kit. Since it's an "instant rebate", the vendor should apply the discount at purchase, so you'll know if what you are buying qualifies!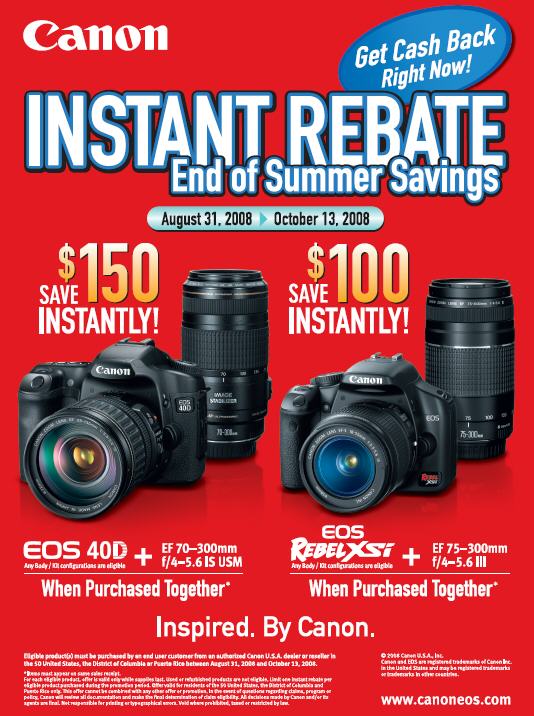 You can download the original .pdf file (24MB) from http://downloads.canon.com/cpr/software/camera/Aug08_EOS_promo.pdf. Note that right now (September 1st, 2:30pm eastern) there's something wrong with the link and it will only work if you copy it and paste it into your browser window. Clicking on the link doesn't work. It's a problem on Canon's end and is happening to other links, not just links from this website. I'm sure they'll fix it at some point, perhaps even by the time you read this!
The EOS 40D with the EF 70-300/4-5.6IS makes a great combination. I've been shooting with that camera and lens for a year now and I'm quite impressed with the results (see EF 70-300IS review. The EF 75-300/4-5.6 is a totally different lens and isn't as good, especially at 300mm. The 70-300IS uses UD glass, while the 75-300 doesn't. Of course the non-IS lens is also much cheaper.
Right now (2:30 pm eastern time on September 1st) I'm not seeing many retailers who are advertising this promotion, but it's the Labor Day weekend so maybe they are slow in updating their website. As soon as I see the promotions running, I'll post details, but you can check with the vendors listed below to see if they have updated their websites. After the instant discount I'd expect to see the EOS 40D + EF70-300/4-5.6IS selling at around $1350-1375. The same package with the new EOS 50D (when available In October) will probably sell for around $1950, so you'd be saving around $600 I'd expect to see the Rebel XSi + EF75-300/4-5.6 selling at around $685-700. These would both be pretty good prices, though I'd certainly go for the 40D package myself (if I didn't already own it!).
UPDATE:
• EOS 40D + EF 70-300/4-5.6IS at Adorama - $1369.95 after instant rebate
• EOS 40D + EF 28-135IS EF 70-300/4-5.6IS at Adorama - $1539.95 after instant rebate
• Digital Rebel XSi + EF 75-300/4-5.6 III at Adorama - $679.96 after instant rebate
• Digital Rebel XSi + EF-S 18-55 IS + EF 75-300/4-5.6 III at Adorama - $749.95 after instant rebate
• EOS 40D + EF 70-300/4-5.6IS at B&H Photo - $1368.95 after instant rebate
• EOS 40D + EF 70-300/4-5.6IS + EF 28-135/3.6-5.6IS at B&H Photo- $1538.95 after instant rebate