Canon EF 70-300mm f/4-5.6 IS USM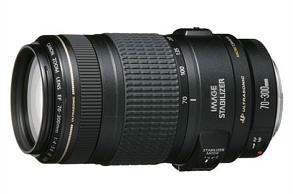 [Note: Hands on review now posted HERE]
The Canon EF 70-300mm f/4-5.6 IS USM is an update of the existing EF 75-300IS lens. The IS system has been updated from 1st generation to 3rd generation, which means it now can provide about 3 stops of stabilization and it has both 2 axis (normal) and 1 axis (panning) modes. It also has a system which automatically turns IS off when the lens is mounted on a stable tripod.
AF performance is said to be improved, though the lens still uses a micro USM motor rather than a true ring USM, so it doesn't have full time manual focus. Optically, coatings have been optimized for digital use and Canon state that "lens shaping" has been used to optimize performance. Since the new lens is 70-300 rather than 75-300 and has 15 elements in 10 groups rather than the 12 elements in 9 groups of the 75-300, it's logical to assume that the new lens has a different (through possibly similar) optical design. The new lens also incorporates 1 UD glass element according to the Canon website, which should improve performance and the MTF plots (see below) do suggest the lens may have significantly better performance than the existing 75-300 IS lens, especially at 300mm and may even outperform the $1300 EF 70-300/4.5-5.6 IS DO USM diffractive optics lens if you believe the MTF plots. Only time (and testing!) will tell. [Note: Hands on review now posted HERE]
Above: New EF 70-300/4-5.6 IS USM; Below: EF 70-300/4.5-5.6 DO IS USM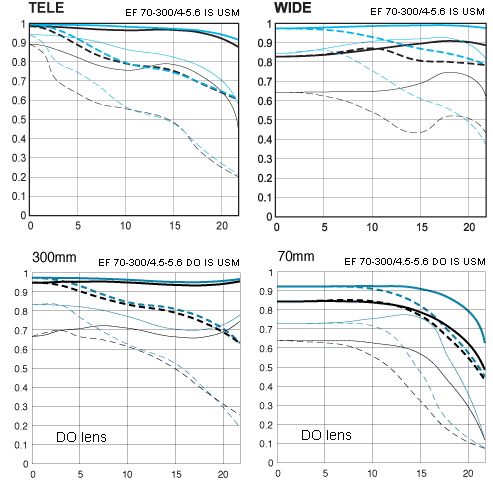 According to the Canon website, the EF 70-300mm f/4-5.6 IS USM is scheduled for release in September - although Amazon lists it as being available from mid-October. The price will be around $650.
This is a very interesting lens. The existing 75-300/4-5.6IS USM is one of my most used lenses, despite its compromises in performance at the long end. It's small, light, covers the focal length range I use most and can be handheld. The new lens promises to be similar, but with better optics, AF and IS. It is around $200 more expensive, but it may well be worth it.
Of course some will say, "why didn't they make it a real USM lens with a ring motor and full-time manual focus?", and that's a very good question. I guess it might have added $100 to the cost, so if Canon wanted to minimize the price increase, they may well have decided the micro USM was good enough.
For those looking for a telephoto zoom, the EF 70-200/4L is obviously and alternative, being the same price or slightly cheaper. It's an "L" lens, the optics are great, it can take TCs - but it doesn't have IS and it's bigger then the 70-300IS. Another tough choice for Canon users!
Canon EF 70-300/4-5.6 IS USM Features
UD (Ultra-Low Dispersion) glass element: less color fringing and better contrast
Image Stabilization for sharper hand held images - up to 3 stop correction
New: IS "Mode 2" for deliberate panning with a moving subject
Optical Coatings optimized for digital SLR use
Faster AF operation than previous EF 75-300 IS - new lens CPU and electronics
Circular aperture design for natural-shaped out-of-focus highlights
Locking zoom ring prevents lens from extending when carried on camera
Compatible with any Canon EOS body, film or digital (on APS-C DSLRs, like the EOS 20D and Digital Rebel XT,the focal length range is equivalent to 112mm - 480mm on a full frame camera).
Press Release
Here's a copy of the Canon press release:
22 August, 2005: Canon, a leader in photographic and imaging technology, today releases the EF 70-300mm f/4-5.6 IS USM zoom lens. Featuring the latest 3-stop Image Stabilizer for outstanding camera shake reduction, the lens also features super responsive auto focus. Replacing the popular EF 75-300mm f/4-5.6 IS USM, the world's first interchangeable lens with Image Stabilizer (IS), the lens is expected to appeal to serious amateur nature and sports photographers looking to achieve outstanding results while shooting hand held.
Image Stabilizer
IS dramatically reduces image blur caused by camera shake. The EF 70-300mm f/4-5.6 IS USM features Canon's latest 3-stop IS, a one-stop improvement over its predecessor. This allows shutter speeds up to three stops slower than would otherwise be possible, with no perceptible increase in image blur. Photographers normally shooting a 300mm frame handheld at 1/500s can obtain the equivalent result with a shutter speed of just 1/60s, vastly extending options in low light conditions.
Gyro sensors detect unwanted vibrations, triggering the corresponding movement of a correcting lens group perpendicular to the optical axis. This alters the light path, returning the image to its correct position on the sensor or film plane.
The EF 70-300mm f/4-5.6 IS USM provides 2-mode IS for shooting immobile subjects. Mode 1 stabilizes the image along both the horizontal and vertical axes. For shooting while panning to follow a moving subject, Mode 2 turns off correction in the panned direction and prevents the effect of dragging the subject back through the frame. IS switches off automatically when the camera is mounted on a tripod, thus preventing feedback loops between the IS sensor and stabilizer motor vibrations.
Superb auto-focus
The micro USM motor found in the EF 70-300mm f/4-5.6 IS USM employs ultra-sonic frequency vibrations to drive auto focus with unrivalled speed and near-silent operation. Good holding torque stops the lens with precision and accuracy, the instant it arrives at the correct focus point and without overshoot. A high speed CPU and optimized AF algorithm result in a significant increase of AF speed compared to that of its predecessor.
A zoom ring locking mechanism is provided that locks the zoom at the wide-angle setting. This ensures that the lens is carried or stored in its most compact position, preventing possible damage caused by the lens extending and hitting obstacles when being carried mounted on a camera with a strap.
Pleasing defocused background
The EF 70-300mm f/4-5.6 IS USM employs an electro magnetic diaphragm (EMD) with a circular aperture. This helps create an attractive, even defocused background when isolating a subject at large apertures.
Image quality
By optimizing Super Spectra lens coatings and lens element shaping, Canon's engineers have been effective in suppressing flare and ghosting - more prone to occur with digital cameras due to reflection off the image sensor. By increasing light absorption, coatings reduce reflections off lens element surfaces to deliver crisp, undistorted images with natural color balance.
Focal length translates to 112-480mm equivalent in 35mm film format when fitted to EOS 20D and EOS 350D cameras
The EOS system
The EF 70-300mm f/4-5.6 IS USM includes distance metering information, providing compatibility with the E-TTL II flash system of late model cameras such as the EOS-1D Mark II N and EOS 5D . When used in conjunction with Canon's range of EX Speedlite flash units, the lens passes distance information to the flash algorithm for markedly improved flash exposure metering.
Accessories for the EF 70-300mm f/4-5.6 IS USM include the lens hood ET-65B and the lens pouch LP1222. In keeping with Canon's Kyosei philosophy of living in harmony with the environment, the lens features only lead-free glass.
Specifications
Focal length

70 - 300 mm
Maximum aperture
F4.0 - F5.6
Minimum aperture
F32 - F45
Angle of view
Horizontal: 29° - 6° 50'
Vertical: 19° 30' - 4° 35'
Diagonal: 34° - 8° 15'
Lens construction
15 elements in 10 groups
Diaphragm blades
8
Closest focusing distance
105 cm (41.3 in)
Maximum magnification
0.26x (at 300 mm)
Distance information
Yes
Image stabilizer
3-stops
AF actuator
Micro USM
Filter diameter
58 mm
Dimensions (dia x len)
76.5 x 142.8 mm
Weight
630 g (1.4 lb)
Magnification with extension tubes
EF 12 II: 0.32x - 0.4x
EF 25 II: 0.39x - 0.9x
Lens hood
EW-65B
Soft case
LP1222
Extenders
EF 1.4x II: Not compatible
EF 2.0x II: Not compatible
[Note: Hands on review now posted HERE]

Where to buy?

I've been buying photo gear through Amazon.com for the last couple of years. Their prices are as low as, sometimes lower than, the photo discount stores, plus they often offer free shipping and on many items they have a generous 30 day return policy. I've found their customer service dept to be helpful too. Amazon started shipping this lens from stock around October 13th.
© Copyright Bob Atkins All Rights Reserved
www.bobatkins.com