Canon EF 70-300mm f/4-5.6 IS USM Review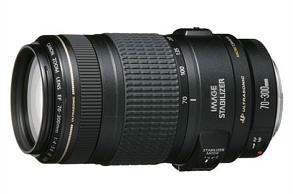 The is the replacement for the EF75-300/4-5.6 IS USM, but the difference is much more than just 5mm at the short end of the range. According to Canon, the new lens uses a low dispersion optical element for better image quality, digitally optimized coatings to lower flare, an improved IS system giving an extra stop of "handholdability" and a panning mode, faster autofocus and a zoom lock at 70mm to prevent "creep". This comes at a price however, which for the Canon EF 70-300/4-5.6 IS USM is around $570, about $125 more then the old EF75-300/4-5.6IS USM sold for new.
The question are (a) Are Canon's claims true and (b) if so, is the improvement worth the extra cost? So as not to keep you in suspense, I'll tell you now that my answer to both questions is "yes"!
Canon EF70-300/4-5.6IS USM Specifications
The lens is physically almost identical to the previous version. Dimensions are within a few mm of each other and the weights differ only by less than 1oz (20g) - the new lens is lighter. The obvious differences are the presence of a switch for the two IS modes (normal and panning) and a switch to lock the zoom at 70mm to prevent it from extending while the lens is carried pointing down. Otherwise, externally, the lenses could be twins!
Closest focusing distance: 4.9 feet/1.5 meter
Filter size: 58mm
Maximum diameter x length: 3.0 x 5.6 inches/76.5 x 142.8 mm
Weight: 22.2 ounces/630 grams
The optical design is very similar but does show some differences if the Canon optical diagrams are accurate.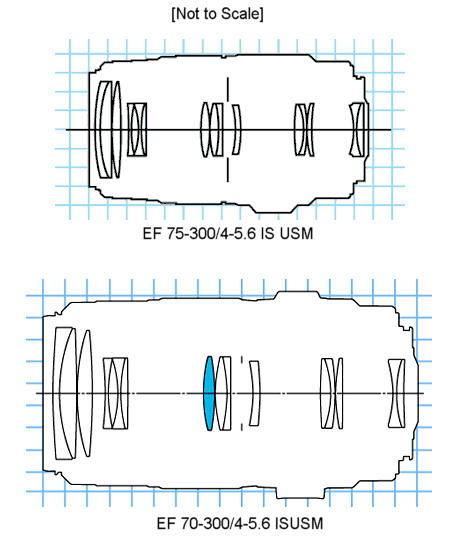 The element colored blue is the low dispersion element. Note also the slight different curvature of the 1st and 14th elements in the two lenses. This would be consistent with Canon's comments about "reshaping" some of the elements.
Aperture
The EF70-300/4-5.6IS USM is obviously f4.0 at 70mm and f5.6 at 300mm, but the table below shows the maximum aperture at other focal lengths:
| | | | | |
| --- | --- | --- | --- | --- |
| 70mm | 100mm | 135mm | 200mm | 300mm |
| f4.0 | f4.5 | f5.0 | f5.0 | f5.6 |
Autofocus Speed
Just as Canon claimed, the new lens has faster autofocus. My tests showed an average time of 0.65 seconds to shift focus from 1.5m (closest focus) to infinity with the lens on an EOS 20D. The older 75-300 lens took an average of 0.9 seconds, so the new version is 33% faster.
It's also quicker to "turn around", i.e. when focusing from infinity to closest focus, pausing, then reversing to focus from close focus to infinity. The new lens took around 1.65 seconds, the old lens took around 2.6 seconds. Not only is the focus faster, but the pause between reversing directions is shorter.
Below is an audio trace taken during autofocus for the two lenses. You can see that the noise levels are similar but the new lens is significantly faster. The lenses are not especially noisy, but nothing is as quiet as true ring USM lenses (which are virtually silent). Both these lenses use USM micromotors, which are slightly quieter (and faster) than conventional motors.
So the lens gets a "thumbs up" in terms of improved focusing speed.
Image Stabilization
The effectiveness of IS (image stabilization) is hard to quantify. It's a matter of the probability of an image being within some fraction of the sharpness you'd get with the lens on a tripod. However I can say this - the image looks more stable when using the lens. You can visually see the image though the new lens moves less.
In a series of tests consisting of multiple shots taken with the old 75-300 lens and the new 70-300 lens at a shutter speed of 1/60s and a focal length of 300mm, the new lens delivered sharper images in almost every case. Not every shot was equally sharp and not every shot was as sharp as it would have been using a tripod, but the new lens definitely gave a higher percentage of higher sharpness images.
Canon claim the IS on the old 75-300/4-5.6 IS was good for two stops of increased handholdability, while the new lens is good for three. While I can't confirm this in a quantitative way I can say that the images with the new lens are indeed better when shooting at 1/60 and 300mm, so I can confirm that the new IS is indeed somewhat more effective. I still wouldn't shoot much below 1/90s though if I wanted to be pretty sure of getting a sharp image. Canon suggest IS should be effective at 1/60 at 300mm. I guess it depends on your criteria for sharpness and probability of getting that sharpness. Without IS you're probably looking at 1/400 to 1/500 for the same image quality unless you use a tripod.
So the lens certainly gets a "thumbs up" in terms of more effective Image Stabilization.
Image Sharpness
This is probably the "biggie" for most people. Is it sharper? Well, the old lens was pretty sharp at 75mm, but got a little soft at 300mm, especially wide open. Is it better at 300mm and is it "sharp" by the standards of other 300mm lenses?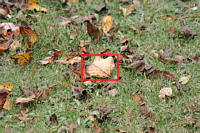 When I compared shots from the EF75-300/4-5.6IS and EF70-300/4-5.6IS side by side on a number of subjects, Canon's claims of better sharpness were certainly confirmed. The new lens is sharper at f5.6 than the old lens was at f8. The new lens uses a UD glass element, which no doubt is responsible for the sharpness increase at 300mm. It's still not as sharp as the 300/4L of course, but you certainly wouldn't expect it to be. The new EF70-300/4-5.6IS does benefit a little by stopping down to f8. On an EOS 20D and at f8, image quality on real world targets almost approached that of the 300/4L in some shots as you can see in the images below. However on resolution test charts the 300/4L showed higher contrast and resolution. Still, the performance of the new lens is surprisingly good.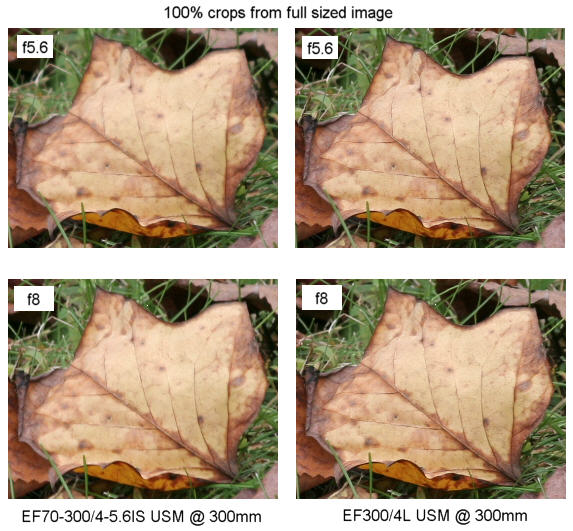 With a Tamron 1.4x TC, there's good news and there's bad news. The good news is that image quality with the TC attached to the new 70-300 lens at 300mm (=420mm with TC) is pretty good - significantly better than with the old lens - but not as good as with the 300/4L of course. The bad news is that the faster focus of the new lens results in focus hunting and oscillation with the Tamron TC attached. The lens isn't supposed to AF at all at f8 on an EOS 20D of course, so you can't really complain, but the old lens would actually AF quite well with the Tamron 1.4x attached (due, presumably, to the slower AF). All is not lost though since the electronic focus confirmation (beep and green dot) does work, so you don't have to depend 100% on your eyesight in MF with the TC. The Canon TCs, of course, do not physically fit on this lens.

Corner sharpness (on an EOS 20D with a 1.6x sensor) is also better with the new EF70-300/4-5.6IS lens and chromatic aberration is a little lower. The revised optics do seem to be doing their job. On a full frame cameras both lenses show higher levels of chromatic aberration at the edges and corners, but again the new EF70-300/4-5.6IS is better.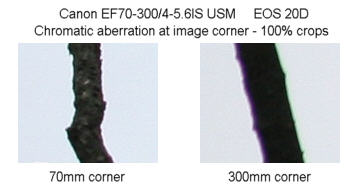 Chromatic aberration is pretty well controlled, especially in the case of use with an APS-C format DSLR such as the Digital Rebels or the EOS 20D/30D. It's somewhat more noticeable at the edges of the frame when a full frame camera is used as shown below.
Overall I'd give this lens a "good" rating at 300mm, rising to "very good" at 70mm.
There have been some question as to how well the EF 70-300/4-5.6IS USM performs on a full frame camera rather than one with a smaller APS-C sensor. Will the image quality significantly degrade as you move out from the edges of the APS-C frame size to the edges of a full 35mm frame. Well here are a couple of shots that may give a partial answer to that, taken using a full frame Canon EOS 5D and an APS-C frame EOS 20D.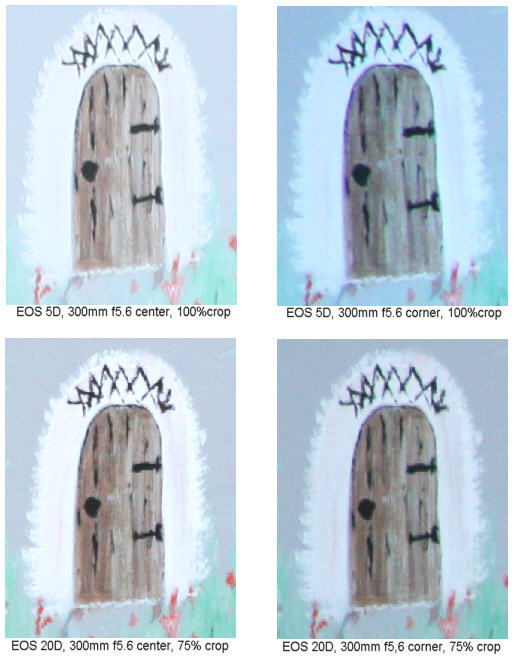 As you can see, there is more visible chromatic aberration at the corner of the full frame shot than at the corner of the APS-C frame shot and the image is slightly softer but remember this is performance wide open. It's still not bad and CA can be corrected to a significant extent with software like DxO or PhotoShop. The EF 70-300/4-5.6 IS USM certainly acceptable for full frame use.
Flare
Flare seems well controlled and better than the earlier lens. These shots of dark leaves and branches against a light sky. I think you can see that the newer lens shows higher contrast and less veiling flare. They were both taken using an exposure of 1/100s at f4.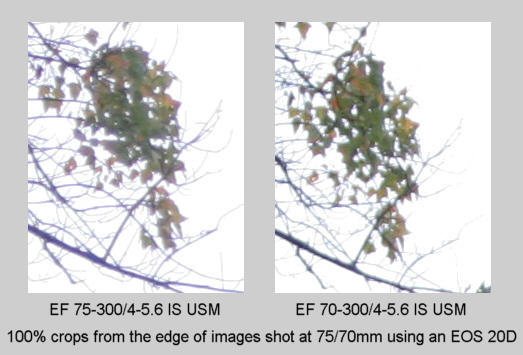 Vertical Sharpness Issues
Some early lenses with serial numbers with a "O" or "1" as the 3rd digit exhibited lower sharpness at the edge of the frame when the camera was in vertical (portrait) operation and the lens was zoomed out to 300mm. Canon will fix any lens with a serial number in this range at no charge (See the Canon Webpage). Not all lenses in this serial number range showed this effect and Canon have eliminated the problem in current lenses (and all lenses with a "2" or above as the 3rd digit of the serial number).
Is it Worth it?
That's for each photographer to decide. The 75-300 III (which is optically similar to the old 75-300/4-5.6 IS) sells for around $160 and used 75-300 IS lenses on Ebay are selling for around $400 So the new lens is now $400 more than the nearest non-IS model, and maybe about $200 more than a used EF75-300IS, but it's optically significantly better, has faster focus and has 3-stop Image stabilization. For me it's definitely worth the additional cost.
If you want an Image Stabilized telephoto zoom, your only other Canon alternatives are the much more expensive , the and . The first two will cost you around $1400 and the latter will cost you $1500, so in comparison you could look at the new 70-300IS lens as being pretty cheap! The 100-400IS is larger and heavier and, being white, a lot more conspicuous. There's also a MkII version, the , which at over $2000 is even more expensive. The DO lens is good and it has a true ring USM motor and full time manual focus, but some users report optical issues related to the use of diffractive optics and it costs significantly more (more than double). The "L" version is very good, though I'm not sure it's worth twice the cost.
Another lens to consider is the . When I tested it I found it to be as good as the Canon 70-300/4-5.6 IS USM, maybe slightly better. However it's about $200 less expensive, which makes it a bargain.
For me the fits the bill as an ideal "walking around" lens for nature, travel and sports photographers. It's small enough and light enough to carry around as part of a kit (it would pair well with an EF-S 17-85/3.5-5.6 USM) and the image quality and stabilization are improved enough over the old lens to justify its additional cost.
Related Articles: