A Review of Canon EOS Lenses for the beginner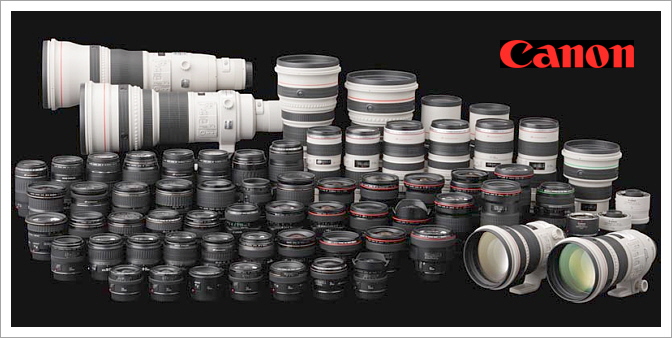 If you are looking for a review of a specific lens, the very best way to see what I've written about any given piece of equipment is to do a search via the search box below. Google crawls this website on a daily basis and does an excellent job of indexing the site. Just type in the focal length range and/or speed. For example "100-400 review" or "85/1.8 review" and you'll get a list of all the pages on the site that discuss the lens in question.
Note
: This article was last revised and updated in February 2012. Prices quoted in the text were current at that time, but may have changed since then.
The first question a lot of new Canon EOS DSLR owners will ask is "what Canon EOS lenses should I buy?". If this is their first digital SLR, perhaps even their first SLR or digital camera, this is a reasonable question. Those with previous experience with the Canon EOS system will probably already have a bag of Canon EOS lenses, or at least enough experience to know what they want!
This review is for the new users. The assumption is that they don't want to spend $12000 on an EF 600/4L II IS USM, and indeed they probably don't even want to spend $1300 on an EF 300/4L IS USM. I've chosen a series of Canon EOS lenses which the new user might be most interested in. These are mostly zooms and mostly priced well under $1000.
I'm assuming that most new Canon EOS DSLR owners probably won't be interested in many prime (non-zoom) lenses. For those who are interested in primes, all the Canon EOS prime lenses are excellent and they can all be recommended if you have need for a fast lens of a particular focal length. I have included the 50/1.8 though since it's so cheap and so useful, it's almost a crime not to own one! Another very, very good prime lens is the EF 85/1.8 USM. It's very sharp, edge to edge as well as being fast and reasonably priced. It makes a great portrait lens.
Focal Length
IS
Equivalent 35mm Focal length
Aperture Range
USM*
Filter Size
Estimated Price
Lens Mount
Distance Scale
10-22
No
[16-35]
3.5-4.5
Yes
77mm
$800
Metal
Yes
15-85IS
Yes
[24-135]
4-5.6
Yes
72mm
$720
Metal
Yes
17-40
No
[27-64]
4
Yes
77mm (or rear gel)
$780
Metal
Yes
18-55IS
Yes
[29-88]
3.5-5.6
No
58mm
$125
Plastic
No
18-135IS
Yes
[29-214]
3.5-5.6
No
67mm
$315
Metal
No
18-200IS
Yes
[29-320]
3.5-5.6
No
72mm
$550
Metal
No
28-135IS
Yes
[45-216]
3.5-5.6
Yes
72mm
$400
Metal
Yes
55-250IS
Yes
[88-320]
4.5-5.6
Micro USM
52mm
$250
Plastic
No
70-300IS
Yes
[112-480]
4-5.6
Micro USM
58mm
$450
Metal
No
75-300
No
[120-480]
4-5.6
Choice
58mm
$170
Metal
No
50
No
[80]
1.8
No
52mm
$110
Plastic
No
70-200L
No
[112-320]
4
Yes
67mm
$680
Metal
Yes

The Following lenses have been discontinued but may be available used

20-35
No
[32-56]
3.5-4.5
Yes
77mm
$370
Metal
Yes
17-85IS
Yes
[27-135]
4-5.6
Yes
67mm
$540
Metal
Yes
24-85
No
[38-136]
3.5-4.5
Yes
67mm
$310
Metal
Yes
28-105
No
[45-168]
3.5-4.5
Yes
58mm
$220
Metal
Yes
28-200IS
No
[45-320]
3.5-5.6
Yes
72mm
$400
Metal
No
100-300
No
[160-480]
4.5-5.6
Yes
58mm
$270
Metal
Yes
*USM = Ultrasonic Motor. Ring USM motors are silent and manual focus (FTM = Full Time Manual) is possible without switching out of autofocus. Micro USM motors are quiet, but do not allow full time manual focus.
The Digital Rebels, EOS 60D,70D and 7D have sensors smaller than the 35mm film frame (36x24mm). The format is known as "APS-C" because it's approximately the same size as the old APS-C film format (15mmx22mm). The consequence of this is that the image recorded is effectively a cropped version of a 35mm image. Since it's cropped it has a smaller angle of coverage - and another way to say this is that the effect is equivalent to putting a longer lens on the full frame camera. So, for example, if you shoot with a 50mm lens on an APS-C sensor camera you get the same coverage (or FOV - Field of View) as you would with a lens 1.6x longer - 80mm - on a full frame 35mm camera. This is sometimes called a "1.6x" multiplication factor, though it's more accurately called a "1.6x" cropping factor.
Canon have two lens lines. The first are their "EF" series lenses. These will fit on any EOS camera body ever made, including all 35mm fil, APS film, APS-C digital and 1.3x and 1x (full frame) DSLRs. Any EF lens will work with any EOS body. The second line of lenses are the "EF-S" series. These lenses have reduced frame coverage suitable for APS-C DSLRs. The advantage of EF-S lenses is that they can be slightly smaller than EF lenses, they can be optimized for the smaller sensor size and they can be made with shorter focal lengths then full frame lenses (for example the EF-S 10-22 can be made, but the widest lens made for full frame cameras in the EF series is 16-35mm).
In the table above the first column lists the actual focal length and the second column lists the focal length you would need to use on a full frame 35mm camera to get the same angle of view. As you can see, a 300mm lens "becomes" a 480mm lens on an APS-C DSLR - which is great if you want a telephoto lens! At the other end of the range though the effect may be less desirable. Your super wide-angle 20mm lens now has the coverage of only a 32mm lens on a full frame 35mm camera and 18mm becomes the equivalent of a 29mm lens on 35mm full frame.
The Canon EOS Lenses
Canon EF-S 10-22/3.5-4.5
The is the widest Canon lens available for current APS-C sensor cameras. At 10mm it gives you the same field of view as a 16mm lens mounted on a full frame 35mm camera. Though it's not cheap (around $800) it does give you that ultra-wide coverage. Typical uses are for landscapes which include near and far details and for shooting anywhere that space is restricted such as indoors in small rooms. The EF-S 10-22/3.5-5.6 is probably the best ultra-wide zoom for Canon APS-C sensor cameras. There are some 3rd party alternatives, but none of them are quite as sharp overall.

The only wider lens available for Canon APS-C sensor DSLRs is the Sigma 8-16mm f/4.5-5.6 DC HSM FLD. With the 8-16 you have to balance gaining 2mm at the wide end of the range and against loosing 6mm at the long end. For some it may be worth it, for others not. It all depends on how much you like (and will use) the ultra wide look.

Many of the images in the 2012 Motorcycle Show gallery were shot using the
Canon EF-S 15-85/3.5-5.6 IS USM
The is Canon's premium wide-to-telephoto zoom for APS-C crop cameras. It has the same field of view coverage as a 24-135mm zoom would have on a full frame camera. It replaced the 17-85IS zoom and has both wider coverage and better optics.

The EF 15-85.3.5-5.6 IS spans the range from a true wideangle at 15mm, suitable for landscapes and shots where you don't have the room to back away from a subject, to a short telephoto suitable for sports, travel and portrait work. The effective IS system means that it's also usable in low light for static subjects like indoor architecture shots.

Check out my hands on review of the Canon EF-S 15-85/3.5-5.6 IS USM on this website.
Canon EF 17-40/4L
| | |
| --- | --- |
| | The is the least expensive wideangle zoom that will fit both APS-C and Full Frame EOS DSLRs. It does gives you true wide angle coverage on APS-C (with an angle of view equal to that of a 27mm lens on a full frame 35mm camera) and being an "L" series lens it's built to professional standards with high quality optics, a silent USM ring motor, distance scale and comes with a hood. It's certainly a recommended lens if you can afford it. |
Canon EF-S 17-85/4-5.6 IS USM
Discontinued

The 17-85/4-5.6 IS USM gives the same coverage on an APS-C body that the EF 28-135/3.5-5.6 IS USM does on a full frame 35mm camera. This is a very useful range for everything from landscapes to portraits and covers the focal lengths that most photographers will use most often. The Image Stabilization (IS) means it can be handheld at 2-3 stops slower shutter speeds then a non-IS lens and still provide equally sharp images. It's now been replaced by the , which is a little wide, a little sharper - and a little more expensive!
Canon EF-S 18-55/3.5-5.6IS
| | |
| --- | --- |
| | The is often supplied as a standard "kit" lens with EOS Digital Rebels. This lens gives the coverage of a 29-88mm lens on a 35mm full frame camera. For around $199 it performs better than you might expect and it is a lens well worth considering, especially if discounted as part of a kit. It certainly makes a good "starter" lens if you are on a tight budget, but if you want it remember it will be cheaper to but it as part of a kit with camera body. The added price is often under $100 if you do. There's also an STM version of this lens - the - which uses a stepper motor for focusing which is optimized for video use. |
Canon EF-S 18-135/3.5-5.6 IS
The is sometimes available as a "kit" lens with EOS APS-C bodies This lens gives the coverage of a 29-214mm lens on a 35mm full frame camera, so it's a pretty good "walking around" lens for those times when you're not quite sure what focal length you might need. At the moment the price is hovering around $315, though if bought as part of a kit with a camera body the added price can be a little lower.

Here's a link to my Canon EF-S 18-135/3.5-5.6 IS Review

There's also an STM version of this lens - the - which is optimized for video use.
Canon EF-S 18-200mm f/3.5-5.6 IS
The is Canon's "one lens does it all" solution. This lens gives the coverage of a 29-320mm lens on a 35mm full frame camera. It's main appeal is that you may never need to change lenses! As with all things, compromises are involved. Though the EF-S 18-200mm f/3.5-5.6 IS is a perfectly fine lens for general use, it's optical performance isn't quite up to that of some lenses in the same price class with a shorter focal length range.

If you're going for a one lens solution though, you might want to look at the . I've written a review of the Tamron 18-270 and I found it to be a decent performer, especially in the center of the image, and I found the image stabilization to be quite effective. For a lens with this zoom range it's remarkably small, measuring only 3.8" long and weighting under 1 pound. It's not cheap at around $600 (after rebate), but it is convenient.
Canon EF 20-35/3.5-4.5 USM
Discontinued

This was the least expensive of Canon's higher quality full frame USM wide-angle lenses. Performance is pretty good, even wide open and it has a ring USM motor giving silent operation and full time manual focus (i.e. you don't have to switch from AF to manual focus). It's well built with a metal lens mount, distance scale and IR focusing marks. It also works very well on Canon EOS 35mm film bodies since it's an EF (not EF-S) series lens. It has been discontinued for a while now but may be available used. The closet current lens is the EF 17-40/4LUSM which has better optics and covers a similar (but wider) range, though of course it is more expensive
Canon EF 24-85/3.5-4.5
Discontinued

Another higher quality lens with ring USM and full time manual focus, but now discontinued. It matches pretty well in focal length with either a 75-300, 100-300 or 70-200mm lens without to much overlap or too much of a gap, so it's a good choice for the semi-wide to semi-telephoto lens of a higher quality lens pair. The only drawback is, of course, it's not super wide on an APS-C sensor DSLR with 24mm being the equivalent of a 38mm on a 35mm full frame camera. Note that it's not image stabilized either.

The closest current lens is probably the which covers a slightly wider zoom range, is faster over most of that range, has image stabilization and "L" series quality optics and construction. However it is around $1000. If you can afford it, I'd recommend it (I own one myself).
Canon EF 28-105/3.5-4.5 USM
Discontinued

This was a workhorse 35mm lens, highly recommended as a relatively low cost, high quality alternative to Canon's cheap "low end" lenses. However it has been discontinued by Canon. It's solidly built, has a ring USM motor with full time manual focus, distance scales, IR focus marks and a metal mount. It takes 58mm filters. The only reservation is that 28mm isn't all that wide on an APS-C DSLR since 28mm gives the same field of view as a 45mm lens on a full frame 35mm camera. It's also not image stabilized. However it was certainly among Canon's best "bang for the buck" lenses while it was in production.
Note that there was also a EF28-105/4-5.6 USM which is a totally different lens! The cheaper 4-5.6 version has different optics, a plastic lens mount, a micro (not ring) USM motor and lacks full time manual focus and distance scales. It sells for around $160. The 3.5-4.5 version has a metal mount, full time manual focus and better optics.
Canon EF 28-135/3.5-5.6 IS USM
| | |
| --- | --- |
| | The was one of Canon's first image stabilized lenses. The IS (Image Stabilization) allows you to hand hold this lens at shutter speeds 2 to 3 stops slower than you could without IS and still get sharp images. The 28-135 is somewhat unusual in that it's one of the few cheaper wide-to-normal Canon zooms that has full frame coverage. This probably stems from the fact that it's been around since 1998 - a time when there were no "affordable" EOS DSLRs, only 35mm film EOS SLRs! The first "affordable" DSLR from Canon was the D30 which came out in 2000. Again the 28mm wide end equates to 45mm in full frame 35mm terms, but the lens also goes out to 135mm - which is 216mm in full frame terms - and that's a respectable telephoto. |
Canon EF 28-200/3.5-5.6
Discontinued

This is another lens discontinued by Canon. Though the 28-200 sounds attractive, especially to those who just want one lens that does everything, the large zoom range results in lower performance than lenses like the 28-135 IS. For APS-C DSLRs it's pretty much been replaced by the current EF-S 18-200/3.5-5.6is which offers a wider zoom range.
Canon EF 50/1.8 II
The only around $110, it's small, it's light, it's sharp and it's 2-3 stops faster than any of the zooms. What more can I say. Buy one. You won't regret it.

The fast optics make it ideal for use in low light while also blurring background for portraits. In those respects it's better than any zoom that covers the 50mm focal length range. The only real negative is that it doesn't feel particularly well built with a plastic mount and a focusing ring that's quite thin. However the low cost construction does mean it's very light and no doubt keeps the cost of the lens down. It's a lens that I always take with me since it's so small and light.

Here's a link to my Canon EF 50/1.8 Review

The is the big brother of the 50/1.8 II, but it's much more solidly built with a ring USM motor, metal lens mount, distance scale etc. It's a very sharp lens from corner to corner and makes a great portrait lens. It is 4x the price of the 50/1.8 II though.
Canon EF 55-250/3.5-5.6 IS
The is designed to pair with the to give complete 18-250mm coverage at low cost. It's not a bad lens but note it is designed down to a price so it has a plastic lens mount, no distance scales, no ring USM or full time manual focus (though it's a USM lens, it's a different type of USM, micro USM). However despite the economical construction, it's actually a pretty decent lens for the price.

There's also a

which uses an STM (stepper motor) for focus which can give smoother AF when shooting video.
Canon EF 70-300/4-5.6IS USM
The replaced the original EF 75-300IS USM (the first Canon lens with IS). It has 5mm more on the wide end (70mm vs. 75mm), upgraded IS (3rd generation), with a panning mode, upgraded autofocus performance, upgraded coatings optimized for digital, a zoom lock at 70mm and new optics including one UD element.The sharpness of this lens is better than the original 75-300IS and this is quite noticeable at 300mm. I've posted a detailed EF 70-300/4-5.6 IS USM Review on another page of this website.

All of the shots in the Turkeys gallery were shot with the Canon 70-300/4-5.6IS USM.
Canon EF 75-300/4-5.6
| | |
| --- | --- |
| | The is Canon's lowest priced telephoto zoom. It's pretty sharp at the short end but starts to become a little soft at the long end. Since it lack Image stabilization, it can be tricky to use handheld at the long end of the zoom range where shutter speeds of around 1/500s would be needed to to minimize the chances of image blur due to camera motion. For most users I think the EF-S 55-250is lens is a better buy. The 75-300 lenses do give you an extra 50mm and they can be used on a full frame body, but for most users the IS of the 55-250 will be a more useful feature. If you are shooting with a full frame body, you're probably going to want a higher quality lens like the |
Canon EF 100-300/4.5-5.6 USM
Discontinued

This was an "upscale" version of the 75-300. It added a ring USM motor for fast focus, silent operation and full time manual focus, plus a distance scale and a front element which does not rotate during focusing (making the use of a polarizer a little easier. You do lose 25mm on the short end though. Optically it performs on about the same level as the 75-300 lenses. Sharp at the short end but starting to get a little soft at the long end. IS is not available on this lens. They typically sell used in the $150 region.
Canon EF 70-200/4L USM
| | |
| --- | --- |
| | The is one of Canon's professional quality "L" series lenses, but at under $700 it's the least expensive. For the extra cost over the less expensive non-L zooms you get better construction, better optical performance and a case and hood included in the price. It of course has a ring USM motor with full time manual focus. It can also take an accessory tripod ring and it will accept both the 1.4x and 2x Canon TCs (teleconverters or multipliers). With the all EOS DSLRs full autofocus is maintained with the 1.4x TC, giving you a 98-280/5.6 autofocus zoom (157-448 equivalent). The 2x TC gives you a 140-400/8 zoom (224-640 equivalent), but you have to focus manually on anything but a 1D series professional body. It's a great lens and the price - under $700 - is low for an "L" series lens. You can't beat this one for quality, so if the price is within your budget it's highly recommended. It does lack image stabilization, but if you want that there's the , though it will cost you around $1200 |
My Lens Recommendations for APS-C DSLRs (Digital Rebels, 60D and 7D)
There are dozens of possible lens combinations and the one that's best for you depends on your particular needs and how much you want to spend. Here are three or four suggestions, but they are by no means the only good combinations. I'm sticking here with the modestly priced lenses described above which I think represent good value. Obviously you could buy all fast "L" series primes and zooms, but besides being larger and heavier, they are also significantly more expensive.
I'd say that the best low cost solution would be the 18-55IS coupled with a and a 55-250IS. This gives you one wide-angle zoom, one telephoto zoom and one fast lens ideal for portrait and low light work.
The best single lens solution is probably the Canon EF-S 15-85/3.5-5.6IS USM . It's a true wideangle, it has a decent zoom range (equivalent to 24-135mm on a full frame camera), it's pretty sharp and the IS is effective. The only downside is that it's not very fast and I'd throw in a $100 50/1.8 for really low light work and portrait work where you want blurred backgrounds. I know that's two lenses, but the 50/1.8 is so small and cheap, it doesn't really count!
If you don't need such a wide zoom range and you want a faster lens then the Canon EF-S 17-55/2.8 IS USM is a very good lens indeed. It's sharp, fast and optically stabilized - it's only drawback is a price of a little over $1000, though that's "only" about $300 more than the 15-85.
For the widest single lens coverage the EF-S 18-200/3.5-5.6IS is the obvious choice, though personally I'd take the 15-85IS because of its higher quality and significantly wider view (15mm vs 18mm).
The best two lens solution if you want to cover all bases at reasonable cost would be to add the to the single lens package as above. You'd than have 15-300mm covered with image stabilized lenses (and of course the EF 50/1.8 II for when you need a fast lens).
The best higher end two lens solution might be the for the truly wide end of the range, coupled with a for the normal-to-telephoto range. That's actually the combination I use myself. You could save quite a bit by going with the in place of the EF 24-105mm f/4 L IS USM, but there's a bigger gap and the 28-135 is slower, the IS isn't quite as good and it's not quite as sharp. It is, however, $600 less expensive.
What about 3rd party lenses
Sigma, Tamron, Tokina and several other manufacturers make autofocus lenses for Canon EOS cameras, so why not use one of them? Well, the main reason is that in general the Canon lenses are of higher quality and are more compatible. If there's a problem and you have a Canon lens and a Canon body, then there's no doubt that it's Canon who will fix the problem. If you have a Sigma lens on a Canon body, who has responsibility for them working together? There are also a lot of examples (especially with Sigma lenses) of older lenses not working on newer EOS bodies. Often the lens maker can "rechip" the lens and make it work, but can you depend on that?
Of course 3rd party lenses are often cheaper and some lenses made by 3rd party manufacturers just aren't made by Canon (e.g. zooms like the ), so if you want one of those lenses, you don't have a lot of choice but to go 3rd party. Many people are quite happy with 3rd party lenses and equally happy to have saved some money by buying them. So I'd generally recommend sticking with Canon if Canon make the lens you want at a price you can afford. If they don't, then 3rd party lenses are always an option.
One 3rd party lens I can recommend if you're looking for a telephoto zoom is the . It's similar in sharpness to the but it comes with a lens hood, includes a 6 year warranty and it's cheaper. Many of the images in the UK Trip 2011 gallery were shot using the Tamron 70-300/4-5.6 VC lens.