Canon i900D Photo Printer Review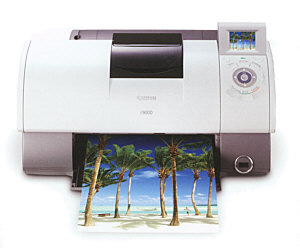 Introduction
The i900D was introduced by Canon in September 2003. Rather than run the printer though a series of lab test and describe every option and every software screen, I though a better way to review it was to actually use it in the same way a typical purchaser might. Is it easy to assemble? Is the software easy to install and use? Does it make good prints? How long does the ink last? Finally of course, are there any problems or things that have been left out that shouldn't have been. Read on and I'll try to answer these questions.
Canon i900D Technical Specifications
You can download copies of the printer manuals in PDF format directly from Canon if you want a full technical description of all hardware and software options, but briefly here are the major features:
Photo printer using 6 ink system
Inks individually replaceable
User replaceable print head
Built in memory card reader and LCD screen
Printing directly from memory card
Printing directly from compatible digital cameras
Borderless printing option
Setup
To properly test setup I tried the method most likely used by the average consumer. Dive into the box and start putting things together. Only read the instructions as a last resort. Turns out mechanical assembly of the printer was quite simple. After removing several hundred (well, maybe a dozen) strips of orange tape holding parts in place all that was required was first to open the package containing the print head assembly, insert it into the printer and lock it into place. Simple. Then open each one of the 6 ink cartridge packets and snap each one into its correct slot (all of which are labeled). The only thing here is to make really sure you put the right color ink in the designated (and clearly labeled) slot. If you put your yellow ink in the magenta slot, your prints will look very strange, and it will take you forever to flush the incorrect color ink out of the system.
The only other assembly required is to attach the 4x6 paper holder to the printer if you want to load 4x6 paper at the same time as 8.5x11 paper . Takes 5 seconds as it more or less just drops in place.
At this point you can plug the printer in, load some paper, stick a memory card in the slot and make a print! No PC or camera required. There's a small (2") LCD to tell you what to do (though reading the instruction manual isn't a bad idea). You can select an image, select a paper size, crop if necessary, chose from a few printing options and make your print.
I installed the supplied software on a PC running Windows XP. The most important thing here is that you need to install the software BEFORE you attach the printer. If you don't, XP will recognize new hardware and attempt to install it's own drivers for what it thinks you've just attached. This should be avoided. All you need to do is first load the software CD and follow the instructions to load the printer driver and the memory card driver. When that's all done, THEN you can attach the printer, XP will recognize new hardware and it will use the Canon drivers which you have just loaded to control it.
There were no bugs during installation. Everything went along as the manual indicated it should.
Memory card reader
The i900D has a built in memory card reader that can either be used to transfer data to a PC via the USB link, or the printer can directly print images which are stored on the card. It's compatible with Compact Flash, Microdrives, Smart Media, SD cards and Multimedia cards. Direct printing from the card supports JPEG (DCF/CIFF/EXIF 2.3 or earlier /JFIF), TIFF (EXIF compliant) and DPOF compliant. It does not support Canon RAW files, these have to be externally converted to JPEG or TIFF before they can be printed.
Time to transfer 30 files (94MB) from a Viking 512MB CF (speed not specified) card in the i900D to an HP Pavilion a230n (AMD 2800+) was 150s, giving a transfer speed of 626 kBytes/s. For comparison, the built in card reader in the a230n (which is USB connected also) took 90s for the same transfer, a speed of 1.04 MBytes/s. These numbers no doubt reflect limitations due to the maximum read speed of the CF card rather than the USB maximum data transfer rate. The USB interface itself if 2.0, theoretically capable of up to 400 megabits/s data transfer.
If you don't already have a memory card reader, this is a useful function. Normally it's far more convenient than having to connect your camera to a PC to download images, so this is a positive feature of the i900D.
i900D vs i960
The i900D and i960 are very similar printers. The main difference is in print speed and the presence of the memory card reader.
The i900D has a built in memory card reader which allows you to make prints directly from a memory card, or to transfer the contents of the memory card to a PC. The i960 on the other had lacks the memory card feature, but makes up for it with twice the print speed due a a larger print head. If you don't think you'll ever use the memory card functions of the i900D, then the i960 looks like a better buy. Not only is it faster, but it seems to sell on the street for around $40 less then the i900D.
The Inks and the Print Head
The i900D uses six inks. The usual black, yellow, magenta and cyan, plus photo magenta (light magenta) and photo cyan (light cyan). This is the normal six ink color set used by other printer manufacturers such as Epson. The i900D has a separate cartridge for each ink, so you only need to replace one color at a time. On some other printers the color inks come combined in one cartridge, so if, for example, the magenta ink runs out, you have to replace ALL the inks, even if there is ink of the other colors left. Another nice feature is that the ink cartridges are transparent! So you don't have to wonder if the "low ink" warning is lying to you just to make you buy more ink. You can take out the cartridge and actually see how much ink is left. The ink monitoring is done optically and is supposed to give a warning when less than 20% of the ink is left. This is preferable to a system which counts the number of times the head operates and calculates how much ink should be left in the tank. The ink cartridges are dumb. They contain no chips which monitor usage and prevent you from refilling them. That's your decision. Again a plus for Canon.
Ink Usage
It's always difficult to say how much ink is used to make a print. Obviously it depends on whether you are making borderless prints of a black cat at night (lots of ink) or a bordered prints of polar bear on snow (not so much ink) and, to a smaller extent, which type of paper you are using. All I can do is give you an estimate of my ink usage printing typical photographic images, most with small borders on Photo Plus glossy paper.
After printing approximately the equivalent of 100 4x6 prints (assuming one 8.5x11 print = four 4x6 prints) I measured the following ink consumption (the ink cartridges are transparent so you can see how much ink you have used!)
| | | |
| --- | --- | --- |
| Cartridge | Ink consumed | Cost (@$11.50/cartridge) |
| Cyan | 54% | $6.21 |
| Photo Cyan | <5% | $0.58 |
| Yellow | 57% | $6.56 |
| Magenta | <5% | $0.58 |
| Photo Magenta | 86% | $9.89 |
| Black | 14% | $1.61 |
| | | Total = $25.43 |
Note here that the ink usage is based on the amount of ink left in the transparent ink tank and does not take into account any ink that is contained in the "sponge" filled half of the cartridge. So these numbers are a conservative estimate.
This makes it clear that having individual ink cartridges is a really good idea for this printer! The photo magenta ink is 85% gone, while less than 5% of the magenta ink has been consumed. If all the color inks had to be replaced when one of them (photo magenta) ran out, there would be a huge waste of ink (and money).
Ink and Print Stability
Reports on the web, both from Canon and independent sources suggest that color prints with Canon ink on Canon paper should last several decades when stored and displayed properly (e.g. out of direct sunlight and at reasonable temperatures and humidity). In contrast, tests on many low cost third party inks show print lifetimes before excessive fading from months to a few years.
Paper Feed
The i900D has a conventional paper feed tray which can be adjusted for paper up to 8.5" wide. There is also a removable feed tray for 4x6 paper which allows you to have both 8.5x11 and 4x6 paper loaded at the same time. You have to switch between the two trays manually when you switch print sizes, but this just entails rotating a dial. Much easier than removing one size paper, resetting the paper guides and loading the new paper.
Paper and Panoramic Prints
Canon make paper in 4x6, 5x7 and 8.5x11 sizes for the i900D. All three sizes are available in gloss and high gloss finish, but matte paper is only available in an 8.5x11 size. You can also get 8.5x11 sized transparency film and T-shirt transfers. There us no "semi-gloss" or "luster" finish paper available at present from Canon.
The printer setup software allows you to set the printer to use paper up to 8.5" wide by 23.39" long (you can set wider paper - but it won't fit in the printer - so the driver will scale the image down to 8.5" wide). If you have the paper available, you can make panoramic prints. Canon don't make anything longer than 11" in 8.5" wide paper, but you can cut down Canon 13x19 paper to make two 6.5" x 19" sheets. Epson make an A2 size glossy panoramic photo paper which is 8.3" x 23.4" and is priced at around $1.50. sheet
Noise and speed
This is a very quiet printer. In fact I had trouble telling if it was printing without going over to the printer and listening carefully! There's the usual "clunk" as paper is selected and fed into the printer, but after that noise is very low. There's actually and even quieter mode(!) which can be selected, but that does slow printing down a little. Canon specs that printer noise as 37db(A) in best quality mode. To put this in perspective, one web site lists bird calls at 44 dB and the lowest limit of urban ambient sound at 40 dB. By any measure, it's quiet.
The exact print time depends slightly on things like whether the image has a border or not and whether you print at maximum image quality, but in general I found that a 4x6 print takes about 90s (Canon say approximately 75s) and an 8x10 print takes about 3.5 minutes (Canon say approximately 3 minutes). Printing directly from a memory card seems a little slower than printing from a PC, but there isn't a huge difference.
Color Printing
The first thing I'd say is that color prints made on Canon Photo Paper Pro both look and feel like high quality conventional photographic prints. The paper weight is similar, the gloss finish is similar and the colors are vibrant and rich. I was impressed by the quality. Though, like all ink jet printers, the image is made up of individual color "dots", you can't see them with the naked eye. Nobody with human eyesight could. If you look at the print with a 5x loupe you can, but who does that? Even with reading glasses, looking at the print as close as 6", the dots are not visible. In the prints I made I saw no evidence of "banding" or other unwanted printing artifacts.
The results with Canon Photo Paper Plus were very similar. This paper is slightly less glossy and the prints maybe look slightly less saturated, but unless you hold two identical prints side by side you'd be pretty hard pressed to tell the difference. Paper weight is similar. The advantage of the Photo Paper Plus is cost. The Photo Paper Pro costs around $0.80 per 8.5x11 sheet, while the Photo Paper Plus runs around $0.50 per sheet (typical street prices).
Canon Matte Photo paper also gives excellent results. The colors closely match those of the glossy papers. Some people like a matte finish, some don't. The Canon glossy papers certainly look and feel more like conventional photographic prints. However if you mount the prints behind glass, it becomes very difficult to tell them apart. The big advantage of the matte paper is the cost. In 8.5x11 sheets, while Photo Paper Pro is $0.80/sheet and Photo Paper Plus is $0.50/sheet, Matte Photo Paper is only $0.18/sheet, so the saving can be significant if you do a lot of printing. Matte Photo Paper is only available in 8.5x11 sheets. If you are mounting your prints behind glass, there's probably no reason not to use matte paper. I've seen some suggestions that color prints on matte paper tend to be more fade resistant than those made on glossy paper though I don't have any direct evidence that that is the case.
Color printing can be done in a number of ways
From a memory cards via the built in card reader
From a compatible camera via a USB connection
From an application (such as PhotoShop)
From the Canon Easy-PhotoPrint software
Easy-PhotoPrint is a software application supplied by Canon which allows you to select one or more images and print them on a single sheet of paper. You can print with or without borders, you can place one, two or 4 prints (see image above) on a page. You can also make index prints containing 20, 40 or 80 images per page If you're printing on letter sized paper you also have the option of 9 wallet sized prints per sheet or 3 prints which include some EXIF recorded data.
Printing directly from a Camera or CF card
Printing directly from the camera and directly from the memory card worked just fine and results were the same as printing from an external application such as PhotoShop or Easy-PhotoPrint. You have a few less options than printing from an image editor and using the Canon printer driver, but if you just want quick prints, the procedure is pretty simple. When printing from a CF card you use the printer's built in LCD screen and software to select print options. When printing directly from a compatible camera via a USB connection to the printer you use the LCD screen and software in the camera to select print options.
Black and white printing
Printing B&W images on a color printer using color inks is always a little tricky. There is sometimes an overall color cast, but that can pretty easily be dealt with by deliberately introducing a color cast of the complimentary color. For example I found that B&W prints made with the i900D on Canon Photo Paper Pro had a slight magenta cast. By adding a slight complimentary green cast to the image this was easily neutralized. The same situation was found when using Canon Photo Paper Plus Glossy. A slight magenta cast was present which could be corrected by turning a monochrome image into an RGB image and applying a slight green correction.
A more difficult problem is when different shades of gray appear with different color tints. In that case correcting one often makes the other worse, so if your 70% gray zones have a magenta cast but your 30% gray zones are neutral, if you correct the 70% zone, the 30% zone will turn green. I found that printing on Epson Archival Matt paper showed this problem. Grey zones from about 50% to 85% had a slight magenta cast, but from 0-50% they were pretty neutral. This can also be corrected by more complex color mapping in an image editing program, but it takes some work.
On Canon Matte paper there was a similar magenta cast, but it was more uniformly distributed than on the Epson paper in that the lower densities (<50%) also showed the magenta bias. In this case it's easier to make a correction by converting the B&W image to RGB and applying a slight overall green bias to the image. The Canon matte paper was slightly brighter (whiter) than the Epson Archival Matte paper and also slightly thinner (8.5mil vs 10mil) and lighter (170 g/m2 vs 192 g/m2).
Note that the type of illumination used when examining the image can be important. The magenta bias of "monochrome" prints was accentuated under tungsten light, but was less evident when viewed under fluorescent light (which itself has a slight green bias).
Really serious digital B&W printers (i.e. people who print) don't use 4 or 6 color inks. They use ink sets with 4 or 6 shades of gray, so there's no chance of anything but a neutral print. As far as I know, no printer manufacturer provides such ink systems as a standard product, but 3rd party ink suppliers do (e.g. Lyson) and piezography.com sells some fairly expensive software/hardware combinations for B&W printing. In the past they have only supported Epson printers, but their website now states that they will also be supporting some Canon printers (though it's not clear if 6 color printers will be included in that support). Of course once you set things up for B&W using gray inks, you can't print color anymore, so you have to dedicate a printer. If you're going to do this, the Epson printers have a larger B&W support base than Canon printers and so at this time may be a better choice.
From piezography.com: "PiezographyBW ICC replaces the color inks in your EPSON (soon Canon) printer with a light gray, medium gray, dark gray and black ink - all made with only 100% pigment and a clear vehicle for trouble-free printing, unprecedented longevity, and without metamerism"
What's Good, What's not so Good?
Well. it's pretty much all good. The printer produces excellent color prints on super glossy, glossy and matte paper. Getting absolutely neutral B&W prints is a bit more difficult, but that's true for any multicolor ink printer. With a little work or toning I was also very happy with monochrome prints. Printer setup and operation is simple and fairly straightforward. Software installation under Windows XP was easy and hassle free. The ability to change individual ink cartridges, and to actually be able to see the ink level so you know when to change them, is certainly a big plus. The ability to print directly (without a computer) from memory cards or from compatible digital cameras is also something many consumers may find useful.
Slight downsides may be the inability to print monochrome images using only black ink. However on printers that do allow that, quality drops and in fact though I have Epson printers that can print with black ink only, it's a feature I hardly ever use. Another slight downside is that if you are using Canon photo paper, your local office supply store (e.g. Staples or Office Max) may not have too many choices in stock. However if you get your supplies by mail order, there's no problem. Canon don't produce a panoramic paper size (for long 8" prints), but you can certainly use the Epson panoramic paper or cut down the Canon 13x19" paper. Canon do not currently have a "luster" or "semi-gloss" finish paper available, though there are 3rd party choices available. The tray which supports the finished prints seems a little flimsy. It certainly does the job just fine - but I'm looking for for things to complain about, and there isn't that much!
Conclusion
I really liked this printer. For me, I'd probably chose the very similar i960 because I don't need another memory card reader (I already have three) and I doubt I'd ever need to print directly from a memory card, however for those who do need these functions, they both work well and it does save yet another USB device and cable. The i900D is an excellent printer capable of real photographic quality prints. I'd have no hesitation recommending it to anyone who needs an inexpensive printer for home use, yet wants true photographic quality prints. The i960 is essentially the same printer but with double the print speed and no memory card reader. It's also slightly cheaper, so if I were buying a printer I'd probably lean towards the i960. There's also a 13" wide version for 13x19 prints, the i9100. It's quite a bit more expensive (more than double the price), so if you don't think you'll be making 13x19 prints it may not be cost effective.
© Copyright Bob Atkins All Rights Reserved
www.bobatkins.com