Kingston memory card rebates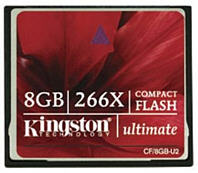 This month (October 2007) Kingston are offering a rebate on number of their high end memory cards.
The 2GB, 4GB and 8GB versions of their very fast Ultimate-2 266x (40MB/s write speed) series cards are included in the rebate program. These cards have a lifetime warranty and come with a free download of MediaRECOVER software for the recovery of deleted or corrupted files. Rebates are also offered on the 4GB and 8GB versions of their SDHC (SD High Capacity) cards in class 2 (2MB/s), class 4 (4MB/s) and class 6 (6MB/s) speed ratings. All the SDHC cards are covered by a lifetime warranty. Note that an SDHC compatible camera is required to access the full capacity of these cards. Most current cameras are SDHC compatible, but older ones may not be.
For more general information on CF, SD and SDHC cards see http://www.bobatkins.com/photography/digital/compact_flash_memory_cards.html
I've been using a 45x 4GB Kingston card for quite a while now and it's been just fine with no data errors or corrupt files. Kingston have a pretty good reputation for both flash and PC memory. These prices are pretty good, and the rebate is significant, especially on the SDHC cards.
The following links will take you to the data pages on the ADORAMA website:
The rebates apply to items purchased between October 1st 2007 and October 31st 2007