Nikon D300 Preview
The Nikon D300 is the replacement for the D200. The D300 has a new 12MP CMOS sensor, a new AF sensor (51 points), a 6fps frame rate, focus tracking by color, Live View and a 3" LCD. It represents a significant technology upgrade of the D200. The D300 seems to be pitched between the Canon EOS 40D and the Canon EOS 5D. It has more pixels than the EOS 40D, but a smaller sensor than the EOS 5D and it's priced between them ($1800 vs. $1300 for the EOS 40D and $2600 for the EOS 5D)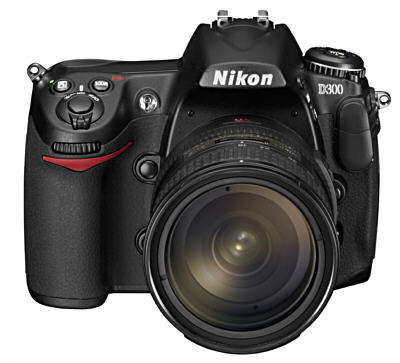 Like the EOS 40D the Nikon D300 uses a 14-bit A/D converter and a "Live Preview" mode. I expect these are both features we will be seeing in all DSLRs before too long. Doesn't have image stabilization in the body though, so far only Pentax (K10D, K100D) and Sony (A100) offer that option. IS0 sensitivity on theNikon D300 is up to 6400 (with boost) and it has a 3" LCD display.
On paper The Nikon 300D offers more features than the Canon EOS 40D, though at a price that's $500 higher. Such competition is probably good for both Nikon and Canon users since it drives the technology forward faster.
Here's a table comparing the new Nikon D300 with the Nikon D200 and the new Canon EOS 40D. I've included the EOS 40D because it's also new, though I don't think the D300 and 40D are aimed at quite the same market. The D300 is $500 more than the EOS 40D, which is about the price differential between the Rebel XTi and the EOS 40D. Nikon have the D80 at around $900, then the D300 at $1800. They don't have anything between those two models, which is where the EOS 40D sits!
Nikon D300
Nikon D200
Canon EOS 40D
Sensor
12.3 MP
10.2 MP
10.1MP
Format
APS-C
APS-C
APS-C
Focal length Multiplier
1.5x
1.5x
1.6x
A/D converter
14-bit
12-bit
14-bit
Image sizes
4288 x 2848
3216 x 2136
2144 x 1424
3872 x 2592
2896 x 1944
1936 x 1296
3888 x 2592
2816 x 1880
1936 x 1288
RAW files
NEF / Compressed NEF 14-bit

NEF 12-bit

14-bit compressed RAW

TIFF files
Yes
No
No
Dust removal
Self-cleaning sensor
None
Self cleaning sensor
AF
51-point Multi-CAM 3500DX
11-point Multi-CAM 1000
9 cross-point AF
Focus tracking on color
Yes
No
No
ISO Range
ISO 200 - 3200 normal
ISO 100 - 6400 available
1/3, 1/2 or 1 EV steps
ISO 100 - 1600 normal
ISO 3200 available
1/3, 1/2 or 1 EV steps
100-1600 normal
3200 available
1/3, 1/2 or 1 EV steps

Continuous shooting speed
6 fps
8 fps possible with accessory power source
5 fps
6.5fps
Viewfinder
100%
95%
95%
Active D-Lighting
Yes (also adjusts exposure)
No
Has similar highlight tone priority mode
LCD
3.0" diagonal TFT LCD
922,000 pixels
2.5" diagonal TFT LCD
230,000 pixels
3" diagonal LCD
230,000 pixels
Live View
Handheld mode and Tripod mode
No
Tripod mode
Video output
HDMI (HD)
Composite
Composite
Weight (no batt)
825 g (1lb 13oz)
830 g (1lb 13oz)
740 g (1lb 10oz)
Dimensions
147 x 114 x 74 mm (5.8 x 4.5 x 2.9 in)
147 x 113 x 74 mm (5.8 x 4.4 x 2.9 in)
5.7 x 4.2 x 2.9 in
145.5 x 108 x 73.5 mm
Availability
November 2007
Now (August 2007)
September 2007
Price (est.)
~$1800 on introduction
$1500 at discount stores
~$1300 on introduction
Here's the Nikon Press Release:
MELVILLE, N.Y. (AUGUST 23, 2007) – Nikon today introduced its most advanced DX-format digital SLR camera, the D300. Engineered with pro-level features and performance, the 12.3 effective megapixel D300 combines brand new technologies with advanced features inherited from Nikon's newly announced D3 professional digital SLR camera to offer serious photographers remarkable performance combined with agility.
Similar to the D3, the D300 features Nikon's exclusive EXPEED Image Processing System that is central to driving the speed and processing power needed for many of the camera's new features. The D300 features a new 51-point auto focus system with Nikon's 3D Focus Tracking feature and two new LiveView shooting modes that allow users to frame a photograph using the camera's high-resolution LCD monitor. The D300 shares a similar Scene Recognition System as found in the D3 that promises to greatly enhance the accuracy of auto focus, auto exposure and auto white balance by recognizing the subject or scene being photographed and applying this information to the calculations for the three functions.
The D300 reacts with lightning speed, powering-up in a mere 0.13 seconds and shooting with an imperceptible 45 millisecond shutter release lag time. The D300 is capable of shooting at a rapid six frames per second and can go as fast as eight frames per second when using the optional MB-D10 Multi-Power Battery Pack. In continuous bursts, the D300 can shoot up to 100 shots* at full 12.3 megapixel resolution.
"Nikon's D200 digital SLR camera has been a runaway success for us because it embodies everything that performance-conscious photographers demand. With the D300, we've raised the bar with remarkable new features, greater resolution and speed, and even higher image quality," said Edward Fasano, general manager for Marketing, SLR Systems Products, at Nikon Inc. "The D300 delivers an unmatched combination of quality, performance and value that's hard for discerning photographers to resist."
The D300 incorporates a range of innovative technologies and features that will significantly improve the accuracy, control and performance photographers can get from their equipment. Its new Scene Recognition System advances the use of Nikon's acclaimed 1,005-segment sensor to recognize colors and light patterns that help the camera determine the subject and the type of scene being photographed, before a picture is taken. This information is used to improve the accuracy of auto focus, auto exposure and auto white balance functions in the D300. For example, the camera can track moving subjects better and by identifying them, it can also automatically select focus points faster and with greater accuracy. It can also analyze highlights and more accurately determine exposure, as well as infer light sources to deliver more accurate white balance detection.
The D300 incorporates Nikon's new Multi-CAM 3500DX auto focus module that features an intelligent array of 15 cross-type sensors and 36 horizontal sensors. These sensors can either be used individually or in groups, with the option for Single area AF mode and Dynamic AF modes using groups of either nine, 21 or all 51 focus points. The system also features 3D tracking with automatic focus point switching that takes advantage of all 51 AF points as it uses color and light information to accurately track the subject. Nikon's new Scene Recognition System and improved focus algorithms also contribute to the impressive performance of the new 51-point AF system.
Nikon's new Picture Control System makes it easy for users of all experience levels to select and apply adjustments to how their pictures are rendered and create optimized settings to suit their individual preferences. The same settings produce consistent picture tone, even when using different camera bodies. The Picture Control System offers four basic setting options – Standard, Neutral, Vivid and Monochrome. These can be directly modified for easy adjustment and customization of image parameters, such as sharpening, tone compensation, brightness and saturation. Photographers can customize and store up to nine customized options in the D300 and export up to 99 to a CF memory card, enabling photographers to share settings among multiple cameras that feature Picture Control System.
Taking a cue from the popularity of Nikon's D-Lighting technology, the D300 features a new Active D-Lighting mode that, when enabled, provides remarkable real-time highlight and shadow correction with optimized image contrast. Active D-Lighting produces broader tone reproduction in both shadows and highlights by controlling highlights and exposure compensation while applying localized tone control technology to achieve a more pleasing level of contrast across the entire image. And because the advantages of Active D-Lighting are applied as images are captured, image editing time can be shortened.
The D300's LiveView feature offers two modes for confirming subjects and composition on the new 920,000-dot, high-resolution 3-inch LCD monitor while shooting. The Tripod mode is designed for precise focus and accuracy when the camera is on a stable platform and the subject is not moving. In this mode, the camera focuses on the subject using focal-plane contrast and any point on the LCD screen can be selected as the focus point for the picture. The second mode, called Handheld mode, allows photographers to use the camera's conventional TTL focusing system, with all 51-points and 15 cross-type points available. When using this mode, the camera activates focusing immediately when the shutter button is pressed, to ensure accurate focus.
The D300 also employs a new self-cleaning sensor unit. Four different resonance frequencies vibrate the optical low pass filter in front of the image sensor to shake particles free and reduce the appearance of dust.
Refined Ergonomics and Usability
The D300 inherits one of Nikon's most streamlined, functional and aesthetically pleasing layouts in a digital SLR camera, designed to enable photographers to take pictures with less fatigue, greater accuracy and comfort.
The camera's viewfinder provides virtually 100 percent coverage so pictures can be framed accurately, while an ultra-high definition 920,000 dot VGA LCD screen on the rear of the camera displays images with vivid color and clarity. Its 170-degree wide viewing angle makes it easy to compose shots using the LCD screen in LiveView mode.
The D300 features rugged magnesium alloy construction and the camera's shutter mechanism is tested up to 150,000 cycles. The 3.0-inch LCD is strengthened with tempered glass and the D300's rubber gaskets and seals protect vulnerable entry points from dust and moisture.