Nikon D50 Digital SLR Preview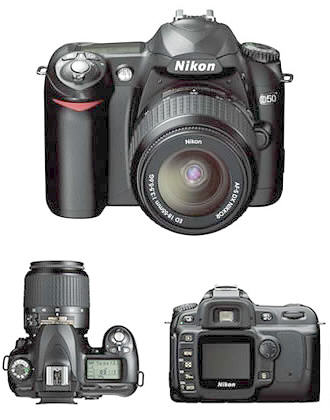 The Nikon D50 is Nikon's entry level DSLR and offers a lot of performance for a very low price. Right now it's selling for around $525 (D50 body only), which makes it about $175 cheaper than the Canon EOS Digital Rebel XT though the Digital Rebel XT has an 8.2MP sensor vs. the 6.1MP sensor of the Nikon 50D.

Here are some of the major features of the Nikon D50:
• High performance 6.1 Effective Megapixel Nikon DX Format CCD Image Sensor:
• Nikkor Optics including NEW Compact and Lightweight AF-S DX Zoom-Nikkor 18-55mm f/3.5-5.6G ED Lens: The D50 offers compatibility with Nikon's family of AF Nikkor lenses
• 7 Digital Vari-Programs: The next evolution of Nikon's scene-optimized Digital Vari-Program modes produces great results for the intended shot, while freeing you to concentrate on the moment. Choose from Auto, Portrait, Landscape, Child, Close Up, Sports, or Night Portrait.
• Battery Performance - with EN-EL3 Rechargeable Battery: The EN-EL3 rechargeable lithium-ion battery increases energy capacity to shoot approximately 2,000 images. The new Quick Charger MH-18a is smaller than the original MH-18, and is capable of charging both the EN-EL3a and EN-EL3 batteries.
• Large, 2.0-inch LCD: provides immediate feedback when viewing images and aids smooth operation with a new easy-to-view, easy-to-understand menu design and instructive help dialogs.
• Refined 5-Area Autofocus System: The D50 has a refined 5-area autofocus system that features speed, precision, broad frame coverage, and low-light detection that makes it easy to shoot in low light situations. An automatic autofocus illuminator is also provided when taking pictures with the built-in Speedlight or when using the optional SB-600 or SB-800 Speedlights.
• 2.5 Frames Per Second with Uninterrupted Shooting up to 137 Frames: High-speed continuous shooting assures uninterrupted shooting up to 137 frames* (though the rate slows down after the buffer fills at around 16 frames), while shutter speeds from 30 to 1/4,000 sec., and flash sync speeds up to 1/500 sec. provide the capability to capture images not possible with non-SLR type cameras. *When using JPEG NORMAL - Large settings, and a SanDisk Ultra II SD Card (256MB). The number of continuous shots possible in a single burst may be fewer depending on the type of SD card used.
• 3D Color Matrix Metering II: The D50 incorporates a 420-pixel RGB sensor for accurate exposure control in all types of lighting situations. By comparing the scene to a built-in database of various lighting patterns, the camera's light meter can accurately produce your best pictures ever.
• New Small Picture Function: A one-button email option, this feature saves photos in the camera at the reduced sizes of 640x480, 320x240, or 160x120, perfect either for mail attachments or for use on a web page.
• i-TTL and Nikon's Creative Lighting System: Easy multiple flash lighting is possible using the new Nikon Creative Lighting System. Add an SB-600 Speedlight for more power and coverage for flash photography.
• Responsive Performance: Shutter speeds from 30 to 1/4,000 sec. and flash-synchronized shutter speeds of up to 1/500 sec.
• PictureProject Software INCLUDED: PictureProject is refined with a new user interface that makes image management, editing and sharing easier. Simply connect the camera to a computer to automatically import pictures. Quickly e-mail or Auto Enhance images, run slideshows, burn CD/DVDs*, and access other commonly used functions via practical buttons. Use drag-and-drop to organize pictures into separate collections, and quickly locate any file by name, keyword, or date.
• NikonCapture Software (Optional): Nikon Capture 4 offers a unique image-editing environment and is the only program that provides complete functionality to edit NEF (Nikon Electronic Format) files, enabling photographers to optimize output for every possible need.

Nikon also have a 18-55 f3.5-5.6G AF-S DX zoom to go with the Nikon D50. Clearly a lens designed to go after the same user demographic as the Canon EF-S 18-55/3.6-5.6 USM and the Sigma 18-50/3.5-5.6 DC. All three are designed for APS-C sized sensors. The Nikon 18-55 f3.5-5.6G AF-S DX has 7 elements in 5 groups including one ED and one aspherical element and a weight of 210g. The Canon EF-S 18-55/3.5-5.6 has 11 elements in 9 groups with one aspheric element and weighs 190g. The Sigma 18-50mm F3.5-5.6 DC has 8 elements in 8 groups, one apheric element and weighs 250g.
Comparison of the Nikon D50 and the Canon Digital Rebel XT (EOS 350D)
| | | |
| --- | --- | --- |
| | Nikon D50 | Canon Digital Rebel XT |
| Sensor size | 23.7 x 15.6 mm CCD | 22.2mm x 14.8mm CMOS |
| Total Pixel Count | 6.24 million | 8.2 million |
| Image Size | 3008 x 2000 (6MP) | 3456 x 2304 (8MP) |
| "Digital Multiplier" | 1.5x | 1.6x |
| Viewfinder | Penta-mirror | Penta-mirror |
| Viewfinder coverage | 95% at 0.75x | 95% at 0.8x |
| Mirror Lock-up | No | Yes |
| AF sensitivity | -1 to +19 EV | 0.5 to +18 EV |
| AF zones | 5 | 7 |
| Spot/Partial metering | 2.5% | 9% |
| Max frame rate | 2.5 fps | 3 fps |
| Buffer Size | 16 frames (JPEG) | 14 frames (JPEG) |
| Shutter | 30s - 1/4000s | 30s - 1/4000s |
| Shutter steps | 1/2 or 1/3 stop | 1/2 or 1/3 stop |
| Exposure Compensation | +/- 5 stops | +/- 2 stops |
| Exposure Bracketing | +/- 2 stops, 3 frames | +/- 2 stops, 3 frames |
| ISO Range | 200-1600 in 1 stop steps | 100-1600 in 1 stop steps |
| Flash Sync | 1/500s | 1/200s |
| Built in Flash GN | 10.5 (m @ ISO 100) | 13 (m @ ISO 100) |
| Flash exposure compensation | -3 to +1 stops | -2 to +2 stops |
| Storage medium | SD card | CF card |
| Self Timer | 2-20s | 10s |
| LCD | 2", 130,000 pixels | 1.8" 115,000 pixels |
| Size | 133 x 102 x 76 mm | 126.5 x 94.2 x 64 mm |
| Weight | 540g (without battery) | 485g |
| Battery | EN-EL3; 7.4v/1400mAh | NB-2LH; 7.4v/720mAh |
Which is better? Well, tests have shown that the 8MP Canon 350D gives sharper and more detailed images than the 6MP Nikon D50, which isn't very surprising givwn that it has 33% more pixels. The D50 noise level is pretty low, as good as that of the 350D, possibly even lower. While the frame rate of the D50 is slightly slower than that of the Rebel XT (2.5fps vs. 3 fps) it can store a few more images in the buffer(16 JPEGs vs 14 JPEGs). The Rebel XT has mirror lockup, which the D50 lacks, but the D50 has a 1/500s sync speed, while the Rebel XT only syncs up to 1/200s.
The Nikon D50 is about $175 cheaper though, at around $525 for the body. The Canon Digital Rebel XT (350D) is close to $700. The Nikon D50 is certainly a very capable camera at a very good price. It's also available with the Nikon 18-55mm f/3.5-5.6G ED AF-S DX lens for around $650
Note that when choosing between cameras you really have to look at the whole system of cameras, lenses, flashes and accessories. New model camera bodies come and go (typically in 18-24 months for DSLRs), but you'll probably keep your lenses for a long time. If you already own Nikon gear, most of the time it will make more sense to stick with Nikon. If you already own Canon gear, most of the time it makes sense to stick with Canon. If you own neither, look carefully at what lenses are available and what features you need and look at relative pricing.
Camera choice also depends on how serious you are about photography. If you intend to evetually end up with a lot of expensive lenses and more advanced bodies, which system you buy into should be a careful and studied decision. If you just want a convenient, low cost, DSLR with a couple of lenses (maybe an 18-55 and a 55-200), then the choice of system doesn't matter so much and you can pick on features of the individual camera.

Obviously I'm a "Canon guy", but that doesn't mean Nikon gear isn't right for some people - or even Minolta, Pentax or Sigma. Personally, I'm pretty happy with Canon and I don't think I'll be switching anytime soon, but I have friends who are diehard Nikon users and I doubt I'll be seeing them switching to Canon either. There's no denying that the Nikon D50 is a good choice for an entry level DSLR.
Body + 18-55
Body + 18-55
and 55-200
Body Only
© Copyright Bob Atkins All Rights Reserved
www.bobatkins.com