Nikon D200, 10.3MP DSLR Preview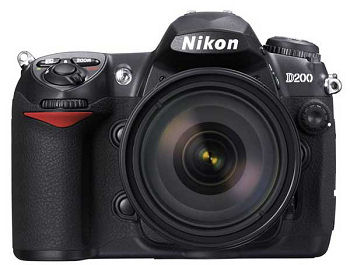 The Nikon D200 is probably more closely related to Nikon's pro line of cameras (like the D2X) than to their consumer cameras (like the D100, D70s and D50). It's a full featured camera with weather sealing and many other professional features. In fact as of the time of writing, on paper it's probably the most fully featured DSLR from any manufacturer below $2000.

It follows Nikon's tradition of having a 1.5x (APS-C) format CCD sensor, which in the D200 has 10.3MP.

Here's a brief rundown of the major features of the D200:
Newly developed 10.2 effective megapixel Nikon DX Format CCD image sensor with the power to capture exceptional sharpness and faithful color at 3,872 x 2,592-pixel size. Incorporates high-speed 4-channel data output that contributes to 5-frames-per-second continuous shooting performance and employs a newly developed Optical Low Pass Filter that helps prevent moire, color fringing, and shifting while improving resolving power.
Incorporates the imaging processing engine of the D2x, which allows color-independent pre-conditioning prior to A/D conversion to work in concert with advanced digital image processing algorithms to achieve fine color gradations with exceptionally smooth, consistent transitions.
Newly developed 11-area AF system with the same number of focus areas available for the professional D2 series. The photographer can select individual focus areas from 11-area wide and 7-area wide AF for Single Area AF, Dynamic AF with Continuous servo AF mode operation for moving subjects, Closest Subject Priority Dynamic AF, and also Group Dynamic AF. All these AF options are supported by lens-controlling algorithms that realize improved focus precision, better subject acquisition capability, keener subject tracking ability, and overall improved system response.
3D Color Matrix Metering II (AE)--as used in the D2x--delivers optimized exposure through the use of new technology developed for the Nikon 1,005-pixel RGB exposure/Color Matrix Metering Sensor. Evaluating brightness, color, contrast, selected focus area, and camera-to-subject distance, this system references all such data against an expanded onboard database that has been created using data from more than 30,000 actual photographic scenes to instantly and accurately calculate the final value with high-level dependability during both automatic and manual operation. Also offers variable size center-weighted metering which concentrates 75% of sensitivity within the center-weighted circle, as well as spot metering supporting each individual sensor of both the 7 wide-area AF and 11-area AF groups.
New image optimization modes enable photographers to produce results more closely matching the intended results, with a range of choice comprising optimization of sharpening, tone (contrast), color, saturation, and hue, with choices from Normal, Softer, Vivid, More vivid, Portrait, Custom, and Black-and-white optimization.
Multiple exposure enables up to 10 separate images to be used to create a single composite to produce imaginative and even surreal results. Image overlay function creates a composite image in-camera from two selected NEF (RAW) images. The original files remain unaltered, opacity can be precisely controlled and the resultant image can be saved in either RAW, JPEG, or TIFF format.
Connection to a GPS (Global Positioning System) unit via an optionally available GPS Adapter Cord MC-35 enables the recording of data including latitude, longitude, elevation and UTC (Coordinated Universal Time) along with conventional shooting data for each image.
A large 2.5-inch LCD monitor with a 170-degree viewing angle from every direction assists accurate assessment of sharpness by enabling image preview with up to 400% magnification. It also offers RGB information as a single display or separate histograms for each color channel to enable better exposure-related decision-making.
A chassis crafted from magnesium alloy gives the D200 lightweight resilience, while an enhanced sealing system helps protect every exterior seam from potentially damaging dust and moisture.

Here are the official specifications
Official Nikon D200 Specifications
Body
- Magnesium alloy
- Body seams sealed
Sensor
- 23.6 x 15.8 mm CCD (DX format), 1.5x focal length multiplier
- 10.2 million effective pixels
Image sizes
- 3872 x 2592 [Large] (10.04 MP)
- 2896 x 1944 [Medium] (5.63 MP)
- 1936 x 1296 [Small] (2.51 MP)
File formats
- RAW (compressed / uncompressed)
- JPEG (3 levels)
Auto focus
- 11/7 area TTL
- Multi-CAM 1000
AF area mode
- Single Area AF
- Continuous Servo AF
- Group Dynamic AF
- Closest Subject Priority Dynamic AF
Sensitivity
- ISO 100 to 1600
- Up to ISO 3200 with boost
Metering
- 3D Color Matrix Metering II
- 1005 pixel CCD
Shutter speed
- 30 - 1/8000 sec
- 1/250 sec X-Sync speed
Continuous
- 5 fps
- 37 / 22 frames (JPEG / RAW)
AI aperture ring
Yes
Image paramaters
- Six preset looks
- Sharpening: Auto, 6 levels
- Tone: Auto, 3 levels, Custom
- Color: 3 modes
- Saturation: Auto, 3 levels
- Hue: -9° to +9°
White balance
- Auto
- Six presets
- Manual preset (four)
- Kelvin temperature
- Fine tunable
Viewfinder
- Eyepoint 19.5 mm
- Frame coverage 95%
- Magnification approx. 0.94x
- B-type Bright View Clear Matte II
LCD monitor
- 2.5 " TFT LCD
- 230,000 pixels
- Removable protective cover
Timelapse
Yes
Remote
10-pin remote terminal
Wireless
Yes, optional WT-3 transmitter
USB
USB 2.0 Hi-Speed
Vertical grip
MB-D200
GPS
Yes, NMEA 0183 with optional cable
Battery
Lithium-Ion EN-EL3e (7.4 V, 1500 mAh)
Battery status
- Remaining charge (%)
- No. of shots taken since last charge
- Battery life (5 stage)
Dimensions
147 x 113 x 74 mm (5.8 x 4.4 x 2.9 in)
Weight (no batt)
830 g (1.8 lb)
The rear control layout should be familiar to most Nikon DSLR users. Looks like about a 2.5" LCD (?) and a multi-way joystick button for menu navigation.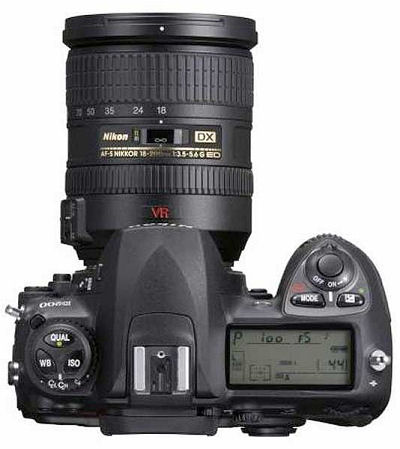 Along with the D200 Nikon have an interesting AF-S 18-200/3.5-5.6 DX G ED VR lens with a current street price of under $800
Nikon also have a new Macro flash system (SB-R200) and a new infrared wireless flash controller (SU 800) which will be compatible with the D200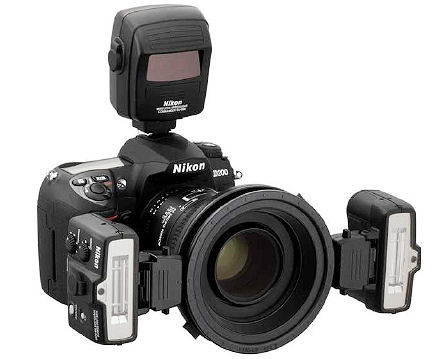 ADORAMA are currently (03/17/06) backordered on the Nikon D200 at $1699.95. They are taking orders and ship as soon as the camera is avialable, but they do not charge your card until the camera actually ships. It seems the best way to get a D200 is to join the waiting list and wait! It may be a while before they are available from stock from major retailers as the limited supply cameras they get go to those already on their waiting lists.
Nikon Press Release
MELVILLE, N.Y., Nov. 1 /PRNewswire/ -- Nikon (http://www.nikondigital.com ) today introduced the highly anticipated new D200 -- a precision-engineered, high performance digital SLR camera designed to satisfy the requirements of passionate and demanding photographers. Combining brand-new technologies with advanced features inherited from Nikon's venerable D2X professional digital SLR camera, the D200 incorporates more must-have features than any other camera in its class, enabling photographers to capture images in a way once reserved only for professionals.
The D200 promises an extremely satisfying shooting experience, with a winning combination of quality, performance, construction and advanced system features. Employing a newly developed 10.2 effective megapixel Nikon DX Format CCD image sensor, the D200 captures images with remarkable resolution and clarity. Its sophisticated 1005-pixel 3D Color Matrix Metering II system ensures ideal exposures while an advanced Nikon image processing engine renders images with superb clarity and smooth color gradations. The D200 reacts with lightning speed, powering-up in a mere 0.15 seconds, and firing in an imperceptible 50 millisecond shutter release lag time. It can shoot five frames per second with a drastically shortened viewfinder blackout time of just 105 milliseconds between shots. Its large, bright viewfinder offers 0.94x magnification for comfortable and precise composition while a new 2.5 inch LCD screen provides ultra-wide 170 degrees viewing angle from all directions. With an all new 11-area autofocus system, robust control of Nikon's i-TTL Creative Lighting System and advanced Wi-Fi image-transmission options*, the D200 is a perfect fit for discriminating photographers and a natural choice for wedding, event and action photographers.
"Nikon has spent considerable time and effort to truly understand the qualities and features photographers desire in an advanced digital SLR camera. The D200 embodies this research and delivers a camera that's built to the requirements of passionate photographers, and meets demands for resolution, speed, precision, and ultimate image quality. The D200 represents an unmatched combination of quality, performance and value that's hard to resist," said Edward Fasano, general manager for Marketing, SLR Systems Products, at Nikon Inc. "The D200 is hands-down the most capable digital SLR camera in its category."
SMARTER ...
The D200 embodies a host of intelligent technologies that deliver remarkably precise control and accurate automatic features. Equipped with Nikon's exclusive 1,005 pixel 3D Color Matrix Metering II, the D200 seamlessly determines ideal exposures even in complex lighting conditions. Capturing scene elements including brightness, contrast and color content with a unique 1,005-pixel RGB-enabled sensor, this advanced system employs further improved algorithms for even better evaluation of large area highlight and shadow detail. The 3D Color Matrix Metering II light metering system also uses an onboard database of detailed exposure information from over 30,000 actual images against which instantaneous real-time comparisons are made as part of determining exposures. Rather than merely looking at light levels, a complex, yet transparent evaluation of overall scene content takes place, ensuring highly accurate exposures, even in challenging lighting conditions.
The 10.2 effective megapixel image sensor on the D200 incorporates a high- speed 4-channel data output and a new Optical Low Pass Filter that significantly reduces any incidence of moire as well as color fringing and shifting. Furthermore, 4-channel output allows the D200 to inherit the advanced image-processing engine of the Nikon D2x professional digital SLR that combines color-independent preconditioning prior to A/D conversion with advanced digital image processing algorithms to deliver fine color gradations with smooth, consistent transitions. Photographers can take advantage of the D200's advanced image optimizing functionality that allows them to fine tune image characteristics such as sharpness, tone, color, saturation, and hue. Photographers can also select from preset options like Normal, Softer, Vivid, More Vivid, Portrait and Black-and-White.
One of the most notable new features of the D200 is its all new 11-area AF system, convertible to a 7-wide area AF system, both based on Nikon's advanced Multi-Cam 1000 AF Sensor Module. Not only does this AF system support the photographer with fast and precise auto focus under a variety of shooting conditions, but it also offers a pleasing array of functions for greater flexibility -- allowing an individual area to be selected from either the 11-area AF or 7-wide area AF sensors for Single AF or making use of multiple sensors to enable Dynamic AF, Closest Subject Priority Dynamic AF and Group Dynamic AF.
Running out of power on the D200 is harder than ever, since in addition to its remarkable capacity of up to 1800 shots per charge, the D200 also features an intelligent power management Fuel Gauge feature that constantly monitors the battery's precise remaining power in 1% increments. It also displays the total number of shots taken on each charge as well as overall life of the battery, so photographers can easily tell when to replace a battery.
The D200 is a wireless whiz, and features Nikon's advanced i-TTL wireless Speedlight control built right into the camera, as well as wireless image transfer over an 802.11b/g Wi-Fi network built into the optional WT-3 Wireless Transmitter (available Spring 2006). The camera's powerful built-in Speedlight, capable of coverage for lenses as wide as 18mm, features a Commander Mode that can wirelessly control up to two separate groups of an unlimited number of i-TTL speedlights such as the SB-800, SB-600 or SB-R200. The Commander Mode in the D200 can adjust flash compensation settings for each of the two groups on the fly, making light output control from speedlights placed in hard to reach locations simple and effortless.
FASTER ...
The D200 is faster than any other camera in its class, making its handling exceptionally responsive. The D200 can shoot continuously at up to five frames per second, capturing up to an impressive 37 JPEG images** or up to 22 NEF (RAW) images, making it ideal for action, wedding and event photography. Featuring an industry leading power-up time of 0.15 seconds, the D200 is ready to shoot when the photographer is ready. Its reduced shutter release time lag of 50 milliseconds is nearly undetectable and when shooting in its continuous burst mode of five frames per second, its shortened viewfinder blackout time (between each successive shot) of just 105 milliseconds proves especially useful in keeping an eye on a moving subject.
STRONGER ...
The D200 is designed with long term durability, ruggedness and precision in mind. Built on a magnesium alloy chassis and body cover, the D200 combines light weight with high-level durability and protects performance integrity. It also features an enhanced environmental sealing system that helps protect exterior seams from potentially damaging moisture and dust. The D200's double-bladed shutter unit is tested to well over 100,000 cycles, ensuring highly reliable performance year after year. The shutter unit also employs a refined mirror balance mechanism that allows the mirror to complete its motion cycle and reach a complete stop with virtually no image degrading mirror bounce.
The Ultimate Shooting Experience
Nikon is renowned for the distinct usability and handling of its digital SLRs, and the D200 continues this tradition. Photographers handling the camera will immediately notice its large, bright viewfinder with 0.94x magnification that ensures the clearest view possible for precise composition. Viewing excellence is taken further with an expansive 2.5-inch high-resolution LCD that provides an ultra-wide 170 degrees viewing angle from all directions. It also offers the ability to magnify images by up to 400% to enable photographers to closely inspect images for fine details while offering a selectable RGB histogram display, which allows photographers to make better- informed exposure decisions through the viewing of a composite RGB histogram, or a separate histogram for each individual color channel. The D200 also features the largest top LCD panel among cameras in its class to convey maximum information at a glance with easy access to shooting data including shooting mode, battery condition, card information, gridline display, shutter speed, F-stop and number of remaining shots.
Refined menus on the D200 offer a streamlined and visually enhanced view of camera setup and custom setting options. Photographers can access an expanded on-board Help feature to view brief descriptions of every one of the camera's menu items. The D200 also features a 'Recent Settings' menu that reflects the last 14 settings adjusted, offering a quick way to revisit these settings.
Nikon's Digital Imaging System v Like all Nikon SLR cameras, the D200 also offers the advantages of compatibility with Nikon's superior and comprehensive Digital Imaging System. High image quality is assured through compatibility with over 50 outstanding AF Nikkor lenses, including Nikon's DX Nikkor lenses engineered exclusively for use with Nikon digital SLRs and an extensive array of AF Nikkors designed for use on digital and 35mm SLRs. The D200 also offers compatibility with the Nikon Creative Lighting System, enabling high-precision flash photography with SB-800, SB-600 and the Nikon Wireless Close-up Lighting Systems. Outlined below are groundbreaking technologies and system features that enable photographers to achieve results not possible with any other system:
New Wireless Transmitter WT-3 (Available Spring 2006)
Nikon is leading the imaging world with wireless image transfer technology via Wi-Fi. The D200 marks the announcement of the Wireless Transmitter WT-3, offering photographers creative new ways to set up their workflow. The new IEEE802.11b/g compatible Wireless Transmitter WT-3 provides fast image transmission with improved security and compatibility with the latest protocols. It also provides alternative buttons for shutter release and AF- start as well as an extra command dial to facilitate more comfortable shooting in vertical format.
i-TTL Speedlight Technology
Nikon's i-TTL speedlight technology is arguably the most robust and advanced speedlight system in the world, and holds limitless possibilities for all kinds of photographers using creative lighting. i-TTL technology built in to the D200 allows photographers to wirelessly control in full TTL, up to 2 groups of speedlights, with any number of individual speedlights in each group. Photographers can shed all cords and cables or the need to ever calculate flash and distance ratios, because the i-TTL system is capable of making all exposure calculations in real time, wirelessly, during the exposure to deliver a perfect flash exposure in any situation. Photographers can even maintain full output control of each group of speedlights from the D200's built-in speedlight. This technology can potentially distill an entire portrait lighting system into a small set of multiple SB800, SB600 or SB-R200 speedlights.
Nikkor(R) Lenses
lenses, Nikon's renowned Nikkor(R) brand of optics offer D200 users a tremendous choice of over 50 high quality lenses ranging from highly specialized exotic ones such as the AF DX Fisheye-Nikkor 10.5mm f/2.8G ED to broad zoom range lenses for everyday photography, such as the newly announced AF-S DX VR Zoom-Nikkor 18-200mm f/3.5-5.6G IF-ED lens. The D200 is compatible with DX Nikkor lenses that are optimized for Nikon's digital SLR camera sensors as well as legendary AF Nikkor lenses, delivering outstanding system digital SLR flexibility. This ensures that D200 users will always find a high quality Nikkor lens that's just perfect for their photography.
Nikon PictureProject and Capture 4.4 Software
The D200 will include a complimentary copy of Nikon's PictureProject software, a $49.95 value, and an easy-to-use yet powerful software application that provides image transfer, organization, editing, and design functions for JPEG and NEF (RAW) images produced with the camera. PictureProject can also convert NEF (RAW) files to JPEG or TIFF format finished files, as well as save in the original NEF file format. PictureProject is an essential accessory and is compatible with the new D200 and all prior Nikon digital SLR models and Coolpix Models. The D200 is also compatible with Nikon Capture 4.4 software (sold separately), a new version of Capture that has the specifications to open NEF files from the D200 and all other Nikon digital SLR models. This newest version features greatly enhanced NEF (RAW) processing capabilities as well as Nikon Capture Camera Control that allows remote camera operation when connected to a computer via the included USB cable or wirelessly using the new Wireless Transmitter WT-3 (sold separately). This versatility is especially useful when photographers may need to continue shooting with their D200 while simultaneously having someone else edit incoming images.
The NEF (RAW) files from the D200 comprise not only the RAW image data captured by the 10.2 effective megapixel image sensor but also a thumbnail image and a Nikon "Instruction Set" of the cameras settings at the time of shooting. NEF allows the Instruction Set data -- such as white balance, color balance and tone curves and more -- to be adjusted for each recorded image at any time after shooting through the use of Nikon Capture software. Use of Nikon Capture also allows an NEF file to be saved as an NEF, ensuring a record of the original Instruction Set is always preserved, even if several newer Instruction Sets are saved to the file. This ensures that photographers never loose the original settings and image data of an NEF (RAW) file, and reverting back to the original image requires just a few clicks in Capture software.
Version 4.4 of Nikon Capture software offers a flexible, stable and creative workflow approach for any photographer in both professional and personal use through Nikon's unique approach referred to as the "Camera to NEF to Capture Dynamic Link" performance. Newly added features for Capture include automatic highlight recovery when using Exposure Compensation at values lower than 0 EV and Black and White conversion support in Tone Compensation.
The D200 will be available in late December 2005 for an estimated selling price of $1699.95***. For more information, please visit http://www.nikondigital.com .
* Available Spring 2006
** When using select high performance CompactFlash cards capable of and certified for this performance specification. CompactFlash cards enabling this specification are subject to change. Contact Nikon Technical Support (800-NIKON-UX) for latest information.
*** Estimated selling prices listed are only an estimate. Actual prices are set by dealers and are subject to change at any time.
Despite Nikon's initial announcement of the D200 on November 1st 2005 and despite their prediction of availability in late December 2005 and despite a small trickle of cameras onto the market, the D200 is still (as of 03/17/06) pretty hard to actually get your hands on! The best way to get one seems to be to get on a waiting list.
ADORAMA are currently backordered on the Nikon D200 at $1699.95. They are taking orders and ship as soon as the camera is available, but they do not charge your card until the camera actually ships.
Amazon.com have the following listings for the D200, but currently (03/17) do not have any in stock and are not taking orders. This may change on a day to day basis, so it's worth checking them out. You might get lucky!
| | | |
| --- | --- | --- |
| D200 Body Only | D200 with 18-200 | D200 with 18-70 |
| | | |
© Copyright Bob Atkins All Rights Reserved
www.bobatkins.com