Olympus C-315 Zoom 5.1MP digital Camera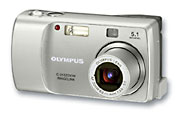 The Olympus C-315 is the successor to the 3MP Olympus C-310 [known, for some reason, as the Olympus Camedia D-540 Zoom in the US!] Since the C-310/D-540 currently sells for around $165, my guess is that the C-315 will probably sell for under $200, which isn't bad for a 5.1MP camera with a 2.8x optical zoom.
Despite what some other photo websites may say, this isn't a "rapid" replacement for the Olympus C-310Z, which was introduced almost 18 months ago in February of 2004 (not 2005). It's a logical replacement/upgrade of a very well regarded camera and should be an excellent "1st digital" camera for those moving from film to digital as well as a pocketable "backup" camera for more advanced shooters,
From Olympus (Europe):
The new Olympus C-315 Zoom is a stylish and attractively priced camera. Building on the success of its predecessor the C-310Z, pronounced 'Best Digital Budget Compact Camera' by TIPA in 2004, the new Olympus C-315Z boasts the same special blend of design, performance, handling and affordability. It's resolution has also been significantly increased to 5.1 million pixels to provide exceptional picture quality but what won't be changing is the camera's great value for money.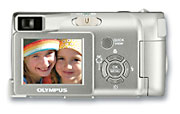 Available from the end of July, the Olympus C-315Z comes highly recommended for first-time digital camera buyers and all those who are budget conscious yet still demand high-quality results.
The C-315Z is designed to make digital photography accessible and affordable for ambitious beginners. Its predecessor's winning combination of ease-of-use and high-quality has now been crowned with the additional advantage of 5.1 million pixels, enabling large print-outs and detailed image cropping. The new resolution complements other features, such as a bright 2.8x optical zoom lens and together with the 3.5x digital zoom brilliant close-ups are possible. The C-315Z also offers a Super Macro mode, enabling successful shots from as close as 2cm from the subject. Five automatic scene programmes are available to help compose the best image and provide added convenience and for those valuing even greater versatility, a movie recording function has been added so movies can be recorded and conveniently reviewed on the camera's integrated 4.6cm LCD.
As you would expect from a user-friendly camera, the C-315Z supports PictBridge, removing the need for a PC to print from the camera. Just connect straight to a compatible printer, such as the Olympus P-10, to instantly print glossy photographs. Alternatively, effortless, one-touch printing is also possible with printers that incorporate ImageLink print system. Images are saved onto removable xD memory cards (a 16MB card is supplied with the camera but these small, fast and durable cards are now available in capacities of up to 1GB). For users without printer access or those on the move, xD cards can also easily be taken to any photo dealer to obtain first-class prints.
The Olympus C-315Z – main features:
5.1 million pixels
2.8x optical zoom (equiv. 38-106mm on a 35mm camera), 1:3.0-5.0
Super Macro mode: shooting from as close as 2cm
5 scene programmes (Portrait, Self Portrait, Night Scene, Landscape, Landscape with Portrait)
Movie recording function
TruePic TURBO image processor
PictBridge & ImageLink support
4.6cm/1.8" LCD with multi-language menu
Olympus Master software for easy file handling and editing provided

Powered by 2 AA batteries
© Copyright Bob Atkins All Rights Reserved
www.bobatkins.com