Olympus Evolt E-330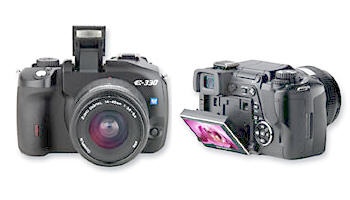 Olympus have just announced the first digital SLR with a "Live Preview" LCD. Most digicams have a live preview on the LCD, in fact some only have such a view, with no optical viewfinder. They can do this because they often have no mechanical shutter in front of the sensor. The exposure is controlled electronically by gating the output of the sensor. Most SLRs on the other hand have both a mechanical shutter and a reflex mirror in front of the sensor, and so before an actual exposure the sensor is not exposed to light - and therefore cannot, of course, display the image on the LCD. Having the sensor in the dark before an exposure is made does have some advantages in terms of sensor noise.
However with an increasing number of users upgrading from a P&S digicam to an entry level DSLR, there is a demand for live LCD preview. In fact some new entry level DSLR users are quite confused when they can't use the LCD as a viewfinder! Photographers coming from film SLRs probably don't care. Olympus has aimed the E-330 at this entry level user. It uses a 7.5MP 4/3 sensor which is smaller than the APS-C sensor used in the so called "1.6x" and 1/5x" sensor DSLRs. In fact it's 1/2 the size (and 1/4 the area) of a full frame sensor, measuring 18mm x 12mm (vs. 22.5mm x 15mm for APS-C and 36mm x 24mm for full frame 35mm).
Estimated street price is $999.99 for the E-330 body and $1099.99 with a 15-45 lens (equivalent to a 30-90 lens on a full frame 35mm camera). This certainly doesn't make it the cheapest DSLR around since you can get a Canon Digital Rebel XT body for $780 and the body with an 18-55 lens for $880. Even cheaper is the Nikon D50, which can be found for $500 and which sells with an 18-55 lens for under $600.

The Olympus Evolt E500 is closer to the price of the Canon and Nikon entry DSLRs. It's around $800 with a 14-45mm f/3.5-5.6 and a 40-150mm f/3.5-4.5 lens.
Here's a copy of the Olympus Press Release:
Melville, New York, January 26, 2006 - Since the introduction of the first single-lens reflex (SLR) camera, photographers have prized SLRs because they can see with the naked eye, through an optical viewfinder, exactly what is passing through the camera's lens. The "reflex" of a mirrored shutter that bends light to the camera's viewfinder, and then snaps open rapidly to create exposures, makes this possible and gives the SLR its advantage. But this SLR advantage, while delivering high-performance speed and accuracy, has one drawback in the digital age. Because the image sensor is blocked by the mirror and shutter until the moment the shutter button is pressed, the mirror and shutter mechanism prevents a traditional digital SLR from viewing and composing a photo using only the camera's Liquid Crystal Display as a viewfinder.
As anyone who has used a compact digital camera knows, composing a photo just by viewing the camera's LCD is easy and commonplace, and many compact cameras do not even offer an optical viewfinder. Composing on an LCD has its own advantages, and Olympus engineers asked the question: How can we design a new digital SLR that delivers not only the traditional through-the-lens optical viewfinder experience of an SLR, but also adds the ability to frame photos with an LCD like a compact camera?
The solution to this technical challenge is the revolutionary Olympus EVOLT E-330 digital SLR - the world's first interchangeable lens digital SLR to feature a true "Live View" image on the LCD screen, in addition to the optical viewfinder, and unite the best of both worlds.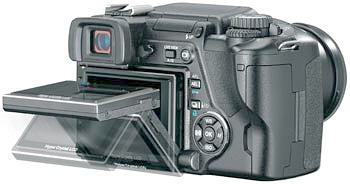 Live View is Designed to Do More
Users of the EVOLT E-330 will quickly realize that when composing an image on the LCD, they can do more with this camera than they could with comparable SLRs without Live View. Because the camera's LCD is "articulated" it can extend out from the camera body and swivel downward or upward so the E-330 can be held overhead to shoot over a crowd, or held at the hip or even placed on the ground - something that's not possible with a traditional SLR that relies on an optical viewfinder alone. Whether shooting from a low angle for dramatic composition or in close for detailed macro photos, with the exclusive Olympus Live View LCD photographers can follow action easily and capture just the right moment with greater creative control.
Large Live View 2.5-Inch HyperCrystalTM LCD Monitor
Big and bright with 215,250 pixels, the E-330's 2.5-inch high-resolution HyperCrystal LCD offers many times the contrast of conventional LCD monitors, so captured images can be beautifully displayed in vivid color on the screen with exceptional clarity. Because photos are for sharing, the E-330 LCD features a wide, 160° viewing angle on the vertical and horizontal axis, ensuring excellent visibility and beautiful image quality even when everyone huddles around the camera to see what you've created. The larger LCD also means the icons and text on the camera's menu display are large enough for easy viewing.
Patented Dust Reduction System for Spot-Free Photos
Dust is all around us, and when swapping out a lens on a digital single-lens reflex camera there's a chance that a camera's electro-statically charged image sensor will attract micro dust that can ruin photos. Since the main advantage of using an SLR camera is the ability to change lenses for better imaging effects, Olympus has developed a way for photographers to enjoy the freedom of using all the lenses of the Olympus E-System in the most challenging, dusty environments without compromising image quality.
Olympus' Dust Reduction System produces spot-free photos with the exclusive Supersonic Wave Filter, a patented ultrasonic technology that shakes at 35,000 vibrations a second to remove dust from in front of the camera sensor every time you turn the camera on, and captures dust to prevent it from reappearing. These spot-free photos liberate users from hours spent retouching images at the computer. The new EVOLT E-330, like all Olympus digital SLR cameras, is equipped with this exclusive user-friendly technology, and only Olympus has a solution to provide spot-free photography in a digital SLR.
Digital-Specific ZuikoŽ Lenses
Olympus offers the largest selection of lenses designed for digital excellence, and they're all fully compatible with the E-330. Since each lens is perfectly matched to the camera's image sensor, light is received by each pixel. As a result, images are brighter, more colorful and super-sharp from edge to edge.
The E-330 outfit includes a compact, Zuiko Digital 14 - 45mm f3.5 - f5.6 Lens (equivalent to 28mm - 90mm in 35mm photography) that perfectly matches the imager so light strikes the sensor directly to ensure rich, accurate colors and edge-to-edge sharpness. Its 3.2x zoom covers the range most frequently used in ordinary photography and weighs just 10 ounces (285 grams) offering users an extremely dynamic, portable everyday-use zoom. Close-ups as near as 15 inches (38cm) are possible throughout the zoom range.
Ergonomic "Flat Top" Body Design
The E-330 camera body is lightweight with a smart design that fits naturally in your hand with a full-sized grip, and is light and compact enough to comfortably shoot with all day. In place of the traditional pentaprism design, the camera incorporates the exclusive Olympus TTL Optical Porro Finder coupled with an exclusive side swing mirror that gives the camera its unique "flat-top" appearance and makes it more compact for greater portability. This design also enables the camera's full-time Live View capabilities.
TruePic TURBOTM for Clarity and Speed
Olympus' TruePic TURBO Image Processor provides fast camera response, operation and processing speed for more responsive camera operation. This is done by closely integrating the image processor and hardware elements to eliminate unnecessary processing tasks, accelerating camera operations.
Along with the speed advantages, TruePic TURBO also produces crystal-clear photos using all the pixel information for each image to provide you with the best digital images possible for every photo.
PT-E02 Underwater Housing
An underwater housing for the EVOLT E-330 that will enable users to enjoy underwater SLR shooting is planned for release in the spring of 2006. Easy to set up, it offers waterproof protection up to a depth of over 196 feet (60 meters). The Live View LCD is ideal for underwater photography because it's much easier to compose on the EVOLT E-330's large, bright LCD when under water rather than using the optical viewfinder. And, with three scene select modes for underwater wide, underwater macro and underwater wide-angle auto exposures, the E-330 is designed to perform optimally in the deep.
Availability
The Olympus EVOLT E-330 Digital SLR will be available in March 2006. It includes: EVOLT E-330 Body or EVOLT E-330 Body with 14-45mm f3.5/5.6 Zuiko Digital Zoom Lens, USB Cable, Video Cable, Li-Ion Battery Pack (BLM-1), Li-Ion Battery Charger (BCM-2), Shoulder Strap, OLYMPUS Master Software CD-ROM, Manuals, Warranty card.
US Pricing
EVOLT E-330 with 14-45mm f3.5/5.6 Zuiko Digital Zoom Lens Estimated Street Price: $1099.99
EVOLT E-300 Body Only Estimated Street Price: $999.99
PT-E02 Underwater Housing Estimated Street Price: $1219.99
The Olympus E-330 digital SLR – main features:
World's first Live View digital SLR with two modes:

A Mode – Full Time Live View with incorporated AF
B Mode – Macro Live View with 10x magnification for accurate manual focusing

7.5 million pixels Live MOS sensor
Multi-angle 6.4cm/2.5" HyperCrystal LCD (215,250 pixels)
Supersonic Wave Filter for dust protection
TTL Optical Porro Finder design
Based on FourThirds Standard
Single AF, continuous AF and manual focusing, plus S-AF+MF and C-AF+MF
49 area AE sensor
ESP, centre-weighted average and spot exposure metering plus high light basis and shadow light basis spot metering
Professional AE lock functionality
Sequential shooting at up to 3.0fps
IR Hybrid Type Cut Filter for equalisation with human eyes
1/3 EV ISO steps
ISO up to 1600
TruePic TURBO image processor
P/S/A as well as full manual operation
20 scene modes, 7 creative modes plus 4 exposure modes
Dual slot for CompactFlash/Microdrives and xD-Picture Cards
Built-in pop-up flash
User-friendly with detailed and simplified display modes
Weight: 550g, size: 140x87x72mm
Compatible with the complete range of Olympus E-System lenses and many accessories, including the FL-36 flash and the ME-1 magnifier
Available as camera body only or in kit containing camera body, 14-45mm (28-90mm) 1:3.5-5.6 lens, BLM-1 rechargeable battery pack with BCM-2 charger
Optional underwater case PT-E02 available from May 2006
Where to buy?
The E-330 probably won't start shipping from Olympus until late May, but Amazon.com are taking preorders and will ship as soon as the camera is available.

© Copyright Bob Atkins All Rights Reserved
www.bobatkins.com