Olympus XZ-2 iHS Review
The XZ-2 is Olympus' latest addition to the "premium" compact digicam market. It's the successor to the Olympus XZ-1 and has a new 12MP CMOS sensor, a touch sensitive tilting 3" LCD (with 920,000 dots), 1080 Full HD video, stereo sound, 24 more focus zones (35 vs. 11) and new control features such as a ring around the lens which can be used to adjust shutter speed, aperture, zoom and focus.
The Olympus XZ-2 uses a 1/1.7" BSI (Back Side Illuminated) CMOS sensor which measures about 7.4 × 5.6 mm. While still classified as a small sensor, it's bigger than is used in most consumer digicams and matches that used in other premium compact cameras such as the Nikon Coolpix P7700, the Canon Powershot G15, The Ricoh GR Digital IV and the Samsung EX2F.
The lens appears to be the same excellent 6-24mm/1.8-2.5 as used on the XZ-1 (at least from its specifications), and gives a field of view similar to that of a 28-112mm lens on a full frame 35mm camera.
Olympus XZ-2 iHS Brief Specifications
Sensor
12MP BSI CMOS
Lens:
6-24mm/1.8-2.5 (28-112mm eq.)

LCD

3" 920000 dots

ISO

Range
100-12800
Video
720p HD, 1080p HD 30fps
Shutter Speeds
60s-1/2000s
Ports
Proprietary for USB, Charging and Composite A/V; micro HDMI for external HDMI monitor
Dimensions:
4.4" x 2.6" x 1.9" (113 × 65 × 48 mm)
Weight:
12.2 oz (346 g) with battery
Price (MSRP)
$599
For full camera specifications see the Olympus XZ-2 Full Specifications page
Olympus XZ-2 Controls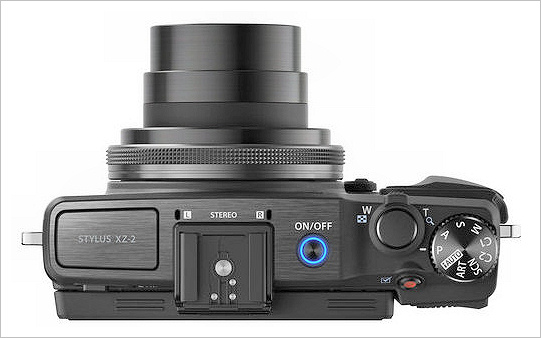 The control layout of the Olympus XZ-2 is fairly conventional. A mode selection dial allows selection of Aperture priority, Shutter Priority, Manual, Program, iAuto, Scene and Art modes, plus two positions (C1 and C2) for custom setups. iAuto is an intelligent auto mode which analyzes the image and optimizes camera settings for the scene it detects (portrait, landscape, beach, snow etc.).
One unconventional control is a ring around the lens which can be used to select functions such as aperture or shutter speed control (with click stops), or can be switched to another "continuous" mode (no click stops) and be used to control zoom or focus. Zoom can also be controlled using a more conventional toggle placed around the shutter release. Zoom isn't quite continuous, but has about 30 steps from wideangle to telephoto so fairly fine control of focal length is possible.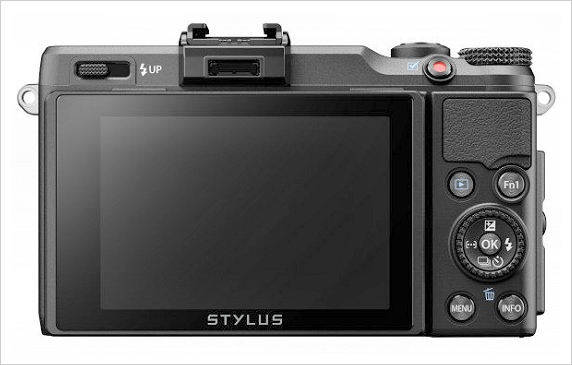 On the rear of the camera there's the typical multi-way control button with rotating ring that's used to select menus, scroll though lists, chose options etc. Various different functions can be applied to the rotating ring. The default function in Av, Tv and Program modes is control of exposure compensation.
The Olympus XZ-2 also has two programmable function buttons, one on the front of the camera and one on the rear. Each button can be assigned one of list of tasks. The "F1" button on the rear can, for example be assigned to AEL, DOF Preview, WB, A digital 2xTC or ND filter, while the "F2" button on the front can be assigned to such functions as Aspect ratio, ISO, white balance, metering pattern (plus 12 others).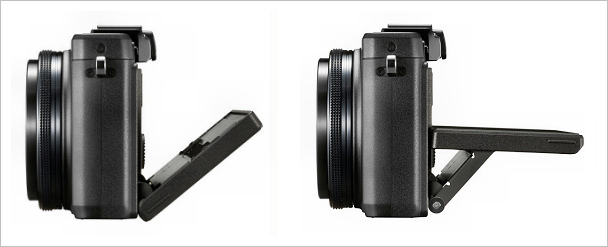 LEFT: LCD tilted down 45 degrees. RIGHT: LCD screen tilted up 90 degrees
The LCD is touch sensitive and can be used to set the focus point and release the shutter (though this can be turned off if desired). The screen can also be used to scroll though images during replay. The screen can be tilted up at 90 degrees, so it can act as a waist level viewfinder. Handy for low level shots. It will also tilt down by 45 degrees for overhead shots.
Video has its own dedicated start stop button (red dot in the image above). Video can be engages while the main control dial is in any position, so if the desire for video grabs you, there's no delay to set modes. While in video mode, optical zoom is fully enabled and autofocus is in operation. However exposure is fully automatic and out of the users control. The camera will select ISO speed and aperture.
The sliding switch for control of the pop-up flash is at the top left of the rear panel. The Olympus XZ-2 can also take an Olympus compatible external flash mounted in the hot-shoe on top of the camera.
Users of other Olympus DSLRs and Pen series mirrorless cameras will probably feel at home with the menu system of the XZ-2, but it could be a learning experience for others. At times it's not very intuitive where to go to find something and lesser used functions can be buried 3 or 4 levels deep in the menu system and/or found in several different places. Once you get used to it things are OK, but initially you might want to keep the instructions close to hand.
The grip on the camera is removable, but at the moment I can only find accessory grips of the same size but in different colors. For some of their other cameras (like the Pen E-P3) a larger grip is available to make the camera a better fit in larger hands. I don't know if a larger grip will be available for the XZ-2, but it would be nice if it was.
Still, even with the standard grip, the camera can be held and operated using only one hand (though obviously setting it up to your desired shooting modes requires two hands).
The XZ-2 has both horizontal and vertical electronic levels built in, so you have no excuse for tilted horizons (unless you like them that way). The levels can even be recalibrated if you don't like they way they are calibrated from the factory.
The Olympus has 25MB of memory built in. Not really enough to be very useful unless you are shooting at low resolution. It's enough for one full size highest resolution JPEF+RAW file or 15 seconds of 1080 HD video, but of you shoot at the lowest resolution (1024x768) the cameras memory is actually good for around 190 shots. The XZ-2 is compatible with SD, SDHC and SDXC memory cards and has UHS-1 support. It is also compatible with Eye-Fi and FlashAir cards for wireless transmission of images to a PC or smartphone. Olympus supply free iOS and Android apps for image editing and sharing images.
NOTE: - If you buy an Olympus XZ-2 before Feb 28th 2013, you can get a FREE 8GB FlashAir card from Olympus. Just fill out the PRODUCT CLAIM FORM from the Olympus website. The 8GB FlashAir cards typically retail for around $55 (02/13), so that's a pretty good deal.
The camera (as supplied) needs to be connected to a USB port to charge the battery. An adapter and cable is provided which allow recharging from 110v, but if you want to charge the battery outside the camera, you'll need to purchase a separate charger from Olympus (or a third party supplier).
One "nit-pick" is that when the camera is turned on and the lens extends, it pushes off the push-fit lens cap, which then falls to the ground and gets lost! Olympus have two solutions for this. For free you get a "lens cap keeper" cord with the camera which attaches the cap to one of the lens strap lugs. It still falls off when you start the camera, but at least you don't lose it. Alternatively Olympus will, for around $25, sell you a lens cap with opening "barn doors" which the lens pushes open. The downside of that is that it screws into the same housing as the filter holder (and the conversion lens), so you can only have one accessory attached at a time.
Olympus XZ-2 shooting speed

When shooting at the highest 12MP image quality the XZ-2 has a maximum frame rate of 5 frames/sec. When saving JPEGs the camera will buffer up to about 25 images (5 seconds of shooting) before things slow down. If you're shooting RAW + JPEG though you only get around 4 images before the buffer fills.
However if you can live with 5MP images, the frame rate goes up to 15 frames/second or more according to Olympus. The images shown above are the first and last frames of a 51 frame sequence taken using a class 6 SDHC memory card with a shutter speed of 1/100s at ISO 100. I got 51 frames in 2.49 seconds which works out to be a frame rate of about 20 frames/second. Not bad!
Olympus XZ-2 ISO Noise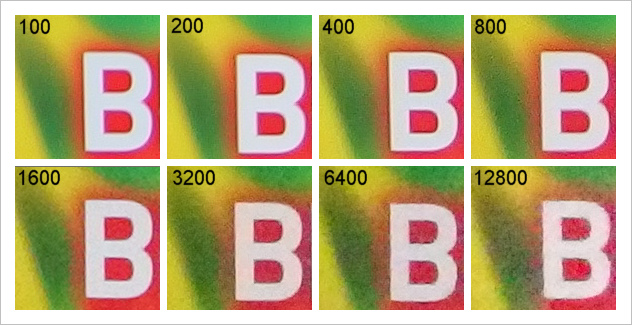 100% crops from JPEG images shot from ISO 100 to ISO 12800
The Olympus XZ-2 doesn't really show much noise at low ISO settings. ISO 100, 200 and 400 are pretty clean and ISO 800 still is good. Noise does creep in at ISO 1600 and increases all the way to ISO 12800, at which point the noise reduction algorithms are severely tested and the resulting image, while better than nothing, isn't impressive. Of course you wouldn't expect an ISO 12800 shot taken with a small sensor camera to be great, and it's not. However even at ISO 12800 the images are still perfectly usable for small prints and web sized images. Just don't look too closely at them.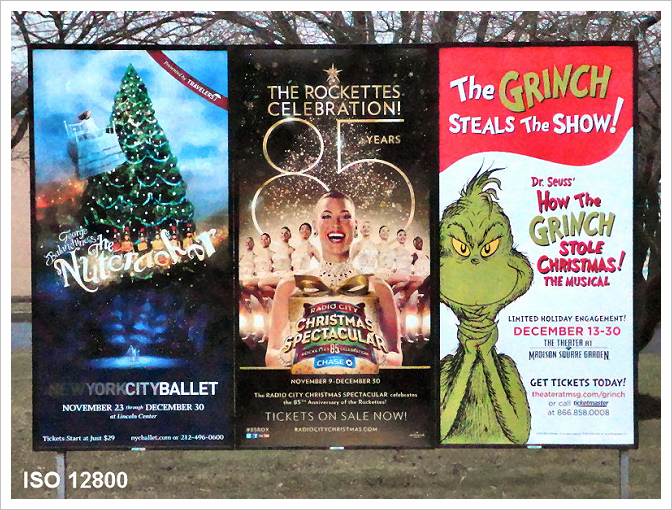 The default JPEG noise reduction algorithms the XZ-2 uses are actually pretty good. Chroma (color) noise is effectively eliminated, leaving mostly Luminance noise. Slightly better noise optimization can be obtained by shooting RAW and carefully selecting the combination of sharpening and noise reduction that produces the best looking image, but the difference from the "out of the camera" JPEG isn't huge.
Olympus XZ-2 Chromatic Aberration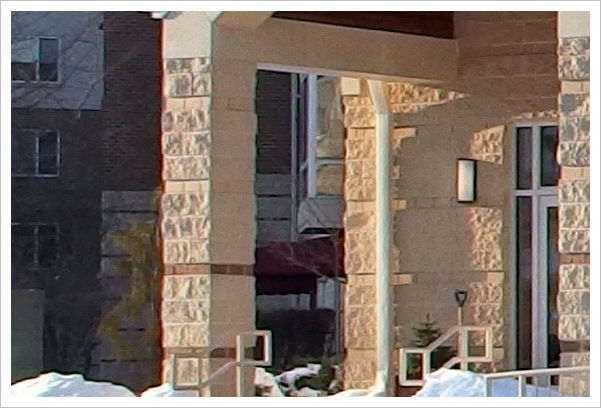 100% crop from edge of image shot at 6mm (=28mm 35mm equivalent), ISO 100 1/800s @f4
Chromatic aberration is generally well controlled, though some is visible at the edges of the image at the wideangle end of the zoom range. Olympus' Viewer 2 has a chromatic aberration correction for RAW image files.
Olympus XZ-2 Resolution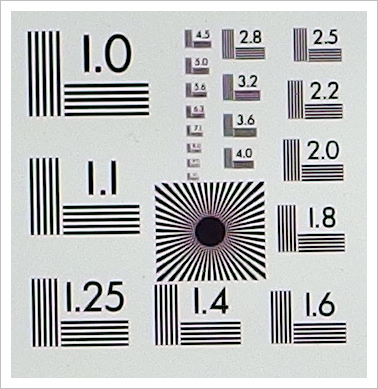 100% crop, ISO 100, 24mm (=112mm 35mm equivalent) @ f3.5
At low ISO settings, the Olympus XZ-2 yields images comparable in resolution to those from a DSLR. At maximum zoom and f3.5 I measured a resolution at the sensor of around 210 lp/mm, which corresponds to about 2350 lph (lines per picture height). At ISO 1600 and looking at in-camera generated JPEGs and default camera settings, this drops to around 1850 lph due to the softening that noise reduction introduces.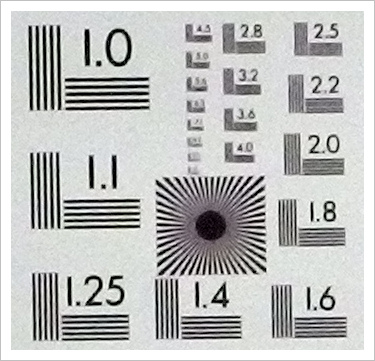 100% crop, ISO 1600, 24mm (=112mm 35mm equivalent) @ f3.5
Image quality didn't change much throughout the zoom range. One thing to be aware of with small sensor cameras though is that softening of the image due to diffraction can occur at relatively modest apertures. In fact the smallest aperture that the Olympus XZ-2 will allow you to set is f8 because the image would become unacceptably soft at smaller apertures due to the effects of diffraction.
Olympus XZ-2 Focus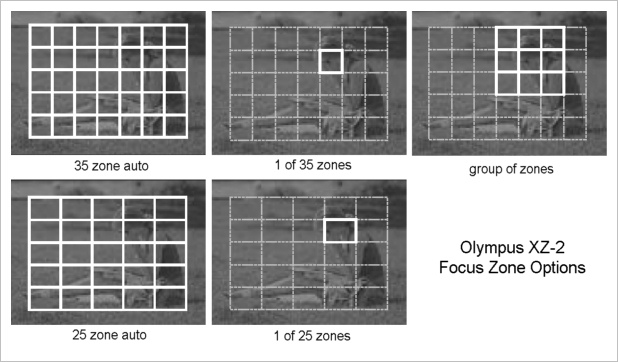 The XZ-2 has a number of focus patterns. You can chose "single target" focus which allows you to select from one of either 35 (5x7) or 25 (5x5) zones. You can chose automatic focus where the camera selects from one of the 35 or 25 zones and you can chose "group target" where the camera chooses from one of group of 9 zones (or 6 zones at the edges).
Focusing can be continuous or one shot and as usual these days there is a face priority option. There's also a face and eyes priority option and even a "face and left eye" and "face and right eye" option! So there's pretty much no excuse get portraits with the eyes out of focus. Personally, I'd select the focus point myself, but if you prefer to let the camera do ALL the work, you have that option.
Normally focus is pretty fast by small digican contrast detection standards and it's positive (no hunting) in good light. The XZ-2 uses a contrast detection focus system which obviously depends on available contrast. It will usually fail on uniform targets (white featureless walls, clear blue sky etc.), but this is pretty normal.
In low light (indoors, typical nigh time illumination levels using artificial light) most of the time focus is OK, but on lower contrast targets it can fail, especially if you use a single manually selected AF zone. e.g the center AF zone. The odd thing is that under the same conditions, if you let the camera pick the AF zone from either the full set of 35, 25 or a target group, it will often get focus lock - and on exactly the same spot as the manually selected zone that fails. I would not cite this as a major issue (unless you habitually shoot low contrast targets in low light with a single manually selected AF zone), but it does point to something a little odd with the focus algorithm, or at least something that's not well explained in the manual. Perhaps in multiple zone mode the zones around the target (which, say, is under the zone in the center of the screen) assist the center zone in getting a focus lock? It does seem counterintuitive though that multizone AF seems to lock onto a low contrast low light target better than single zone AF does, even though the final AF zone (which is shown on the screen) is in exactly the same place.
It's possible that a firmware up date could address this issue, assuming Olympus acknowledge that something is a little odd. Perhaps it's supposed to work this way, but I don't quite understand why and it's not the sort of thing most manufacturers discuss in their literature, at least not on consumer level products.
Olympus XZ-2 Video
The video options on the Olympus XZ-2 are somewhat limited, but the quality of the video is very good. There are just two shooting modes, 1080p @ 30fps and 720p @ 30fps, but they should cover all normal video needs. Exposure is program with no manual input on ISO setting or shooting aperture, though exposure is pretty accurate under most conditions. Exposure compensation can be applied before video shooting starts and any of the "Art" filters or Scene modes can be applied, so some control over the image is possible.
Optical zoom is available at all times while shooting video and the camera will continuously autofocus. Both zoom and focus speed are reduced from their normal still shooting rates to yield smoother transitions. In movie mode the Olympus XZ-2 uses "multimotion-compatible image stabilization" which it is claimed gives superior stabilization. However Olympus don't really go into any details about what's actually going on. It appears that stabilization is electronic, rather than via the sensor shift mechanism that is used for still images, but it's hard to find any technical details. It's said to minimize camera movement due to such activities as breathing and walking as well as normal camera shake. Since it can't be turned off as far as I know, it's hard to judge how effective it is, but hand-held movies did look quite good and quite stable.
Olympus XZ-2 Art Filters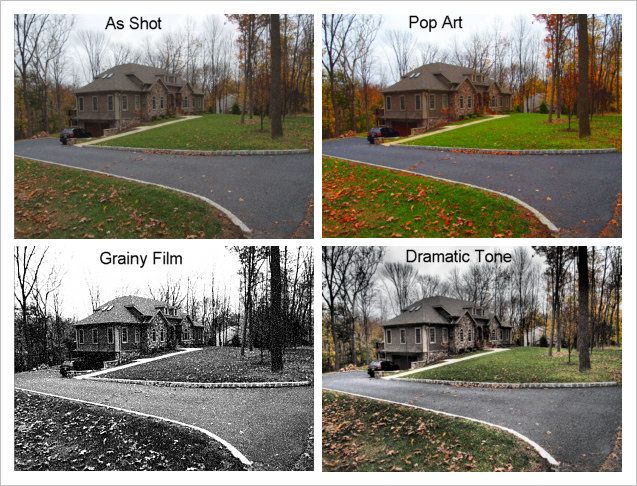 The Olympus XZ-2 has a number of Art Filters which can be applied to images. These include POP ART, SOFT FOCUS, PALE & LIGHT, LIGHT TONE, GRAINY FILM, PIN HOLE, DIORAMA, CROSS PROCESS, GENTLE SEPIA, DRAMATIC TONE and KEY LINE. The filters are applied at the time of shooting to the JPEG images recorded by the camera. They are not, of course, applied to RAW images which can be saved simultaneously. The Art filters can also be applied to the RAW images during post exposure RAW conversion to JPEG using Olympus' "Viewer 2" software. Art filters can be applied during video recording
Olympus XZ-2 Accessories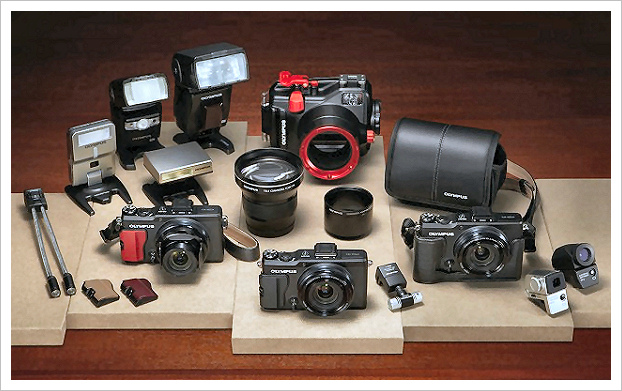 If you want to "pimp your camera" Olympus are more than happy to help! From colored grips to underwater housings (rated to a depth of 45m), electronic viewfinders, conversion lenses, filter holders, shoe mount flash units and external stereo microphones, Olympus have it covered. Many of these accessories (flash and viewfinders) are also compatible with the PEN series of mirrorless cameras and the flash units are compatible with many Olympus DSLRs.
Olympus XZ-2 Conclusions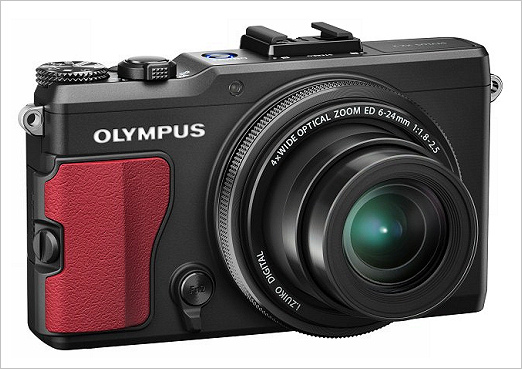 Olympus XZ-2 resplendent with its red grip
The more I used the Olympus XZ-2, the more I liked it. The LCD is impressively clear and sharp - and highly resistant to fingerprints! The touch controls work well with no hesitation or double touching required. The tilt feature can be useful, though perhaps not quite as useful as a full tilt and swivel screen might be. One you get use to the menu system and have the controls customized to your liking, getting around the camera and changing settings was fairly easy.
The fast lens (f1.8 wide and f2.5 telephoto) allows the use of lower ISO settings than would be required with many lesser digicams, and the XZ-2 being a small sensor camera, even at f1.8 there's still a decent depth of field if you need it. The flip side of that of course is that an f1.8 lens on a small sensor camera can't blur backgrounds like an f1.8 lens of a full frame DSLR. The optical stabilization works well and the camera generally responsive. AF is fast (for a digicam) and accurate.
Two more useful features of the XZ-2 are the ability to mount an external Olympus compatible flash on the hot-shoe or an accessory electronic viewfinder. Note the "OR" there because they both use the hot-shoe and so can't be used at the same time.
Video is very good at both 720p and 1080p HD settings. The ability to use the optical zoom while shooting is a big plus and the video AF is smooth and slow. Slow is a good thing for video where the last thing you want is subjects snapping in and out of focus or a camera rapidly hunting to find focus. Stereo sound is decent, as good as it can be expected to be given two small microphones placed less than an inch apart in top of the camera. However a higher quality external stereo microphone is available which mounts in the hot-shoe and plugs into the accessory port below the hot shoe (though note that the same port is used for the electronic viewfinder and the hot-shoe is used for flash, so you can only have one of these accessories attached at a time). The 1080p video directly from the camera via the HDMI output was impressive when displayed on a 1080 HD capable monitor.
Overall image quality is good and Olympus' JPEG engine does an excellent job, though if you want the absolute maximum image quality it's always best to shoot in RAW mode. ISO noise is low from 100 to 400, maybe even 800 which is pretty good for a small sensor camera. Though ISO 6400 and 12800 are available, they're best left for emergencies, web use or when you only want postcard sized prints. However that's a criticism of all small sensor cameras, not just the XZ-2.
Downsides? Well, the MSRP of $599 is a little on the high side, though street prices are somewhat lower (typically around $549 at present 02/13) plus you get a free 8GB FlashAir card worth $55 if you buy the XZ-2 before February 28th 2013. For those who already have an investment in Olympus equipment and perhaps have an external flash and electronic viewfinder, the XZ-2 will allow them to use their accessories while the competition from other manufacturers won't. The XZ-2, for example, would make a great "2nd camera" with an Olympus PEN outfit. Even for non-Olympus owners, the Olympus XZ-2 still remains and attractive choice for those who want a (jacket) pocketable camera with extensive manual control and a very good lens.
Then there is the single zone, low light, low contrast focus issue I discussed above. I wouldn't say it's a deal breaker for most people, but it's a factor that might influence some potential buyers. However overall I'd still say the XZ-2 is a pretty good camera and I'd have no hesitation recommending it to someone who wanted a small premium digicam that was capable of more than most "run of the mill" models.
Alternatives
Two alternatives to the XZ-2 come to mind, each offering something the XZ-2 lacks. First is the Canon Powershot G1x which I reviewed recently (Canon G1x review). It has a sensor very close in size to that found in APS-C DSLRs (with about 6x the area of the XZ-2 sensor) and my testing showed it to be the equal (in terms of image quality) of the EOS 7D. at its current selling price of $599.99 the Canon G1x isn't much more expensive than the XZ-2. The lens is a little slower at f2.8-5.8 rather than f1.9-2.5, but the larger sensor compensates for that with less higher ISO noise.
The second is the Sony RX100. With a sensor measuring 13.2 x 8.8mm it's bigger than that of the XZ-2 (7.4 × 5.6mm), but smaller than that of the G1x (18.7 × 14mm), and it's capable of impressive image quality. The lens, a 28-100mm (equiv), f/1.8-4.9, doesn't quite have the range of that of the XZ-2 or G1x and it's two stops slower and slightly shorter than the XZ-2 at the long end (100mm f4.9 vs. 112mm f2.5). It also lacks any provision for an optical viewfinder and there is no hot-shoe for external flash attachment. However it's small, cute and the images are very good, so at around $650 the Sony RX100 is certainly worth considering.
The Canon Powershot G15, the Nikon P7700, the Ricoh GR Digital IV and the Samsung EX2F would also be in the running. All have sensors about the same size of the XZ-2, and are priced in the $350-$550 range. However taking all aspects of the camera into consideration (image quality, LCD, sensor, lens speed and quality, customizable features, available accessories etc.) the Olympus ZX-2 can match or beat them.