Pentax *ist D Digital SLR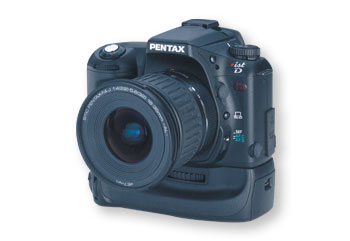 From Pentax:
Pentax *ist D Quality Features
Capture super-clear, high-resolution digital images and accurately reproduce subtle hues and fine details. The Pentax *ist D offers an impressive 6.1 effective megapixels by incorporating an APS-sized CCD (23.5mm x 15.7mm) and high-performance data processing circuitry.
Enjoy outstanding portability and maneuverability in a wide variety of photographic applications. The Pentax *ist D boasts one of the world's smallest bodies (5.1 wide x 3.7 high x 2.4 inches thick) (129 x 94.7 x 60.1mm) and weighs a mere 19.4 ounces (550 grams) without batteries. A stainless-steel chassis offers exceptional rigidity, especially against torsion, to protect the interior mechanisms from shock.
Get a super-clear, high-precision view of the subject with the newly developed super-compact glass pentaprism. Exclusively designed to complement the high-performance CCD, the Pentax *ist D viewfinder offers a magnification of 0.95 times (with a 50mm F1.4 lens at infinity, diopter at -1m-1) and improved focusing accuracy in Manual focus operations, assuring precise framing. The display system offers a wide range of information to inform users of the camera's operational status at the shooting position. The *ist D is equipped with a built-in diopter adjuster with an adjustable range of -2.5-1 ~ +1.5m-1.
Use your existing PENTAX 35mm lenses. Featuring the acclaimed PENTAX K lens mount used in conventional 35mm-format SLR cameras, the Pentax *ist D accepts a large number of existing 35mm-format interchangeable zoom and special-application lenses and accessories to help accommodate diversified photographic requirements and maximize creativity and image quality.* (*Some restrictions and conditions may apply to certain lenses and accessories.)
Store and access images quickly. The Pentax *ist D accepts the widely-available CompactFlash™ Type I and II memory cards and the large-capacity MicroDrive™ for high storage volume and fast access speed.
See just-captured images instantly with the 1.8 inch 118,000-pixel LCD. Located on the back panel, the LCD monitor enables the playback of recorded images with exceptional clarity and high precision. The status LCD monitor, positioned at the upper right corner of the top panel, provides a host of information on the camera's operational status at a glance.
Pentax *ist D Performance Features
Focus with accuracy and precision. With a newly-developed SAFOX VIII phase-matching autofocus system, the camera's 11 point AF sensor covers a wide area of both horizontal and vertical image fields with exceptional speed and precision even under poor lighting conditions. Nine of the 11 AF sensors are a horizontally extended, cross-shaped type, improving focusing accuracy and aligned to effectively cover the middle section, while two additional sensors are positioned at each side of this section. In addition to the versatile Auto mode and the pinpoint SPOT mode, the Pentax *ist D offers the innovative SELECT mode, which allows users to select one of the 11 AF sensor points using the four-way controller on the back panel. The user-selected sensor point is superimposed in the viewfinder with a red LED indicator.
Solve even the most complicated lighting conditions efficiently and instantly with a sophisticated 16-segment multi-pattern metering system. Spot and Center-weighted metering modes are also available to accommodate specialized applications.
Choose from six distinctive exposure modes through a sophisticated exposure system:

All-purpose Green program mode
Aperture-priority AE mode
Shutter-priority AE mode
Bulb mode
The innovative "Hyper" exposure modes were originally developed by PENTAX to simplify camera operations and maximize creativity. In both Hyper modes, the photographer can instantly jump back to the original program or settings using the IF button.

The Hyper program mode allows users to instantly shift the exposure program using the Tv and/or Av dials without the trouble of resetting the exposure modes. Users can choose from the High-shutter-speed-priority, Depth-priority or MTF-priority programs as the default program, rather than Normal program, using one of the custom functions.
The Hyper manual mode allows fingertip adjustment of shutter and/or aperture settings in Metered Manual operation.

Choose from 22 user-adjustable custom functions to preprogram important camera functions to suit individual preferences. The user-selected function is clearly displayed on the LCD image monitor for at-a-glance confirmation.
Successively record up to six images at the speed of 2.6 frames per second and capture the flow of the subject's motion by using Pentax *ist D's Continuous AF mode.
Freeze the decisive moment of the subject's action or motion with a top shutter speed of 1/4000 second. The Pentax *ist D also offers a high flash synchronization speed of 1/150 second to create dramatic flash images using large apertures.
Enjoy the convenience of multiple power sources. The *ist D can operate from three different power sources to maximize user convenience. In addition to the two accompanying CR-V3 batteries and the optional AC adapter, the *ist D can be powered by four AA-sized batteries (Lithium, alkaline, and NiMH), which are commonly available around the world. The optional battery grip can also be combined with the batteries to accommodate extended photo sessions.
Choose from four convenient playback modes by using the large-image LCD monitor:

The Single-frame mode displays captured images one by one and allows users to magnify a selected image up to 12 times.
The Multi-frame mode lets users view nine recorded images simultaneously.
The Quick view mode shows a just-captured image for one, three or five seconds.
The Slide show mode automatically displays captured images one after the other at 3, 5, 10, 15, 20 or 30 second intervals.

Choose from three recording formats: compressed JPEG, and uncompressed TIFF and RAW. The user can select one of three file sizes ("L" at 3008x2008 pixels, "M" at 2400x1600 pixels, and "S" at 1536x1024, 1152x768 or 960x640 pixels) and one of five image quality levels (good, better, best, TIFF and RAW) to meet specific requirements.
Choose from three White balance modes: Auto, Preset and Manual. The Preset mode allows the instant selection of one of eight different white balance settings, while the Manual mode recalls one of three settings preset by the user with pushbutton ease.
Check images with greater accuracy. Exposure levels can be displayed in graph form on the LCD image monitor during both shooting and playback.
Pentax *ist D Advanced Features
Eliminate digital noise that may spoil the quality of captured images by activating the Noise reduction function.
Shed light on your subject and reduce red-eye. When set in a pop-up position, the built-in auto flash automatically discharges in the dark and against backlight to provide supplemental illumination on the subject. Its Red-eye reduction function helps the photographer avoid the annoying red-eye effect in the subject's eyes in flash portraits.* The flash can be activated or turned off manually to create specific visual effects or to comply with flash restrictions. (*This feature does not eliminate red eyes in all instances.)
Capture three different exposures of the same subject — proper, under- and over-exposure — with a single shutter release with the Auto bracketing mode. Users have a choice of three orders (proper/under/over, under/proper/over, and over/proper/under) and six exposure ranges (±0.3 EV, ±0.7 EV and ±1.0 EV in 1/3 EV increments; ±0.5 EV, ±1.0 EV and ±1.5 EV in 1/2 EV increments).
Get instant confirmation of the depth of field (in-focus area) for a selected aperture by turning the main switch to "preview" position.
Pentax *ist DOptional Features
Release the shutter from a distance instantly or with a three-second delay with an optional remote controller.
Extend your battery power. Powered by four AA-sized batteries, the optional D-BG1 battery grip prolongs the *ist D's operation time. It can be mounted onto the bottom of the *ist D without removing the battery stored inside the camera, so the battery life is extended considerably. It also comes equipped with a vertical-position shutter release button, a preview lever, Tv/Av dials and an AE lock button. The optional O-CC10 camera case stores an *ist D camera body set with a standard zoom lens and features an inside pocket to hold a lens cap and the optional remote controller.
Specifications
| | |
| --- | --- |
| Effective Pixels: | 6.1 megapixels |
| Sensor: | Interline interlace CCD. Size: 23.5mm x 15.7mm (diagonal line: 28.40mm). Total pixels: 6.31 megapixels |
| Recorded Pixels: | Large: 3008 x 2008 pixels. Middle: 2400 x 1600 pixels. Small: 1536 x 1024 pixels. (Switchable to 1152 x 768 pixels or 960 x 640 pixels by custom function). |
| Sensitivity: | Equivalent to ISO 200 to ISO 1600 (3200 available as Custom Function) |
| File Formats: | Exif 2.2, DCF, DPOF |
| Quality Levels: | Compressed: JPEG-baseline with compressibility rates of ***(1/3), **(1/6) and *(1/12). Uncompressed: 8-bit TIFF-RGB Ver.6.0 and 12-bit RAW |
| Storage Media: | CompactFlashTM cards (Type I and Type II) and MicroDriveTM |
| Color Composition: | JPEG: YCbCr (4:2:2). TIFF: TIFF-RGB (4:4:4). RAW: RAW data of CCD. Color Space sRGB, Adobe RGB |
| White Balance: | Auto: TTL control using image sensor. Preset: Daylight, Cloudiness, Shade, Tungsten light and Fluorescent light (W, N, D) Manual: 3 settings |
| Lcd Monitor: | 1.8 inch low-temperature polysilicon TFT LCD with backlight |
| Lcd Function: | Single frame, zoom in/out, nine-image, slide show, image rotation, shooting data indication (including date and histogram), quick view (instant display of image after shooting) |
| Delete Function: | Single-frame-deletion, all-frame deletion, card format, protect |
| Video Output: | NTSC/PAL switchable |
| Interfaces: | USB 1.1 |
| Lens Mount: | PENTAX KAF mount compatible with PENTAX KAF2-, KAF- and KA-mount lenses. Power zoom function not available. K-mount lenses usable with restrictions. S-mount lenses usable with adapter and restrictions. 67/645 lenses usable adapter and restrictions |
| Exposure Modes: | Auto exposure with Hyper Program, Programmed AE, Shutter-Priority AE, Aperture-Priority AE, Metered Manual, bulb |
| Shutter: | Electronically controlled vertical-run focal-plane shutter with electronic release. Auto shutter speeds: 1/4000 sec. to 30 sec. Manual shutter speeds:1/4000 sec. to 30 sec. (0.5EV steps) and bulb. Shutter lock at power-off position |
| Viewfinder: | Eye-level-type fixed pentaprism viewfinder with Natural-Bright-Matte focusing screen. Field of view: 95%. Magnification: 0.95X (with 50mm F1.4 lens at infinity, -1m-1). Diopter adjustment: -1.0m-1 to +2.0m-1 |
| Viewfinder Indication: | Out of image area: Built-in flash status, AF sensor pattern, in-focus, shutter speed, aperture, exposure compensation factor, bar graph. Within image area: AF frame with superimposed AF sensor point, spot AF frame |
| External Lcd: | Quality level, Tv dial, Av dial, shutter speed, aperture value |
| Panel Indication: | Exposure compensation, exposure frame number, battery exhaustion warning, RTF recharge, flash status, RTF function, red-eye reduction flash, wireless flash mode, high-speed synchronization, remote control, self-timer, film advance mode (single-frame/consecutive), multiple exposure, auto bracketing, auto white balance control, preset white balance control, manual white balance control. Illumination activated by preview lever. |
| Exposure Meter: | TTL open-aperture 16-segment metering. Spot metering and center-weighted metering selectable. Metering range (at ISO200 with 50mm F1.4 lens): EV0 to EV21 (EV1 to EV21.5 with multi-segment metering) |
| Exposure Compensation: | ±3.0EV (in 0.5EV steps) |
| Auto Bracketing: | 3 frames (proper/over/under) within range of ±3.0EV (0.5EV steps) or ±2.0EV (0.3EV steps). Simultaneous use with exposure compensation possible |
| Ae Lock: | Pushbutton type with approx. 20-second timer, extendable with shutter button half-pressed |
| Drive Modes: | Single-frame advance, continuous advance (2.6 fps) up to 6 frames (at noise reduction off) |
| Autofocus: | TTL phase-matching autofocus system. Applicable illumination range: EV0 to EV19 (at ISO200). AF-Single, AF-Continuous, Manual Focus switchable. Focus lock available. AF sensor point selectable. AF auxiliary illumination by built-in flash available |
| Built In Flash Rtf: | Guide number: 15.6 (at ISO200/m), Guide number: 11 (at ISO100/m). Angle of view coverage: 18mm. Synchronization speed: 1/150 sec. Flash-off, flash-on and red-eye reduction functions available. |
| Synchronization: | Via hot shoe (with X-contact for dedicated flash unit). Dedicated accessory flash units available. Sensitivity range: ISO200 to ISO1600. Flash synchronization: up to 1/150 sec. High-speed synchronization, wireless remote-control synchronization and P-TTL synchronization functions available with dedicated flash unit. |
| Self Timer: | Electronically controlled type with 12- or 2-second delay. Mirror lock-up mechanism available. Mid-operation cancellation possible. |
| Remote Control: | Infrared wireless remote control with optional remote controller. Effective range: 5m (16.6 ft.) from front side of camera. Instant release or 3-second-delay release switchable. |
| Preview: | Electronic preview. Available in all modes |
| Power Source: | 4 AA-sized batteries (lithium, alkaline, nickel-hydrogen or nickel) or 2 CR-V3 batteries. Optional AC adapter available. |
| Battery Life: | CR-V3: Approx. 1000 frames at normal temp. (68°F/20°C) and no flash used. Lithium batteries: Approx. 900 frames at normal temp. (68°F/20°C) and no flash used. Ni-MH batteries: Approx. 450 frames at normal temp. (68°F/20°C) and no flash used. Alkaline batteries: Approx. 110 frames at normal temp. (68°F/20°C) and no flash used. |
| Dimensions: | 5.1 x 3.7 x 2.4 inches (129.0mm x 94.5mm x 60mm) (WxHxD) |
| Weight: | 19.4 oz. (550g) for body only (without batteries and memory card) |
© Copyright Bob Atkins All Rights Reserved
www.bobatkins.com