Pentax *ist DS Digital SLR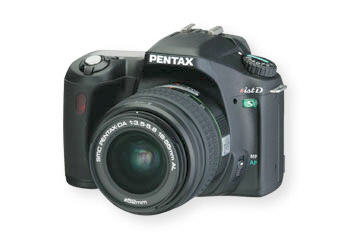 The Pentax *ist DS is a lower cost version of the Pentax *ist D, aimed more at newcomers to the digital SLR world and competing with the Digital Rebel XT and Nikon D50. The Pentax *ist D was introduced in February 2003 and the Pentax *ist DS in September 2004, so it has the benefit of 18 months later development, enabling almost the same array of features for a significantly lower price. In today's digital world, 18 months is a long time!

It's somewhat smaller and lighter than the Pentax *ist D, but it retains the large viewfinder (0.95x) of it's larger brother. One noticeable change is the switch from Compact Flash (CF) memory cards to the smaller Secure Digital (SD) memory cards. Today this isn't really a big deal since the cost and capacity of SD cards is comparable to that of CF cards (certainly up the 1GB size), though CF cards and compatible microdrives are avialable at lower cost in larger sizes (e.g. a 4GB microdrive can be found for $165). A possible SD memory downside is if you are also using cameras (like the *ist D) which use CF cards, it can be easier if they both use the same type of memory. However, the small size of SD cards makes smaller (and lighter) cameras possible so I suspect we will be seeing a greater use of SD cards in DSLRs aimed at the "starter" market where size and weight are important factors for many purchasers. Also, since many consumer digicams now use SD cards, those upgrading to a DSLR like the *ist DS may well like the fact that their memory cards will be usuable in it!

From Pentax:
Quality Features
Capture high-definition, maximum-gradation images with a large 6.1 megapixel CCD. Coupled with original image processing technology from PENTAX, the camera produces high-definition images rich in gradation and saturation.
Enjoy outstanding portability and maneuverability in a wide variety of photographic applications. As one of the world's smallest, lightest digital SLRs, the Pentax *ist DS features a high-rigidity stainless-steel chassis and a super-compact, ultra-lightweight body. PENTAX downsized digital SLR technology by including multi-layered electronic circuit boards and high-density packaging. The result is a camera that measures a mere 4.9 x 3.6 x 2.6 inches and weighs less than 18 ounces without batteries and SD memory card.
Enjoy an easy-to-use and accessible operation system. From the multi-function four-way controller to the responsive electronic select dial and the large, easy-to-use mode dial, all switches and dials are efficiently and functionally laid out around the camera's compact body to assure smooth, fingertip control.
Use your existing PENTAX 35mm lenses and accessories. The Pentax *ist DS offers the outstanding benefit of lens interchangeability that allows users to take advantage of a wide selection of existing PENTAX interchangeable lenses. (PENTAX K-, KA-, KAF- and KAF2-mount 35mm-format lenses can be used without an adapter or modification. PENTAX screw-mount 35mm-format lenses and PENTAX 645- and 67-system lenses can be used with an adapter. Some functions may not be available with certain lenses.)
Get a super-clear view of the subject with the bright, high-precision viewfinder with superimposed AF-point display. The Pentax *ist DS comes equipped with a glass pentaprism viewfinder offering a 95% field of view and a 0.95X magnification.
View just-recorded images quickly and effortlessly with the high-precision, color 2.0-inch LCD image monitor and multi-data panel. With approximately 210,000 pixels, the monitor features a large, easy-to-read LCD data panel on the top panel to allow easy, at-a-glance confirmation of the camera's operational status and various settings.
Performance Features
Focus with accuracy and precision with 11-point autofocus with SAFOX VIII. The Pentax *ist DS features the sophisticated SAFOX VIII AF system incorporating 11 AF sensors (nine of them constituting a cross-type wide-area sensor grid in the middle) for accurate, pinpoint autofocusing. The selected AF sensor point is highlighted in red in the viewfinder for easy visual confirmation. The user can also select one of the sensors to accommodate a specific image composition.
Enjoy the versatility of an interchangeable Natural-Bright-Matte focusing screen. AF Split-Image Matte and AF Divided Matte screens available as optional accessories.
Choose from six distinctive exposure modes through a sophisticated exposure system: Program AE, Auto Picture, Picture, Shutter-priority, Aperture-priority, Manual, and Bulb.
Solve even the most complicated lighting conditions efficiently and instantly with a sophisticated 16-segment multi-pattern metering system. Spot and Center-weighted metering modes are also available to accommodate specialized applications.
Freeze the decisive moment of the subject's action or motion with a top shutter speed of 1/4000 second and a top synchronization speed of 1/180 second.
Choose from 18 user-adjustable custom functions to personalize important camera functions and suit individual preferences.
Enjoy user-friendly automatic operations. The Pentax *ist DS is equipped to make camera operations simple and effortless for the user. Its innovative Auto picture mode automatically and instantly selects the optimum combination of exposure settings for a given subject or situation, including shutter speed, aperture, white balance, saturation, contrast, and intensity of edges. The built-in auto flash automatically pops up in dimly lit or backlit situations.
Operate your Pentax *ist DS with ease with functional playback options, including 12X zoom display and nine-image thumbnail display.
Enjoy the versatility of dual power sources. The Pentax *ist DS can operate from four AA-sized batteries or two CR-V3 Lithium batteries. An AC adapter is also available.
Record and store more images with SD memory card compatibility: The Pentax *ist DS uses the widely available SD memory card as its storage media, not only assuring high-speed recording and readout of image data, but also contributing to the downsizing of the camera body.
Capture a series of the subject's action or movement. The Pentax *ist DS records up to 8 images consecutively at a speed of approximately 2.8 frames per second for high-speed consecutive shooting.
Effortlessly upload data to a PC using the included USB cable (USB 2.0 compatible)
Choose from 18 user-adjustable custom functions to preprogram important camera functions to suit individual preferences. The user-selected function is clearly displayed on the LCD image monitor for at-a-glance confirmation.
Choose from two recording formats: compressed JPEG and uncompressed RAW. The user can select one of three file sizes: 3008x2008, 2400x1600, and 1536x1024; and one of three image quality levels: good, better, and best. PENTAX PHOTO Laboratory 2.0 RAW-data processing software and PENTAX PHOTO Browser 2.0 browser software are included.
Choose from three White balance modes: TTL Auto, Preset and Custom white balance. The Preset mode allows the instant selection of one of eight different white balance settings: Auto, Daylight, Shade, Cloudy, Tungsten light, Fluorescent light Flash and Manual.
Connect the Pentax *ist DS directly to your printer for complete control over printing and editing. PictBridge compatibility allows the camera to be connected to a PictBridge-supported printer directly via USB cable.
Advanced Features
Eliminate digital noise during extended exposures by activating the Noise reduction system.
Capture three different exposures of the same subject — proper, under- and over-exposure — with a single shutter release with the Auto bracketing mode. Users have a choice of two exposure ranges: ±1.0 EV in 1/3 EV increments and ±1.5 EV in 1/2 EV increments.
Shed light on your subject and reduce red-eye. The built-in auto flash automatically discharges in the dark and against backlight to provide supplemental illumination on the subject. Its Red-eye reduction function helps the photographer avoid the annoying red-eye effect in the subject's eyes in flash portraits.* The flash can be activated or turned off manually to create specific visual effects or to comply with flash restrictions. (*This feature does not eliminate red eyes in all instances.)
Optional Features
Accessorize your Pentax *ist DS with optional AF Split-Image Matte and AF Divided Matte screens.
Specifications
| | |
| --- | --- |
| | Auto-exposure digital SLR still camera with TTL auto focus and built-in retractable P-TTL auto flash |
| | 6.1 megapixels |
| | JPEG: 3008x2008 pixels, 2400x1600 pixels, 1536x1024 pixels. RAW: 3008x2008 pixels |
| | JPEG (Exif 2.21), RAW, DCF (Design rule for Camera File system), DPOF (Digital Print Order Format), PRINT Image Matching III |
| | SD memory card removable |
| | White balance control - TTL Auto, Pre-set, Custom white balanceAvailable Settings - Auto, Daylight, Shade, Cloudy, Tungsten light, Fluorescent light, Flash, Manual |
| | 2.0 inch |
| | Image rotation, Slide show, digital filter |
| | Single, All |
| | Compatible with NTSC and PAL formats |
| | USB 2.0 high speed |
| | PENTAX KAF mount compatible with PENTAX KAF2, KAF and KA mount lenses |
| | Type – Electronically controlled vertical-run focal plane shutterShutter Speed - 1/4000 - 30 seconds and Bulb |
| | Pentaprism with Natural-Bright-Matte focusing screen |
| | AA or CR-V3 |
| | 4.9 x 3.6 x 2.6 Inches (125 x 92.5 x 66mm) |
| | 17.8 oz. |
| | Mac Requirements - OS: Mac OS 9.0 or later, standard equipped USB port PC Requirements - OS: Windows Me, 2000, XP Home edition / Professional, standard equipped USB port |
| | 1.5 |
© Copyright Bob Atkins All Rights Reserved
www.bobatkins.com