Portable Digital Photo Storage Devices
So you're out on a trip for two weeks with your digital camera and you only have a couple of 512MB memory cards. What are you going to do?

Well, there are a few alternatives

You can drag along a laptop with a large hard drive and transfer your images to it. This may be OK if you're staying in a hotel and not filling both cards each day, but it won't be much fun if you're out in the field and even small laptops often weigh 4-5 lbs with batteries so they're not something to want to carry around with you all day. They also aren't cheap if you don't already own one.

If you don't want to take your laptop you really have three options:
Small, Simple and Inexpensive
First you can get a small battery powered, simple, portable hard drive. For somewhere around $200 you can get a 20GB 2.5" hard drive with a built in memory card reader. Plug in the card, push a button or two and the data is transferred from your card onto the drive. When you get home, connect the drive to your PC via a USB connection and download all your images. For an extra $30 or $40 you can often get a version with 40GB capacity.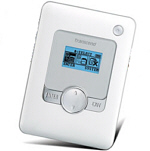 Some of these devices also have a verification function to check the integrity of the data you've just downloaded and some don't. I have a "Tripper" portable hard drive (which I don't think is still available). It will read or write cards, but you pretty much have to trust that it's working OK. There's no data verification and not even a way to see what's stored on the drive. The LCD did play just contains the menu which select the function you want and tells you how much space there is left on the drive. It flashes up file names while they are being transferred, but that's about the extent of it. Some similar drives don't even do that. They can be as simple as plugging in a card, pushing a button and waiting for an LED to change from red to green.

Specifications of the Transcend Photobank (illustrated above)
| | |
| --- | --- |
| Power Supply | DC 5V from USB port; 5V / 2A AC Adapter; Li-ion rechargeable battery (2200mAh) |
| Storage media | 1.8" HDD |
| Slots for memory cards | 1. CF Card Type I / II; 2. SM/MMC/SD/MS |
| LCD Indicators | Black and White with blue back light |
| Operating Temperature | 5°C - 60°C |
| Storage Temperature | -40°C ­ 70°C |
| Humidity | 8% - 90% RH |
| Emission / Safety | FCC Class B, CE, BSMI |
| Dimensions | 110mm x 85mm x 22mm |
| Weight | 235g / 247g (20GB / 40GB) |
All the Bells and Whistles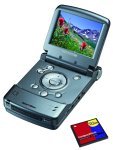 Second you can get a full features portable hard drive with image display. These are similar to the simple devices, but they have a color LCD on which you can view any of the images on the drive (assuming they are JPEGs). They also often let you play "slide shows" of your images and sometimes they have a connection so that you can play images on a TV monitor. Since they do more, they cost more, typically $400+
SmartDisk FlashTrax FTX80 (illustrated above)
| | |
| --- | --- |
| Supported Audio Formats: | WAV, MP3 |
| Device Type: | Digital AV player |
| Battery: | Internal rechargeable - Lithium Ion - 2200 mAh |
| Flash Memory Cards Supported: | CompactFlash Card type I, CompactFlash Card type II, Microdrive |
| Hard Drive: | 80 GB |
| Supported Still Images Formats: | BMP, GIF, JPEG |
| Included Accessories: | USB cable, remote control, carrying pouch, video cable |
| Key Features: | Digital audio player, digital photo viewer, external HDD function, memory card reader, digital video player |
| Display Type: | 3.5" TFT |
| Dimensions (WxDxH): | 9.2 cm x 14.3 cm x 3.2 cm |
| External Control Devices: | Remote control |
| Weight: | 340 g |
| PC Interfaces: | Hi-Speed USB |
| TV Standards Supported: | NTSC, PAL |
Write one, send one home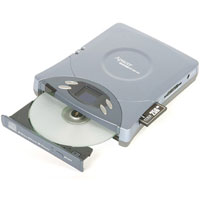 Third you can get a portable CD recorder. This has some advantages and some disadvantages. The advantages are that you can make multiple copies, then you can, for example, keep one with you and mail one home. They also spread your images out over multiple disks, so if one should fail, all is not lost. If your 20GB or 40GB portable hard drive should crash, you could lose all your images. This would be a rare event, but it could happen.

The disadvantage of CD writers is that they may be slower than portable hard drives. It might take 10-15 minutes to write and verify a CD. They may also store less on a single battery charge than a portable hard drive and they may be a little heavier. You'd need to carry 60 CD-Rs to store the same amount of data you could get onto a 40GB hard drive. On the other hand, you can always buy more CDs. They're sold in many supermarkets these days, so your "on the road" storage capacity is essentially unlimited. If you fill your hard drive, you're out of luck!
Specifications of the JOBO Apacer Disc Steno CP-200 (illustrated above)
Capacity
650-800MB
Input
Memory Card: CF Type I & II/SD/MMC/SM/MS/MS PRO
Power
Battery: Rechargeable Li-Ion Battery 7.4V, 1800mAh
Up to 1 hour of recording time
AC
Power Adapter 100/240V, auto-switching
Write Speed
Max. 24x-Speed (CD-R)
Max. 10x-Speed (high-speed CD-RW)
Read Speed
Max. 24x-Speed CD
Max. 8x-Speed DVD-ROM
Formats Supported
CD-DA, CD-ROM, CD-ROM XA, Photo-CD (multiple session), Video CD, CD Extra, CD Text, CD-R, CD-RW, High-Speed-RW, DVD-ROM, DVD-Video, DVD-R, DVD-R/W (v 1.1), DVD-RAM (2.6GB, 4.7GB)
Buffer Memory
2MB
Interface
USB 2.0: 480Mbps
Composite (RCA) video, stereo audio
Dimensions
184 (L) x 157 (H) x 33 (H)
7.24 (L) x 6.18 (W) x 1.29 (H) inches
Weight
727 g / 25.6 oz. with battery
Digital Photo Storage Devices available at Amazon.com
© Copyright Bob Atkins All Rights Reserved
www.bobatkins.com