Paint Shop Pro X Review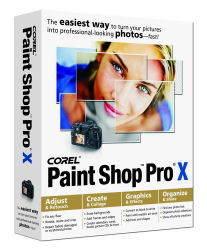 Despite what you may have heard, you really don't have to spend $560 on Photoshop CS2 to get a good image editor. While PhotoShop CS2 may be the Rolls-Royce of image editors, many of us would be quite happy with a less expensive, but still pretty good, BMW version!
Corel recently released a new version of Paint Shop Pro, Paint Shop Pro X, priced (after current rebates) at $66, Though it's very much based on Paint Shop Pro version 9 (which I've reviewed more extensively here), there are some changes in Paint Shop Pro X. The user interface has been revised, though it's still quite recognizable as Paint Shop Pro and, after a little practice, users of v9 should have no trouble navigating via the new menus.
Here's some "adspeak" from Corel describing Paint Shop Pro X:
"...For anyone who aspires to make good photos great, there's Paint Shop Pro X. You'll be able to learn as you go with a built-in Learning Center that lets you choose automatic photo fixes or precision editing controls for fine-tuning. It has the easiest and best tools for correcting color, exposure, and lighting problems. Remove blemishes, whiten teeth, brush on a suntan, and remove wrinkles -- all the tools you need to look amazing are in one place, making them easy to find.
With the NEW Learning Center, Paint Shop Pro will actually teach you how to edit your photos, remove objects from your photos, create collages, make the most of the Text Tool and so much more! File Metadata for adding copyright data and entering IPTC information. New Browser options, from a Zoom slider for adjusting thumbnails, to EXIF editing to camera downloading. Redesigned Layers Palette provides thumbnail views of each image layer, making it easier to use and understand. New Pick Tool lets you can select, move, resize, and rotate raster and vector objects. File Open Pre-Processing saves time when opening batches or single images. Two hours of built-in tutorials..."
Changes
The old Paint Shop Pro v9 would open RAW files with options for changing white balance, sharpening and exposure compensation during conversion, but Paint Shop Pro X simply opens the images using the default "as shot" parameters [note: I only tested it with EOS 10D and 20D RAW files]. However Pixmantec RawShooter is included with Paint Shop Pro X, and it's a much better and more powerful RAW converter than the internal version in Paint Shop Pro X was. Of course it's free to anyone anyway, so Paint Shop Pro v9 users could simply download it from the Pixmantec website if they wish.

Paint Shop Pro X can now open images in 16-bit mode and can perform many image adjustments in 16-bit mode. However many of the tools, such as the clone tool for example, will only work in 8-bit mode, so images have to be converted to 8-bit before they can be used. Corel also claim up to a 50% improvement in speed over Paint Shop Pro v9. It didn't really seem all that much faster to me, but they do say "up to", so maybe there are some functions that are 50% faster and I just didn't test them! I've never found Paint Shop Pro to be particularly slow.

One thing that's been dropped in Paint Shop Pro X is Animation Shop, a tool for editing animated graphic files. This won't upset photographers, but will upset users who were using Paint Shop Pro 9 for graphics. Animation Shop 3 is still available from JASC/Corel, but as a separate product (recommended price $39).

Some of the old tools present in Paint Shop Pro v9 no longer appear in the menus. For example the tool used to set black and white points. It's still there, but it's buried deeply in the "Unused Commands" section which can only be found by following the View -> Customize -> Unused Tools menu system, then dragging the tool of interest onto one of the existing menu bars (see below).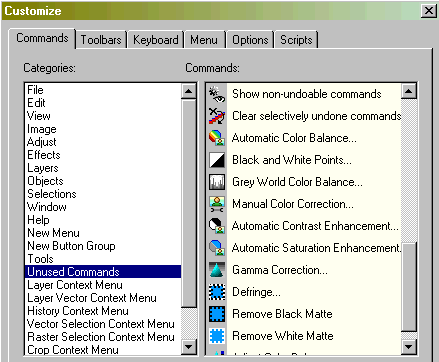 Most of the functions of these old tools are incorporated into new tools though. For example setting black and white points can be done from the advanced options of the "Smart Photo Fix" dialog box, which could confuse users upgrading from version 9. There are some new tools, such as B&W conversion, red-eye removal, one click noise removal and purple fringe removal. These things could also be done with Paint Shop Pro v9 tools, though not with a single click. However often methods requiring some user interaction and setting of parameters give better results and fortunately Paint Shop Pro X also has those methods available.
Conclusion
This is the first release of Paint Shop Pro since JASC (who first developed Paint Shop Pro) was taken over by Corel. It has been aimed a little more squarely at the novice user, with additional "one click" tools and a built in "Learning Center" function which displays explanations of how to use many of the tools. The ability to work (at least partly) in 16-bit mode is a useful addition when significant contrast and level changes need to be made. The switch to an external RAW converter seems like a step backwards, but RawShooter is a lot better than I imagine any internal RAW converter would have been and it saved Corel a lot of time and effort and probably kept down the cost of Paint Shop Pro X.

Paint Shop Pro X still represents a real alternative to PhotoShop for most photographers, especially at the current price. While there's little debate that PhotoShop CS2 is the best professional image editor around, it's expensive, hard to learn and 90% of users will never use more than 25% of its capability. I've been using Paint Shop Pro 9 as one of my primary image editors for a while now and I've been impressed by it. There's very little that most photographers will need that it can't do.

While PhotoShop CS2 retails for over $550, Paint Shop Pro X retails for $96. Not only that, but there's currently a $30 a mail in rebate available, making the final price $66. But wait...not only that, Corel are giving away a free mini camera bag, mini tripod, battery charger and 4xAA rechargable batteries if you but Paint Shop Pro X! You also get a 2 hour video tutorial (from Lynda.Com) and a free copy of Photo Album 6 - Standard Edition. Corel really want you to buy Paint Shop Pro X! Adobe would like you to buy PhotoShop Elements 4 of course and it's currently selling for around $70 (after rebates). I haven't reviewed Elements 4 yet, but the general complaint about it is that it's slower than Paint Shop Pro and doesn't offer any more functionality, in fact it offers less.

If I was a Paint Shop Pro 9 user, I wouldn't necessarily rush out and buy Paint Shop Pro X. Not because it's not as good but because it really doesn't offer very much more for the experienced user, except perhaps the option of making image adjustments in 16-bit mode. If you do a lot of image "tweaking" though, it may be worth the upgrade. For someone looking for their first serious image editor Paint Shop Pro X at $66 (after rebate) seems like an excellent choice.

© Copyright Bob Atkins All Rights Reserved
www.bobatkins.com