Canon Rumors
[See also the NEWS page for facts, not rumors, about new products!]
Still Early August...
Here it is!! The EOS 20D
Fresh from Canon's own website, here's a sneal peek at the new EOS 20D, with the new EFS 17-85/4-5.6 IS lens.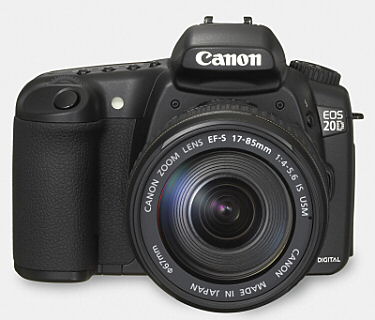 This image was taken from Canon' website. An annoucement was posted earlier today, butthen removed. Presumably the posting was an error, but the cat now seems to be out of the bag! Check back here for more information as it breaks. Now looks likely there will be an official announcement by the end of the week.
08/14/04 - Not much going on. The Olympics have started, but so far I'm not hearing anything about new Canon DSLRs or lenses being spotted there. Maybe they're waiting for the track and field events to start!! On the "20D" front, the only new rumors that may have credibility are that there may be 9 AF zones and that a new Digic II chip will reduce startup time from the current 1 or 2 seconds down to 0.2s (200 milliseconds), which would be nice. There's also talk of a 4 way "joystick" button in the center of the rear command dial. I don't have much of an opinion on whether that's likely or not, but it doesn't sound like a big deal either way.

Though I'm sure most readers of this page are lusting after new DSLR info, there's also news of new Powershot G6 on it's way. A French retail website posted details, then quickly removed them. If you can believe what it said, the new G6 will be finished in silver and will have a 7.1MP sensor (3072 x 2304 ), a 4x zoom (35-140/2.0-3.0 equivalent), a tilt/swivel LCD, will take CF memory cards and will support both JPEG and RAW. All of this sounds quite reasonable, so I'd give this rumor a pretty high probability rating.
Though I'm sure few of us will be able to afford it, the rumors of a 1Ds Mark II seem to be gaining strength. No real solid leads on what improvements there will be, but in increase in pixel count (from 11MP) seems likley. Whether it will go to 14MP to compete head to head (if only in pixel count) with the Kodak DCS or whether it will go a little higher (16MP?) is still speculative. This is one I might expect to see showing up at the Olympics (see below).
I'm hearing things from sports and advertising sources that Canon may be releasing a new Ad campaign at the end of August to coincide with the US Open tennis championship. Canon have had a relationship with Andre Agassi since around 1990 and he's been their "spokesman" for the Rebel line of cameras. There may be some new Rebel announcements made when the campaign starts up, but I think they're most likely to be related to film bodies rather than digital.
There are rumors of new EF-S lenses in the pipeline. The most credible seem to be predictions of a 10-22 and an 18-85 zoom. It's clear that if Canon are sticking with the 1.6x sensor and EF-S mount, a true wideangle lens is needed. Nikon have one, Sigma have one, so Canon need one too. 10-22 sounds about right, though 10-20 or 12-24 would also be reasonable. The 18-85 makes some sense as it then goes "one up" on Nikon who have an 18-70 zoom. Also, 18-85 is equivalent to 28-135 on a full frame camera, which lends some credibility to the suggestion that an EF-S 18-85 might also have IS (it would be an analog of the EF28-135 IS, a very popular lens).
The Olympics. Will Canon make announcements of new equipment at the Olympics which will start up later in August? I think it's possible, but such events have usually been the venue for announcing new high end Pro level gear, not consumer products. If there's an EOS-1Ds upgrade in the works, or a new super-telephoto zoom, I wouldn't be surprised to see them appear in Athens later this month, but I would be surprised to see a new Digital Rebel or a 10D replacement show up.
There have been some suggestions of an August 20th release date for a new Canon DSLR. I think these may be based on the fact that the original press release for the Digital Rebel was August 20th 2003. However you have to remember that there was no Photokina in 2003, the show is every other year (2002, 2004, 2006), so there was no reason for Canon to wait in 2003. Unless Canon have some other "show stopper" up their sleeve, my guess is that they'd wait until just before Photokina (Sept 29th) to make any major announcements. Of course I could be wrong...
The rumor mill is now churning out some credible reports that my suspicions (see below) may be right. The likelihood of an 8MP sensor has gone up from maybe 50/50 to "quite likely", I'd say there's now a 80% probability that sensor in the new DSLR will be 8MP and have a 1.6x crop factor. Makes perfect sense to me.
Early August
So now it's August and the rumors seem to have stabilized a bit (or at least there don't seem to be any credible new ones!). If we are to believe what currently seems to be the strongest rumor - A Canon EOS 20D selling for $1600 with an EF-S lens - it suggests two things. First it suggests that the new model WILL have a 1.6x sensor, not 1.3x, because of the required compatibility with EF-S lenses. Second, at a $1600 price it seems likely that Canon might have upped the pixel count, otherwise a price higher than the 10D would be hard to justify - even if the $1600 includes an EF-S lens. Now new sensors are costly to develop and it makes sense for Canon to use the minimum number of different sensors in their DSLR lineup, so development costs of making an 8MP 1.6x sensor would require an investment by Canon. However, an 8MP sensor would give them a competitive advantage over Nikon (and the other 6MP DSLRs) in the "prosumer" DSLR market and it would also give Canon an easy upgrade path for the 300D sometime next year.

While the results from going from 6MP to 8MP are small (10% resolution increase, maybe a slight noise increase at higher ISO settings unless newer technology compensates), the marketing advantages would be significant. The public tends to buy based on MP numbers, so it's going to be easier to sell and 8MP body than a 6MP body, plus it gives a greater incentive for 10D owners to "upgrade".

So I'm revising my probability estimates and suggesting that there's at least a 50/50 chance of an 8MP 1.6x sensor in any new model. Maybe the odds are better than that, but I'm being conservative here!

BTW the price on the 300D with the 18-55 EFS lens is now under $900
and on the body only is under $800. With no replacement likely for at least 6-12 months, it's a pretty good buy. You might be able to pick up a used 10D late this year for $1000-$1100, but it won't have a warranty and it won't take EF-S lenses. Looks like the replacement is going to run $1500-$1600, so for the near future the Digital Rebel is still going to be a strong seller.
Late July
Well the rumor mill is now getting pretty fired up. All sorts of claims appearing and even a few badly done PhotoShoped images of "new cameras" which are obviously bogus! Taking it all in and making my best educated guess, here's my prediction:
An upgraded 10D replacement will be announced in September - probability 90%
and assuming this is correct then:

Model number 20D - probability 60%
It will have a 1.6x sensor - probability 90%
It will be 6MP - Probability 80%
...or it will be 8MP - Probability 20%
It will have E-TTL II - probability 100%
Price will be at or around the $1500 level - probability 80%
It will hit the streets by November - probability 80%
It will have an EF-S compatible lens mount - probability 100%
There will be new EF-S lens(es) - probability 75%
It will be available as "body only" and as a "kit" with a new EFS lens - probability 70%
These predictions will be revised on a daily basis as and when new information appears and based on my assessment of the credibility of the information and its source.

A common question is "should I buy a 10D, or wait for the new model". Well, it depends if you want to take pictures. My guess is that you won't get your hands on whatever DSLR Canon announce (assuming they announce one) before November, which is currently over 3 months away. You can now get a new 10D for $1300 from reputable dealers so you could shoot with it for 3 months and probably sell it for at least $1000 if and when you decided to "trade up". So it all depends how anxious you are to get into digital.
July 2004
Just an update to say that right now there don't seem to be any solid new rumors about new Canon gear. There are the usual rumbling that short supply and/or slightly falling prices of the 10D or 300D means an upgrade is in the works. All products fall in price after a while and the 10D and 300D have always had occasional supply problems. I'm sure an upgrade for both is in the works, but when that will be I don't know. I did chat with a Canon rep earlier this month, but there were no clues or hints as to when and what we might see as new products. I don't see anything appearing before the fall. My guess is that maybe we'll see a modest upgrade of the 10D (and/or Digital Rebel (300D) - though that's less likely). Certainly any new model will have E-TTL II flash technology. I doubt that we'll see an increase in physical sensor size in any 10D upgrade (still 1.6x). A reasonably reliable source is suggesting something may be announced just prior to Photokina (which is Sept 28th - Oct 3rd 2004), with shipping starting in time for the Xmas shopping season (Oct-Nov), and that timing would certainly make economic sense.

I don't know about the long rumored "digital EOS-3". The 1D mark II looks a lot like what you might expect a "digital EOS-3" to look like - though there's clearly still room for an intermediate priced camera between the 10D ($1500) and 1DII ($4500). Whether Canon could hit a price point of around $2500 with the 8MP 1.3x sensor I don't know. Those sensors are still not cheap or easy to make in high yield. We're just going to have to wait and see. If I hear any rumors that are more than just wild speculation, I'll report them here.

There have been reports of problems with the AF system of the 1D markII coming from England where the 1D mark II has only recently become available. It's the usual "slightly off perfect focus problem again. Not sure if this is similar to the "10D focus problem" issue, where 90% of the complaints were unfounded or if it's a real problem with recent units produced for the European market. No real word from Canon on this, though they don't make a habit of publicly announcing problems.
February 2004
There have also been rumors for quite a while that Canon have other new DSLRs planned. One would be a digital version of the EOS-3, priced between the current 10D and new 1D mark II, say around $2000-$2500. It's suggested it might have the multiple AF points of the EOS-3 and the ability to AF at f8, like the EOS 1D series. Maybe a 1.6x sensor, maybe 1.3x, but with an 8MP pixel count. The new EOS 1D mark II sensor seems like a possible candidate.

However there has been no sign of such a camera at PMA and no increase in the strength of rumors, so that one will have to wait. May guess is that something along those lines must be in the works, but whether we will see it this year is an open question. Maybe PMA 2005?

The other persistent rumor, which has been around almost as long as the 10D, is that of a 10D upgrade. No doubt this has been fueled by the fact that the D60 was introduced and replaced within a 12 month period. Well, the 10D was introduced at PMA 2003 and it doesn't look like it will be replaced at PMA 2004.

I'm not really sure what an upgraded 10D would be. I can see adding the new E-TTL II flash technology, but I think a larger sensor is unlikely simply on cost issues. It's possible that an 8MP CMOS sensor could be developed, still keeping the 1.6x multiplier. Perhaps and EF-S lens mount so the cheap wideangle lenses developed for the digital Rebel could be used. Maybe AF tweaks? Perhaps something similar to what Canon did to the Elan 7 to create the 7N.

Canon have been quoted as saying that the 10D will be in production "well into 2004". My guess is that maybe we will see an upgraded 10D in the fall. The fall is a traditional time for new product announcements (Photokina, the major international photo show, is held every other year in October). The fall is also the right time to announce products that will be widely available by the time the Christmas shopping season comes around.

So it look like 10D owners can keep their wallets intact for a little while longer, and that it should be safe to buy one today without fear it will be discontinued tomorrow! The same goes for the digital Rebel (EOS 300D). I can't see any upgrades on that before the fall either.
January 2004
With the Photo Marketing Association show coming up in late February, rumors are flowing fast and free about new Canon EOS products. Many of them may turn out to be bogus, but some may not be.

Here are a few of what may turn out to be on target, but I don't know. Until Canon make an official announcement, these are just guesses.
New Canon EOS 1D (mark II)
8.2 MPixel CMOS sensor with either 3 or 8.5 fps
Same sensor size (1.3x multiplier) as current 1D
40 frame buffer for JPG and 20 for RAW
ISO 100-1600 with 50 and 3200 option
1/250 sync
Firewire and USB 1.1
CF and SD card slot
New Canon lens: EF28-300/3.5-5.6L IS USM
Replacement for the 35-350L, but with wider zoom range and IS added.
New Canon lens: EF70-300/4.5-5.6 DO IS USM
A diffractive optics lens. Smaller and lighter than the current EF75-300/4-5.6 IS USM which it may replace.
Like I said, these are just rumors, backed up by some real looking documents which purport to be from Canon that have been posted on a few websites. They are supposed to be copies of real Canon documents, posted by error on the Canon (France) website (and very quickly removed!). Time will tell...
...Well it didn't take long... - On Jan 29th, Canon made an announcement confirming this rumor is true!
© Copyright Bob Atkins All Rights Reserved
www.bobatkins.com