Samsung Digimax Pro815 8MP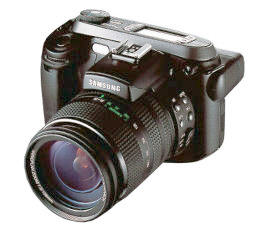 Back in April Samsung-Tristar introduced the Digimax Pro 815 at the 8th Annual China International Photo and Electronic Imaging, Machinery and Technology Fair in Beijing. The most interesting features were a 3.5 inch LCD (largest on any digital camera), 15x optical zoom lens (greatest zoom range on any digital camera) and 8.0 megapixel sensor (largest on any non-SLR digicam).

More information has now been released on this interesting new camera. The highlights are listed below:

The lens on the Samsung Pro815 is a Schneider-Kreuznach 7.2-108mm zoom, giving a 35mm equivalent view of 28-420mm. Maximum aperture is from f2.2 at the wide end to f4.5 at the telephoto end. A 28mm equivalent is quite rare among digicam zooms and so is a welcome feature. There is also a 4x digital zoom, though I'm not quite sure why you'd need it. The only thing lacking here is image stabilization, but I guess you can't have everything (at least not yet!). There is a "high speed" mode which will auto adjust ISO all the way up to to 800 when necessary in an attempt to minimize the effects of camera shake with the lens fully zoomed out. A nice feature is that manual focusing and manual zoom are done using rings on the lens just like and SLR lens, not via an electronic interface.

The Digimax Pro 815 sensor is designated as 2/3" format, which has a 4:3 aspect ratio, 8.8mm wide by 6.6mm high (11mm diagonal). This is larger than that found in most digicams, but of course still much smaller than the sensor in any DSLR, even the 4/3 system DSLRs (which have an 18mm x 13.5mm sensor). ISO range is from 50 to 800. You still need the larger pixel size of the DSLR sensors to get acceptable noise performance at ISO settings higher than 800.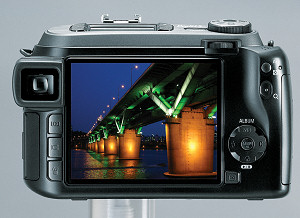 The main Digimax Pro815 display screen is a 3.5" TFT LCD with 235,000 pixels. As far as I know this is the largest LCD used on any digital camera. In addition, a neat trick is that the 1.44" wide data LCD on top of the camera is also a color LCD and can be used to preview the image from above, giving you a "waist level" finder!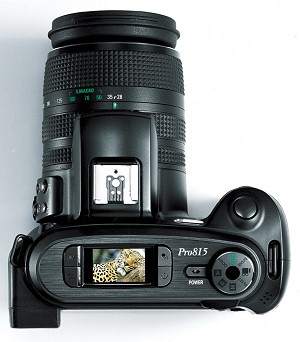 The supplied Li-ion battery is 1900mAh and said to be good for 500 shots. Startup time is around 1 second and shutter lag is only 50ms.
The Samsung 815pro shoots at 1.5fps in normal mode, at 2.5fps in high speed mode (LCD off) and has a 10fps "ultra high speed" mode which records images at 1MP resolution rather than 8MP.
There are a full range of manual and auto modes for exposure and white balance and the camera displays a histogram for checking exposure. Shutter speeds run from 1s to 1/4000s in auto modes and 30s-1/4000s in manual.
The Samsung Digimax Pro 815 looks more like a "bridge" camera between digicams and DSLRs than anything else so far. The high quality lens has a wide enough reach that most users won't require any "ad-on" auxiliary lenses and in manual mode operates like a normal SLR lens for zooming and focus. The sensor is as large as digicam sensors get (so far...) and 8MP puts it up there on top of the heap again. It's also not as small or light as most digicams, weighing in at 850g (1.9 lbs) and measuring 132 mm x 87 mm x 53 mm (5.2" x 3.4" x 2.1"), though it is smaller than any DSLR - the Digital Rebel XT is 4.98 x 3.71 x 2.63 in. (126.5 x 94.2 x 64mm) without a lens, but weighs only 485g (just under 1lb).
Price and availability of the Samsung Pro815 have not yet been announced for the US. The UK price is reported to be £600 and shipping is expected in late summer (August). By way of comparison, the discount price for a Digital Rebel XT body in the UK is around £550. This would suggest the US price would probably be somewhere in the $900 range. While a low end DSLR would almost certainly offer better image quality (especially at higher ISO settings), you'd also have to buy lenses for the DSLR which covered 18-250mm to have the same zoom range, so the DSLR would end up being more expensive.
UPDATE - and Alternatives
I was pretty close on the price! Samsung have anounced a "list" price of $849. The Samsung Pro815 can currently be ordered from Adorama for $730, though even at the time of this update (December 6th 2005) they still are not actually available and will ship when Adorama get them. According to their website, Amazon have the Samsung Pro815 in stock at $760 (with free shipping).

Samsung have been promising to send me a Pro815 to review since October 2005, but nothing has shown up yet. They seem to be very late in shipping and very late in making review samples available.

If you want something similar that's easier to find and cheaper, my advice would be to look at the Canon Powershot S2 IS. It's a 5MP camera with a 12x zoom lens (36-432mm), plus it has Image Stabilization which is something the Samsung Pro815 lacks. The price is under $450. I'm hoping to get one to test soon, but I can't promise when!

Another alternative if you really want 8MP would be the Panasonic Lumix DMC-FZ30K which has a 12x zoom (35-420mm), an 8MP sensor and sells for around $560. It too has Image Stabilization, which is very useful, especially with long telephoto zooms. It also ships for free from Amazon and comes with a free 512MB memory card (if purchased before 12/31/05). The only slight downside of the 8MP sensor is that the pixels are small which results in somewhat higher noise levels at higher ISO settings.

For $350 you can get the 5MP Panasonic Lumix DMC-FZ5 which also has a 12x zoom with Image Stabilization. Reviews on the FZ5 have been very positive and in some respects it may be a better buy then the 8MP FZ30 at $200 less and with pretty similar image quality. It also comes with a 512MB memory card, it's in stock and ships for free, so it's really a pretty good deal.
Samsung Pro815 press release
New Digimax Pro815 features several firsts including the world's longest optical zoom and largest LCD
A best-in-class 8 mega-pixel digital camera, the Pro815 represents Samsung's commitment, as one of the world's leading innovators, to the advancement of technology in the digital arena. Featuring several "world's firsts," including the longest optical zoom and largest LCD, the Pro815 is sure to revolutionize the digital photography experience for consumers and elevate Samsung's stature amongst the competition.
Highlighted by its world renowned Schneider optics, the Pro815 offers the world's longest optical zoom at 15x. With a 2/3" CCD sensor and high-quality f/2.2 ~ 4.6 Schneider 7.2mm ~ 108mm lens (equivalent to a 28 ~ 420mm lens in 35mm format), users can now capture ultra-crisp images in both wide angle and in telephoto from distances never before capable with a point and shoot digital camera. To cover even more distance, shooters can take advantage of the Pro815's 4x digital zoom, which puts a combined zoom of 60x, right at their fingertips.
Normally it is not possible to incorporate both 28mm wide-angle and 420mm tele-zoom capabilities in an average high-end camera. Standard SLR systems require different lenses to shoot wide-angle and telephoto, which in the end translates into added weight from the extra equipment and the possibility of missing some shots due to lens changeover. The Digimax Pro815 has four low-dispersion glass lenses specially manufactured to minimize chromatic aberration that can occur when wide-angle and ultra high zoom are supported at the same time. In addition, it employs two aspherical lenses for the correction of spherical aberration and lateral colors for the entire zoom range from wide to telephoto.
The Digimax Pro815 also features a High Speed mode, which ensures steady shooting even in tele-zoom. When High Speed mode is selected, the Digimax Pro815 automatically increases the sensitivity up to max ISO 800, depending on the surrounding exposure and focal length. Employing an exclusive low-noise processing algorithm, the Pro815 ensures superb image quality with low noise, even at ISO 800. In addition, in High Speed mode the Pro815 automatically switches to its fastest shutter speed, enabling sharp shooting of fast moving targets.
At 3.5," the Pro815 features the largest available LCD on a digital camera. The 3.5" LCD also incorporates Samsung's patented Transmissive with Micro Reflective (TMR) technology, which provides vibrant image quality indoors and outdoors. In addition, the camera is also the first in the World to feature multiple LCD screens. When taking low angle shots, users can take advantage of the top 1.44" wide color LCD which displays a preview screen in real time.
This LCD position enables high-level shooting as well as taking pictures from various angles. The top LCD can also be used as a status LCD to display shooting data. Since the required information is available on the LCD at all times, you can shoot a subject or choose a desired function more quickly.
With features like a 3cm super macro mode, an array of versatile and customizable shooting modes and powerful manual controls, the Digimax Pro815 has set a new benchmark for digital camera design. To power the new flagship model of the Digimax line, Samsung also developed the World's most powerful proprietary lithium battery; the SLB-1974, 1900mAh 7.4v type, rechargeable battery pack, capable of providing enough power for up to 500 shots per charge.
A shooter-friendly, intuitive graphical user interface (GUI) is easily accessible from the Pro815's massive 3.5" LCD display. The GUI allows the shooter to easily navigate the camera's menu of features and capabilities. Photographers have a full range of custom choices including a variety of exposure modes, such as shutter priority, aperture priority and full manual, six ISO settings ranging from 50 to 800, five flash settings and more.
The Digimax Pro815 also boasts the fastest response times in its class. Its startup and shot-to- shot speeds have been reduced to 1.0 second and 1.3 seconds respectively, and a shutter release lag of only .05 seconds ensures that the shooter will have the ability to capture their images at any given time. The Pro815 also delivers a fast AF speed of less than 1 second, even in tele-zoom mode, by utilizing a passive AF sensor.
With the Pro815's combination mechanical and electronic shutter, shooters can capture still images at up to 1/4,000 of a second in single, high-speed continuous shooting at 2.5 frames per second, normal continuous shooting that lets you shoot while viewing an image taken on the LCD, and ultra high speed continuous shooting that allows you to shoot up to ten 1 MP sized images per second. Single images can be shot at sizes up to 5MB (3072x 2304 pixels) and stored in RAW, TIFF, JPEG (DCF), EXIF 2.2 or DPOF 1.1 formats.
The Digimax Pro815 includes preprogrammed settings in an Auto mode, Program mode, A/S/M mode and Scene modes including: Night, Portrait, Children, Landscape, Close-up, Sunset, Dawn, Backlight, Fireworks, Beach & Snow, Single and Text. When set in Text mode, users can shoot documents such as books, papers, magazines or business cards while the camera automatically compensates for image distortion that typically occurs when photos of flat objects are taken. With the bundled text recognition software (Digimax Reader), users can extract the text from images taken in Text mode and save them as editable documents.
Three rings surrounding the lens control manual zoom, manual focusing and EV compensation, providing the shooter with direct control of the Pro815's manual functions. The Pro815 also features a dual jog system which is used to control aperture and shutter speed. The camera has various focusing modes including AF Lock, Continuous AF and Select Area AF. The Pro815's direct manual focusing feature allows the shooter to instantly switch to manual focusing from AF by simply turning the manual focus ring. In addition, the Pro815 also features bracketed shooting for exposure, focus and white balance. With Seven white balance settings including Auto, Daylight, Cloudy, Fluorescent L, Fluorescent H, Tungsten, Custom 1 & Custom 2, and multiple flash modes, such as Auto, Auto & Red Eye, Slow Sync & Red Eye, Fill-in Flash and Flash Off, the Digimax Pro815 is packed with features that assure the shooter can always capture the perfect shot, no matter what the conditions may be. For flash photography, shooters can utilize the Pro815's high-power pop-up flash (Wide: 0.1 ~ 7.7m Tele: 1.5 ~ 3.7m) or attach a secondary unit to the camera's hot shoe mount.
The Digimax Pro815 is also the first digital camera in the Samsung family to utilize Compact Flash (CF) memory cards. CF memory is valued for its speed and ability to store a significant amount of high resolution images in its compact form. All images captured by the Pro815 are effortlessly transferred through a built-in USB 2.0 connection and shooters can utilize the bundled software, including Digimax Master and Digimax Reader, for added creativity and organization. The Pro815 can also be connected to NTSC or PAL external monitors for image and movie playback via the included connectors. Also, dependent on the capacity of the CF card in use at the time, users can shoot 640x480 AVI movies, with stereo audio, at up to 25fps.
The display mode of the Digimax Pro815, which utilizes the 3.5" LCD, extends the camera's application potential even further. In contrast to the normal 9-thumbnail screen, the Pro815 has a 25-thumbnail display, allowing you to search for a desired picture more quickly. The camera also features a histogram for checking and adjusting exposure, and a grid display for easier image composition. Additional display features are the Review Shot mode, that lets the shooter set the optimal image composition while viewing an image just taken and a display mode that enables the shooter to display an image in the center of the screen, and place icons and other relevant information at the edges of the screen.
The Pro815 also offers PictBridge technology, allowing users to connect the camera directly to a printer by using the supplied USB cable and output images right from the camera's 64MB internal memory or CF card. A related feature that comes in handy is the ability to edit, crop and resize images right on the camera before sending them to a computer or printer for distribution or output. The Pro815 also features six effect modes, including Normal, Black and White, Sepia, Negative, Contrast Adjust and Saturation Adjust, and three sharpness levels, including Soft, Normal and Vivid.
The Pro815 is also bundled with a lens hood (reversible for when the camera is not being used), a lens adapter for general-purpose filter mounting, a lens cap, and will be priced at $849.
The Samsung Pro815 is currently available from Amazon.com
© Copyright Bob Atkins All Rights Reserved
www.bobatkins.com