Sandisk Extreme Compact Flash Card Readers
Once you have shot images with your digital camera, you need a way to get those images onto your computer. There are two basic ways to do this:
Connect your camera to your computer (usually using a USB port) and then use software which came with the camera to download the images.
Connect an external card reader to your computer (usually via a USB or Firewire port) which sees your memory card as another hard drive on PC. Then use the normal file copy or move commands (or drag and drop) to transfer your images to a directory (folder) on your computer. With most modern operating systems (windows XP, Vista etc.) the card readers are "plug and play", i.e. no driver or other software needs to be installed.
A few cameras will show up as an external drive when connected to a PC, though I don't believe that any of the Canon EOS DSLRs do that, at least not easily and without additional driver software.
Some operating systems (such as Windows XP) will recognize when a camera is attached to the PC and will allow some types of images (JPEGs) to be downloaded. This is certainly the case with the EOS 40D and Windows XP. This is done via the Windows Image Acquisition (WIA) drivers which are part of Windows XP (SP2) and Vista. It only allows reading of image files, not writing to the device. With the EOS 40D it only shows JPEG files, not RAW files.
What's the difference?
So what difference does it make how you download the images, as long as you download the images? Well there are two factors here. Ease and speed. Personally I find it easier to plug my memory cards into a card reader than to connect my camera up to my PC whenever I want to transfer an image. It also seems to be true, based on reading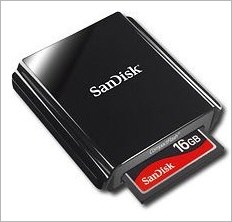 photography forums, that people have a lot more problems with direct connections than with card readers. If direct connection works, then it's fine, but I see lots of complaints about the connection failing or refusing to connect in the first place. I can't say I have had problems, but I know others have.
The speed issue depends on the card speed, the camera and the card reader. Some card readers are fast, others are slow. To show this here are the results of some speed tests I did. I was using a USB 2.0 port on a Gateway 5252, which has a dual core CPU running at 2400MHz. Not the fastest system in the world, but certainly not the slowest either. I compared the download speed using two different CF cards, a Kingston 4GB 45x and a Lexar 2GB 133x. To read the data I made a direct connection to my EOS 40D, a SanDisk SDDRX3-CF-A31 Extreme CF card reader (shown on the left), a "Generic" USB 2.0 card reader and the card reader built into the PC. The last two card readers could read multiple formats (CF, SD, Memory sticks, xD etc). The Sandisk is a dedicated CF card reader

| | | |
| --- | --- | --- |
| | Kingston 4GB 45x | Lexar 2GB 133x |
| Direct from EOS 40D via Canon Utility software | 390 MB/m | 380 MB/m |
| Direct from EOS 40D via windows XP | 320 MB/m | 320 MB/m |
| SanDisk SDDRX3-CF-A31 Extreme | 650 MB/m | 960 MB/m |
| Generic "USB 2.0" card reader | 157 MB/m | 164 MB/m |
| Gateway built in card reader | 44 MB/m | 53 MB/m |
The first thing you see is that only the SanDisk SDDRX3-CF-A31 Extreme card reader showed much of a speed improvement with the faster card. This suggests that the other readers (and the EOS 40D) were more limited by their own electronics than by the speed of the card.
The best speed was 960 MB/minute from the Sandisk reader and the Lexar 133x card. The slowest was 44 MB/minute from the Kingston 45x card and the Gateway built in card reader. For a 4GB card 133x card, the Sandisk would download it in around 6 minutes, while the Gateway built in card reader would take 1 hour 30 minutes! Clearly it really matters quite a lot which card reader you use.
You might be surprised that the SanDisk SDDRX3-CF-A31 Extreme sells for around $20, not really a lot for a fast card reader - plus it comes with a free copy of the SanDisk "RescuePro" image recovery software. There's a similar reader which will read CF (Type I and II), SD, MS Pro, and MS PRO Duo cards and that sells for just over $60. For real "speed freaks" who have FireWire connectivity, there's a Sandisk FireWire CF card reader which also sells for around $60.
The SanDisk SDDRX3-CF-A31 Extreme is rated at 30 MB/s by Sandisk, which is 1.8GB/minute. I only saw about 1/2 that speed with the Lexar 133x card (20 MB/s), presumably because data transfer was limited by the card speed. With cards like the SanDisk Extreme IV series (45 MB/s, 300x) you may well see higher transfer rates. The FireWire version should be even faster with faster cards since it's rated at 40MB/s. At that rate with the fastest card you should be able to transfer 4GB of data in 1 minute 40 seconds! The 3-in-1 USB reader is the slowest of the three at 20MB/s.
Fast Card Readers
Fast Memory Cards (133x - 300x)
• For more information on memory cards, how they work, the differences between fast and slow cards and CF and SD memory, see my article on "Memory Cards.