It then came of something of a surprise when in January of 2006, Konica-Minolta announced that they were getting out of the photography business altogether and that were transferring many of their camera assets to Sony including their Maxxum/Dynax camera line and lenses.
Now Sony have released their first DSLR. the Sony Alpha DSLR-A100. It's clearly a hybrid using some of the Konica-Minolta technology (and the Konica-Minolta lens mount), but it adds a few new features and shows that Sony is quite serious about getting into the DSLR market. The initial Sony lenses appear to be mostly rebadged Konica-Minolta lenses, but they have announced plans to release a number of lenses later in the year with new designs, including a few made/designed by Zeiss and they seem to be intending to make the Sony Alpha cameras (of which I'm sure this is just the first), part of a complete DSLR system.
Here are a few of the more interesting features of the new Sony Alpha DSLR-A100:
The control layout is pretty clear. On the top are two control dials, one for exposure mode and one for selecting ISO, white balance, metering mode etc. Note there is no LCD panel on top of the camera. All setting are changed via menus on the rear LCD screen (see below)
Most of the controls are on the rear of the camera as shown below. There are the usual buttons down the left side the menu selections, display selection, image deletion and image replay. To the left of the LCD is a multiway controller for focus point and menu selection or scrolling around a replayed image. There are also buttons for exposure compensations, auto bracketing and zooming in and out on the image during replay. "Super SteadyShot is activated via a switch at the lower right.
Lenses
Sony intend to make available a full line of lenses for the Alpha DSLR-A100. While some are clearly strongly based on existing Konica-Minolta lenses, some are new designs.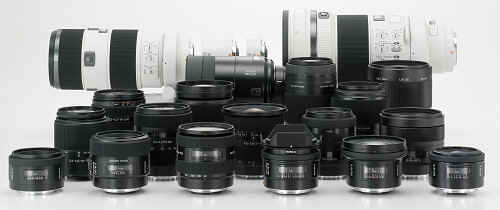 Here's a list of announced lenses with estimated release dates and MSRP pricing. By the end of the year Sony should have a fairly good lens line. There are no fast telephotos other then the 300/2.8 in the lineup yet, but Konica-Minolta have a 400/4.5 APO and a 600/4 APO which are of course compatible with the Sony Alpha. The actual selling price is likely to be lower than the MSRP of course:
Lens
MSRP*
Estimated Availability**
SAL 11-18/4.5-5.6

$649.95

Jul 06 (PO)
SAL 18-70/3.5-5.6

[Kit Lens]

$199.95
Jul 06
SAL 18-200/3.5-6.3
$499.95
Jul 06
SAL 24-105/3.5-4.5
$469.95
Nov 06 (PO)
SAL 75-300/4.5-5.6
$229.95
Jul 06
SAL 16/2.8
$999.95
Sept 06 (PO)
SAL 20/2.8
$679.95
Sept 06 (PO)
SAL 28/2.8
$249.95
Sept 06 (PO)
SAL 50/1.4
$349.95
Jul 06
SAL 50/2.8 Macro
$479.95
Jul 06
SAL 100/2.8 Macro
$679.95
Jul 06
SAL 135/2.8 (T4.5) Smooth Transition Focus
$1199.95
Sept 06 (PO)
SAL 500/8 Reflex Mirror
$699.95
Sept 06 (PO)
SAL 70-200/2.8 G

[New Sony design]

$2399.95
Sept 06 (PO)
SAL 300/2.8 G

[New Sony design]

$5999.95
Nov 06 (PO)
SAL 35/1.4 G

[New Sony design]

$1399.95
Sept 06 (PO)
SAL 16-80/3.5-4.5 [Zeiss]
$699.95
Oct 06 (PO)
SAL 85/1.4 [Zeiss]
$1299.95
Sept 06 (PO)
SAL 135/1.8 [Zeiss]
$1399.95
Sept 06 (PO)
SAL 14 TC
$599.95
Aug 06 (PO)
SAL 20 TC
$649.95
Aug 06 (PO)
* Manufacturer's Suggested Retail Price [="List Price"]. Lenses normally sell for less than this.
** Expected shipping date or date on which Sony will be accepting pre-orders (PO)
Comments
Sony's first entry into the world of DSLRs is quite impressive, at least on paper. A 10MP APS-C sensor "outpixels" most of the competition, including the Canon EOS 30D and matches the significantly more expensive Nikon D200. At $899.99 for the body it's around $400 cheaper than the 8.2MP EOS D30 and $800 cheaper than the 10MP Nikon D200. Not only that, but it has anti-shake built into the body, so all lenses become "image stabilized", it has an anti-dust mechanism to prevent dust settling on the sensor and remove it if it does, plus it can fire away at 3fps until the memory card fills. A number of new and interesting lenses are planned and, of course, it can fully utilize any of the existing Konica-Minolta autofocus lenses.

Not much of significance is lacking, but here are some minor issues: ISO is limited to 1600, but so are quite a few entry level DSLRs (the Canon EOS Digital Rebel XT for example). Perhaps the small pixels required for a 10MP sensor makes noise at higher ISO settings unacceptable. We'll have to wait for image from a production camera before we'll know how the noise performance is. There's no top LCD screen for camera settings, which can be useful at times, especially when the camera is being used at low levels. 3fps is probably enough for most users, though some of it's potential competitors provide 5fps (EOS 20D for example). There's no vertical accessory grip offered for the DSLR A-100, which might be a problem for some. Flash sync is 1/160s (1/125 with Super SteadyShot on) - The Digital Rebel XT has 1/200 and the EOS 20D/30D have 1/250s

However I don't think any of these factors will be of major importance to most amateurs, especially those moving up from a digital P&S camera.

We'll have to wait for a production camera to be available for testing before making any comments on image quality, but there's no real reason to expect any problems there. All in all it looks like a winner for Sony and it might even give Canon, Nikon and Pentax a few sleepless nights!

The full specifications of the Sony Alpha DSLR-A100 can be found on the Sony Alpha DSLR-A100 Specifications Page

© Copyright Bob Atkins All Rights Reserved
www.bobatkins.com