The BEST Canon EOS Lenses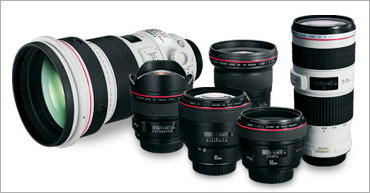 "Best" is a subjective term and selecting the "best" lens is often a matter of compromise between cost, size, weight, how often the lens will be used, how convenient the lens is to use and, of course, the optical quality of the lens. On this page I have several sets of "best" lenses.
Best lenses listed by user ratings, with no regard for price
Best lenses listed by user ratings, priced under $700
Best lenses listed by user ratings priced under $400
My personal pick of the best lenses for EOS cameras based on my own experience and testing.
Best Canon EOS lenses regardless of price
Here is a list of the best lenses from Canon, Sigma, Tamron and Tokina as determined by user opinions from my "Lensplay" website and some of the links may take you there. Of course there are many criteria for what's the best lens but here there are three sets of "best lens" data sorted by both price and overall rating. Just because a lens doesn't appear on the "best lens" list doesn't mean it's not a good lens. For example less popular and recently released lenses may not appear because they have not received enough ratings to qualify (at least 10 are needed before a lens will be rated as a "best lens").
It's worth noting that all but one of these lenses are Canon lenses and of those 15 are primes. The lone non-Canon lens is the Sigma 300-800/5.6 APO zoom. So if you were randomly picking lenses, your best bet would be expensive Canon primes! If any of the long telephoto Canon "L" primes are missing from this list it's either because they haven't yet collected enough user reviews or I've somehow forgotten to add them to the list!
Of course most of these lenses out of of the reach of many amateurs, though the EF 200/2.8L II USM makes it onto the list and it currently retails for around $769 (see ), so you don't have to spend a fortune to get one of these lenses. In fact #3 on the list is the EF 135/2L USM and currently you can get one for around $989 (see
Best Canon EOS lenses under ~$750
Here's a list of the best lenses under about $750. Some may be a few dollars more because prices change faster than I can keep track of them! Some of these lenses are no longer in production, and for those lenses I'm assuming a used price under ~$750
Lenses marked
*
are no longer in production though the Canon 35/2 can still be found new. It's recently been replaced by the which I'm sure is even better but which is priced closer to $600. The original 35/2 can be found for around $350.
Best Canon EOS lenses under ~$400
Dropping the price limit again we come to what some might think of as "budget" lenses, while others might consider them the most expensive lenses they can afford. But don't worry, there are some pretty decent performers in this group.
Lenses marked * are no longer in production, though a few, like the Canon EF 35/2 and the Canon EF 28/2.8 can still be found new if you're lucky. The 50/1.8 is no longer in production, but the 50/1.8 II is and the optics are supposed to be the same, despite the fact that the original lens rates as 8.7 and the MkII version as 8.6. These ratings are not precise.
Outstanding picks (without breaking the bank):
It pretty much goes without saying that all of the Canon "L" series telephoto primes are excellent lenses and any version of any of them will not disappoint. However with prices ranging from around $1000 to over $12,000 they are not affordable by many photographers. Below are some really good lenses that sell for more moderate prices (from just over $100 to around $1150). While some are not exactly cheap, they are within the "acceptable" price range of a lot more photographers!
and , Two very reasonably priced ($370 for the 85, $450 for the 100mm) fast short telephoto lenses which are ideal for portrait work. I have the 85/1.8 and I love it. It's a bargain. Buy one before Canon decide to "upgrade" them and double or triple the price.


Canon EF 85mm f1.8 at f1.8. The lens is fast enough to hand hold in low light,
plus it provides excellent subject isolation by throwing the background out of focus

price $449. An excellent buy for under $450. I own this lens myself.


Tamron 70-300/4-5.6 VC USD @ 300mm. The Tamron 70-300/4-5.6 VC USM provides enough reach (especially on crop sensor cameras) for wildlife photography, while the effective image stabilization means you don't need to carry a tripod.

price $760. Best wideangle zoom for crop sensor EOS cameras. I own this lens myself.


Canon EF-S 10-22 at 10mm. Interior of Ashton Memorial, near Lancaster UK.

price $110. Clearly the best bang for the buck of the whole Canon lineup. I have the MkI version, but if I didn't, I'd buy the MkII


Canon EF 50/1.8 @ f1.8. A shot of the Milky Way

price $1150, but often several hundred dollars lower if purchased with an EOS 6D or 6D MKIII as a "kit" lens. This lens doesn't make any of the above lists because it too expensive for the "under $750" list and the competition on the "unlimited price" list is too fierce. It actually get a 9.2 rating which would put it right up there with good lenses like the EF 100/2 USM in terms of user feedback. Worst feature is significant vignetting and distortion at 24mm, but that can easily be corrected. I also have this lens.


Canon EF 24-105 at 28mm. The 24-105/4L IS USM is a great general purpose travel lens. This shot was taken in the UK at a scarecrow festival around the time of the Royal Wedding in 2011

, price $989. Not cheap, but a really outstanding lens. In fact it's rated #3 regardless of price!
. A very good lens indeed for "only" $769. Main reason that it's not more popular is that there are 4 different versions of the 70-200 available and people like zooms! Also, it lacks image stabilization, which could be a drawback if you intend to use it handheld in low light.
, price $1060. Highest rated EF-S series lens and one of the highest rated of all zooms. If you need a "normal" zoom for a crop sensor EOS camera, this is the one to get. Great "Walking around" lens for travel photography.


Canon EF-S 17-55/2.8 IS at 55mm. Shot of the Hudson and NYC skyline from Liberty State Park in NJ

, price $630. A highly rated zoom and one of the cheapest "L" series lenses. Note the optics are not the same as the "IS" version and it isn't a stabilized lens.
price $499. Very highly rated "general purpose" lens for APS-C sensor cameras. Good wide to short telephoto range at a constant f2.8 aperture. Half the price of the Canon equivalent (but no stabilization on this model).
, Price $650. A very good telephoto zoom with very effective Image stabilization. However unless it's on sale for a similar price I'd take the Tamron 70-300/4-5.6 VC USD listed above.


Canon EF 70-300IS USM @ 300mm. This was shot handheld from a moving boat, so the image stabilization feature was very useful

, price $499. A well regarded lens at much lower cost than the Canon equivalent.
Canon EF 28mm f/2.8, price ~$250. Replaced by the new 28/2.8 IS USM at more than double the price. You'll probably have a hard time finding a new one at a reasonable price now.
Canon EF 35mm f/2.0, price ~$300. Very nice lens but now replaced by the 35/2 IS USM at nearly 3x the price. Hard to find new