Canon EF 24-105mm f/4L IS USM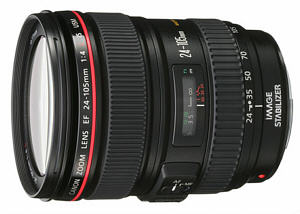 Along with the new EOS 5D and the EOS 1D MkII N upgrade, Canon have annouced a very interesting new lens, the Canon EF 24-105mm f/4L IS USM. Canon seem to be working on a series of less expensive (but still not cheap!), smaller, "L" series lenses, like the 17-40/4L and the 70-200/4L. "Less expensive" is a relative term here, meaning that if they were f2.8, the cost might be double! The EF 24-70/2.8L is actually cheaper then the Canon EF 24-105mm f/4L IS USM ($1150 vs. $1250), but it has a significantly smaller zoom range and it doesn't have IS.
At $1250, the Canon EF 24-105mm f/4L IS USM quite a bit more expensive than the 17-40/4L or 70-200/4L, however it does have Image Stabilization which the other two f4L lenses lack. Some people say they'd like the 70-200/4L with IS (and that would indeed be nice), but that would certainly push the price up considerably. You get what you pay for I guess!
The Canon EF 24-105mm f/4L IS USM is probably aimed at full frame use with the EOS 5D in mind, where the 24-105 range covers from true wideangle to short telephoto. On the new EOS 5D this would make a great general purpose "walking around" lens. On DSLRs with a 1.6x APS-C sensor the angle of coverage equals that of a 38-168mm lens on a full frame camera. Still a useful range, but lacking on the wideangle end of the range. However coupled with an EF-S 10-22, the pair would make an excellent combination covering (in 35mm equivalent angle of view terms) from 16mm to 168mm.
The Canon EF 24-105mm f/4L IS USM is scheduled for release in mid-October at a price around $1250.
Here's the text of the Canon Press Release:
Amstelveen, The Netherlands, 22 August, 2005: Canon, a leader in photographic and imaging technology, today announces the launch of its latest professional L-series lens: the lightweight EF 24-105mm f/4L IS USM with Image Stabilizer. Dust and moisture resistant and incorporating Canonís very finest standards of precision optics, the EF 24-105mm f/4L IS USM is designed for reportage, event, travel and celebrity photographers looking for a lightweight and manoeuvrable lens with minimal image quality compromise.
Complementing the EF 17-40mm f/4L USM and EF 70-200mm f/4L USM, the lens completes Canonís f/4L-series zoom lens range. These lenses are designed for professional photographers requiring a light zoom lens with a fixed aperture throughout the zoom range. For outstanding camera shake reduction, Image Stabilizer allows shutter speeds of 3 stops slower than would otherwise be possible, with no perceptible increase in image blur.
The L-series is Canonís flagship professional lens range, designed to include outstanding image performance, ultimate operability and weather resistance. The EF 24-105mm f/4L IS USM offers a lightweight alternative to the renowned EF 24-70mm f/2.8L USM.
Image Stabilizer
Image Stabilizer (IS) dramatically reduces image blur caused by camera shake. Gyro sensors detect unwanted vibrations, triggering the corresponding movement of a correcting lens group perpendicular to the optical axis. This alters the light path, returning the image to its correct position on the sensor or film plane.
The 3 stop advantage means that photographers normally shooting a 105mm lens handheld at 1/125 sec can obtain a shake free result with a shutter speed as low as 1/15 sec, for vastly extended options in low light conditions.
Superb auto-focus
The ring-type USM motor found in the EF 24-105mm f/4L IS USM employs ultra-sonic frequency vibrations to drive auto focus with unrivalled speed and near-silent operation. A powerful CPU and improved AF algorithm contribute to speed performance. Good holding torque stops the lens with precision and accuracy, the instant it arrives at the correct focus point and without overshoot. Photographers can choose manual focus instantly and at any time simply by moving the manual focus ring without first having to switch out of auto focus mode.
Constant f/4 aperture from 24 to 105mm
The EF 24-105mm f/4L IS USM offers the highest possible optical quality with no change in aperture over the full focal range of the lens. This allows photographers to set exposure at the widest aperture and zoom all the way through to 105mm without having to vary the shutter speed. It is the perfect lens for professional photographers looking for a lightweight and extended zoom alternative to its EF 24-70mm f/2.8L USM counterpart. The lens employs an almost perfectly circular barrel aperture, helping create attractive, defocused backgrounds.
Image quality
To limit lens size and improve image clarity over the total image area, an Ultra-Low Dispersion glass (UD) element is used to eliminate the secondary chromatic aberrations that otherwise reduce sharpness and introduce colour fringing. Aspherical lens elements correct spherical aberration for crisp, high contrast corner-to-corner quality. By optimising Super Spectra lens coatings and lens element shaping, Canonís engineers have been effective in suppressing flare and ghosting Ė more prone to occur with digital cameras due to reflection off the image sensor. By increasing light absorption, coatings reduce reflections off lens element surfaces to deliver crisp, undistorted images with natural colour balance.
EOS system integration
The EF 24-105mm f/4L IS USM includes distance metering information, providing compatibility with the E-TTL II flash system of late model cameras such as the EOS-1D Mark II N and EOS 5D. When used in conjunction with Canon's range of EX Speedlite flash units, the lens passes distance information to the flash algorithm for markedly improved flash exposure metering. To match the weather resistance afforded by EOS-1 professional camera bodies, an O-ring seals the lens against the lens mount and numerous seals around the lens' moving components provide protection against the ingress of dust and moisture.

AF Mode and IS switches have been reshaped, making them less susceptible to being engaged or disengaged accidentally.

The EF 24-105mm f/4L IS USM comes with a bayonet mount lens hood EW-83H and soft lens pouch LP1219. In keeping with Canon's Kyosei philosophy of living in harmony with the environment, the lens features only lead-free glass.
Specifications
Focal length
24 - 105 mm
Maximum aperture
F4.0
Minimum aperture
F22
Angle of view
• Horizontal: 74° - 19° 20'
• Vertical: 53° - 13°
• Diagonal: 84&deg - 23&deg 20'
Lens construction
18 elements in 13 groups
Diaphragm blades
8
Closest focusing distance
45 cm (17.7 in)
Maximum magnification
0.23x (at 105 mm)
Distance information
Yes
Image stabilizer
3-stops
AF actuator
Ring USM (full-time manual focus built-in)
Filter diameter
77 mm
Dimensions (dia x len)
83.5 x 107 mm
Weight
670 g (1.5 lb)
Magnification with extension tubes
• EF 12 II: 0.40 - 0.12
• EF 25 II: 0.61 - 0.27 (only at tele)
Lens hood
EW-83H
Soft case
LP1219
Extenders
• EF 1.4x II: Not compatible
• EF 2.0x II: Not compatible
Where to buy?
I've been buying photo gear through Amazon.com for the last couple of years. Their prices are as low as, sometimes lower than, the photo discount stores, plus they often offer free shipping and on many items they have a generous 30 day return policy. I've found their customer service dept to be helpful too. They are taking pre-orders for the EF 24-105/4L IS USM and will ship as soon as it's released in the order that orders are placed. Right now it looks like the lens should certainly be avialable by October, though there are rumors that a few early units have already made their way into a few stores.

© Copyright Bob Atkins All Rights Reserved
www.bobatkins.com