There are lots of flatbed scanners on the market these days but most of them can't scan negatives or slides, at least not without the purchase of a "transparancy adaptor" lid at significant extra cost.

"State of the art" in consumer level scanners (i.e. under $500) are the 2400 dpi models from Canon, Epson and a few others. This means that last years "state of the art" models (which were 1200dpi) can often be found at a bargin price.

One such "bargin" is the Canon D1230UF flatbed scanner with built in transparency adaptor. Scanning resolution is 1200dpi and masks for 35mm, 120 and 4x5 film come as standard equipment.
It can scan three 35mm frames at a time in the suppled holder, two 6x6 frames or one 4x5 sheet.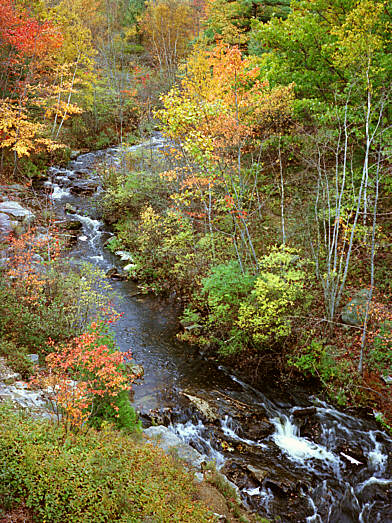 Scanned from 645 negative
Interface is USB (1.1) and installation under Windows 98 was simple. Plug the scanner in. Put the CD in the tray. Follow the promts and it's installed.
Scanning software (a TWAIN driver) is pretty straightforward. It can be launched from most imaging programs (Photoshop 5.5. LE - limited edition - is suppled). Scan time is reasonable, but the scanner does seem to spend quite a bit of time self calibrating. The FS400US film scanner (4000dpi) does the same thing. Must be a characteristic of Canon software design!
So how good are the scans? Surprisingly good. As a flatbed there is nothing to complain about. No need for 1200dpi of course, 300dpi is more than enough. For slides and negatives you'll want to scan at 1200dpi, and again quality is good. As with just about every scanner I've ever seen or used, post processing the image in a good image editor is required to fully optimize the images.
Below is a comparision of a 35mm color negative scanned at 1200dpi on an HP Photosmart film scanner at 1200dpi and two scans from the D1230UF, one with the film in the supplied holder, one with the negative resting directly on the flatbed glass. The raw scans from the D1230U look soft in comparison to the raw HP scans, but it appears the HP applies and unsharp mask by default, while the D1230U does not (though it is a selectable option). However when equally sharpened in Photoshop, the scans from the film scanner and flatbed look remarkably similar as you can see from below. I think the HP Photosmart has a slight edge (plus it can scan at 2400dpi if you want it to!), but the difference is pretty small.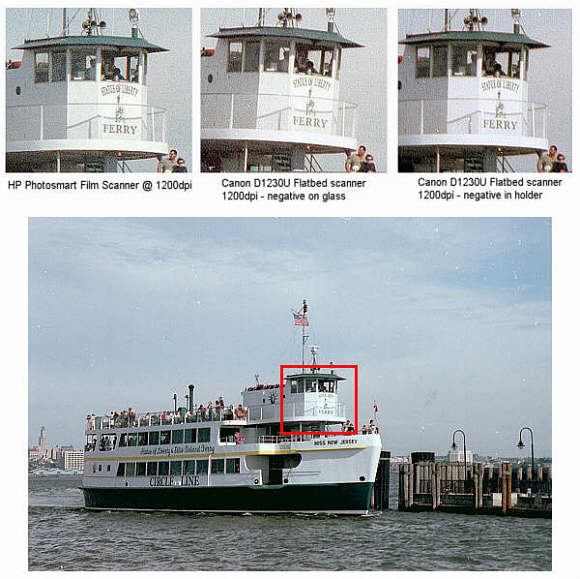 So why buy the D1230UF? Well, it's cheap and it allows you to scan not only 35mm but also medium format negatives and 4x5 film. The scans are more than good enough for web use, and if you print at 300 dpi that means decent 4x6 prints from 35mm, 8x8 prints from 6x6 and 16x20 prints from 4x5! Certainly the results won't be as good as from an Epson 2450 2400dpi scanner, but while you can get the D1230UF for around $120, the 2450 will cost you about $375.
The D1230UF is not a good alternative to a dedicted film scanner for serious 35mm work. However if you have any medium format images you want to scan and you don't want to spend $375 or so on the Epson 2450 2400dpi scanner, the Canon D1230U at under $120 is a pretty good buy.
Currently availalable from AMAZON.COM for $119.88 (Jan 2004) - search on "D1230UF"