Canon EF 70-200/4L IS USM and EF 50/1.2L USM

Canon EF 70-200/4L IS USM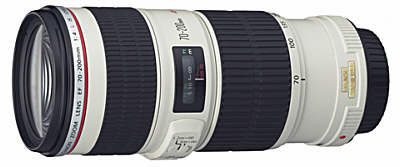 The Canon EF 70-200/4L IS USM is a lens that many people have been asking for. The current non-IS version is widely regarded as one of the best lenses in the Canon lineup and its popularity is in at least part due to the fact that it is the lowest price "L" series lens.
So there's good news and there's bad news here.
The good news is that Canon have added IS to the EF 70-200/4L. Not only that, but it's the best and most effective IS yet introduced. The 1st generation of IS gave a 2 stop increase in "handholdability". The 2nd generation currently gives 3 stops. The IS in the EF 70-200/4L IS USM gives up to 4 stops but with a slight catch. It gives 3 stops within about 0.5 seconds like most other current IS lenses, but after the IS has been operational for about 3 seconds an extra stop of stability is available.
The bad news is that the price of the lowest cost "L" series non-IS lens has more than doubled. Currently the non-IS version of the EF 70-200/4L sells for under $600. The new lens has an estimated selling (street) price of $1249. Like the old lens a tripod collar is available, but not included in the price. The compatible Canon Tripod ring A(W) sells for around $120, pushing the total price to about $1369. The EF 70-200/2.8L IS USM (with tripod mount included) sells for around $1700 and the EF 70-200/2.8L (non-IS) sells for around $1130 (with tripod mount included), so users now have a pretty wide range of choices in 70-200mm "L" series lenses!
The OK news is that the old non-IS version of the lens is not being discontinued, so those who want the optical and mechanical quality of the lens but can't afford the IS version won't be left out.
Of course the excellent
Canon EF 70-300/4-5.6 IS USM
is available for around $600 (or will be when Canon get it back in production "any day now"). At about 1/2 the price of the new EF 70-200/4L IS and with greater reach (but slower speed), it's going to be a pretty strong competitor for user dollars.
The EF 70-200/4L IS USM has 20 elements in 15 groups and has 2 UD elements and one Fluorite element. It has an 8 blade aperture and a close focus distance of 1.2m. It's weather sealed and Canon claim a slightly better MTF then the non-IS lens (though I'm guessing that this won't be very noticeable in practice).

As I mentioned earlier, the EF 70-200/4L IS USM is expected to sell for $1249 and it is expected to start shipping in November 2006
Canon EF 50/1.2L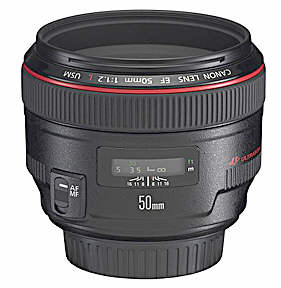 The Canon EF 50/1.2L is another lens that users have been asking for. The old EF50/1.0L was discontinued some years ago and was very expensive and not very sharp, though it was a unique lens capable of producing images no other lens could. The current EF 50/1.4 USM isn't an "L" lens and doesn't use a true ring USM, though it's still a very good and reasonably priced lens (around $320). Users have been asking for a fast 50mm lens with a real ring USM, and now they have one.
The EF50/1.2L is a totally new optical design (there was an old FD 50/1.2L) and uses a molded aspheric rear element (the 50/1.0L used two very expensive ground and polished aspherics). It has a true ring type USM motor and a high speed CPU for fast focus. It has an 8 element, 6 group construction and an 8 blade aperture. Minimum focus distance is 0.45m and the filter size is 72mm. The lens measures 85.4mm in diameter, 65.5mm in length and weighs 545g.

The estimated selling price (street price) is $1599 and it should start shipping in November 2006