Kinesis Long Lens Bag L525

The L525 was provided for this review by Kinesis

Long Lens Bags
One of the problems of owning a long lens (besides paying for it...) is how to carry it around. You can of course carry it in a large backpack, but I find that I really don't want to haul more weight than I have to and some of the larger backpacks can weight 8-12lbs. Several companies, for example Domke and Lightware make a line of long lens bags, but you carry them using a shoulder strap. These bags are fine for storing a lens, or carrying it a short distance, but after a few miles hiking in the field with a 6-12lb lens in the bag hanging off one shoulder, you'll soon see why you need a better way to carry the lens around.
So what's the alternative? Well, when I had a 600/4 and a Domke bag, I used an alpine style backpack in which to carry the Domke bag! The system worked, but carrying a bag in a bag is overkill, plus it wasn't easy to rapidly remove and replace the lens from the inner bag. There is the Scopepack, originally designed for birders to carry a large spotting scope and tripod in the field, but now adapted for use as a lens bag. It's basically a long tube with a backpack harness plus a couple of external pockets. You can find a discussion of this bag in the Q∓A forum.
Over the last few years a new scheme has emerged, first from Kinesis, and later from Lowepro. This is a modular system. Their long lens bags are designed to attach to both a shoulder harness and a waist belt. This gives you the best of both worlds. A simple bag with shoulder strap when you aren't going far, a bag with a good harness and belt when you're hiking in the field. In addition these systems allow you to attach further bags to the belt and pockets to the long lens bag.

The Kinesis L525
The Kinesis L525 is designed to hold a 400/2.8, 500/4.5 or 500/4 lens with a body (and maybe even a TC) attached. It is unique in that the 1/2" thick closed-cell foam liner of the bag can be removed and the bag folded flat to fit in a suitcase for travel. These days, as airlines impose stricter and stricter restrictions on what counts as "carry on" luggage, this can be an important feature. Another good point about the L525 is that it is light, weighing only 1.25kg (2.75 lbs). Kinesis also make a non-collapsable bag for 500mm lens, the L520, which weighs in at 4.5 lbs. Personally I'd prefer the lighter bag even if I didn't need to fold it flat. I switched from a 600mm lens to a 500mm lens and from an aluminum tripod to a carbon fiber tripod to lighten my load, so I'm not inclined to add back weight in a camera bag unless I absolutely have to! The L525 is well padded and quite rigid when assembled. You wouldn't even know it was a collapsable bag at first sight. The bag itself has a detachable shoulder strap and a non-detachable carrying handle. The belt and shoulder harness are extras, available in several sizes to ensure a good fit for any photographer. This isn't a "one size fits all" system, which is good since those systems rarely, if ever, fit anyone properly! The K250 harness and B108 belt which I used with the L525 are quite comfortable and well padded. The total weight of the L525, K250, B108 and A442 pouch (see below) is 1.73kg (3.8lbs).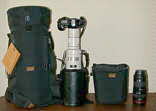 Left to right: L525, Canon EF500/4.5L + 2xTC + EOS-1n, A442, Canon EF80-200/2.8L (click on photo for a larger version).
A Kinesis A442 padded pouch is supplied as a standard accessory with the bag. Like the other parts of the system it can be attached to or detached from the L525. It measures 9"h x 7.25"w x 3"d and has enough room to carry an SLR body plus film, a TC and extension tube. The pouch is big enough to carry a Canon EF80-200/2.8L lens + film, though you couldn't get a body in there with it. It won't take a Canon EF300/4L though.

The L525 also has two unpadded drawstring pouches on the sides. These are quite large and can hold a 80-200/2.8 or 300/4 lens, though since they aren't padded you might want to put the lens in a padded bag before putting it in the pouch. One minor design complaint here though. If you attach the waist belt, the straps run across the bottom of the pouch, so you lose about 3" in depth, dropping from 10" deep to 7" deep, which makes carrying the bigger lenses difficult (see the photo to the right - click on it for a larger version).
The bag itself measures about 20" x 8" x 8" inside, so there's plenty of room for any 400 or 500mm lens with a body attached (see first photo above). You can even fit most 600/4 lenses in the bag, though the body may have to go in the external padded pouch. There's actually a lot of room around a Canon EF500/4.5L (the lens I carried in the L525). It would be nice if there were some means of holding the lens in place so it didn't move around in the bag. Maybe in the next version?
There are a few nice design touches which show that thought has gone into the design of the bag. For example the lid fastens via a buckle, but there is also a velcro strip so it can be sealed when traveling in dusty or sandy conditions. To avoid wearing out the velcro when it's not needed, Kinesis supply a mating velcro strip which covers one of the surfaces so that the lid opens and closes using only the buckle. The lid can be completely removed when desired. There's also a small zippered pocket in the lid which can be used to hold lens tissues, notebooks, maps etc.

Final Comments
The L525 is a well designed, well constructed bag for long lens. The optional harness and belt convert the bag into an excellent backpack for field use. Anyone looking for a way to carry a long lens should certainly put this bag on their list. You can find more information on the L525, belts, shoulder harnesses and other products on the Kinesis web site.
© Copyright Bob Atkins All Rights Reserved
www.bobatkins.com