LowePro Off Trail 2 waistpack camera bag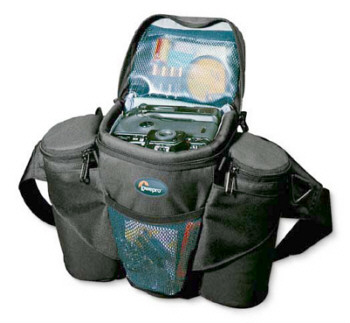 The perfect camera bag is the holy grail of photographers. Search as they might, they never find one. Most end up with a closet full of bags, some used, some not. So what is the perfect bag?
Well, it's probably different for you than it is for me. Even for me, sometimes it's one bag, sometimes another. It depends if I'm off on a walk around the park or if I'm leaving for a 3 week safari.
So given that the quest for one perfect bag is hopeless, I'm going to tell you about the bag which I currently use most. It's the LowePro Off Trail 2 and it's a waist pack. Camera bags come in 3 types.
The first is a bag that hangs off one shoulder. It's easy to get into, easy to put down (assuming you're on dry land) and it can hold a lot of gear (if big enough). The downside is that it's awkward to carry (try hiking with one) and it will kill your shoulder if you load it up and carry it far.
The second type of bag is a backpack. It can hold huge amounts of gear, even when loaded it can be carried fairly easily and it's easy to walk with. The downside is that you have to take it off to get the gear out, plus it's a bit big for a stroll around the park.
The third type of bag is a waistpack (sometimes called a beltpack). This is my favorite bag to use when walking around. It straps around your waist, so it doesn't kill your shoulders. Most have a shoulder strap that you can use too. You can get stuff out of it without taking it off or putting it down (just swing it around from your back to your front, which is very handy if you're standing in a field of mud. It can also carry a reasonable amount of gear.
The bag I'm using is the LowePro Off Trail 2. Here are the "official" specifications:
Capacity: pro SLR (including a NikonŽ F5) with 80–200mm f/2.8 lens attached (most makes), 2–3 more lenses and accessories
Main compartment size (Interior): 7.25W x 6D x 11.25H in. / 18.5 x 15 x 28.5 cm
Lens case size (Interior): 3.5D x 8.5H in. / 9 x 21.5 cm
Outer fabric: water-resistant 600D TXP™ and 600D TXP ™ ripstop
As you can see from the picture, it has a main compartment which can take a camera with a lens attached. It's big enough for a pro SLR with a battery pack and an 80-200/2.8 type lens. I can just get an EOS body with a 300/4L attached to it in the main compartment, but it's a tight squeeze.
There are also two lens pouches, one on each side. These are removable, so if you want to travel light you can take them off and just use the main compartment. Each one will also hold either a water bottle or a days supply of candy bars and trail mix! If you use them for lenses, you can easily get a 75-300 zoom in one, with a little room to spare for a short extension tube or a few filters. I can get a Tamron 500/8 mirror lens in the other, with room above it for a 50/1.8 or a 24/2.8.
If the supplied pouches aren't the right size for you, you can mount any of of about 30 different LowePro "SlipLock" cases to the main compartment.
In addition to the detachable lens pouches, there are two zippered pockets, one inside the main lid and one outside. These are suitable for lens cleaning cloths, filters, notepads, pens etc. There's also an elastic mesh pocket on the front of the main compartment which can be used to carry film or other small accessories.
I've found the Off Trail 2 to be very useful. It's not expensive (around $65) and it's very versatile. It may not be the perfect bag - since there is no perfect bag - but it's the best all-round general-purpose bag that I own. I also have a LowePro Trekker backpack which is great for hiking through the woods with a 500/4.5L in it, but when I leave the big lens behind, I often take the Off Trail 2.

Highly recommended.

It's available through Amazon.com
© Copyright Bob Atkins All Rights Reserved
www.bobatkins.com